Going Beyond Cheap Recipes To Reduce Grocery Bills
Cheap recipes aren't the only way to reduce a grocery bill. While cheaper recipes can help keep costs in check, we explore other money-saving options that could possibly save you more.
Dear Dollar Stretcher,
I need help finding some cheap recipes. My grocery bill is a killer. Prices keep going up and my income is going down.
As a single mother of four, I need to feed them healthy meals. Since I work, I use some already prepared foods to save time.
Can you help me save money by finding some cheap, easy recipes?
Kelsey
You're right. When you come home from work and have four hungry kids to feed, it's hard to think frugally. But, as you've already discovered, that's a quick way to let your grocery bill get out of hand.
According to the U.S. Inflation Calculator, food prices rose 10.1% for the 12-month period ending January 2023 (considerably more than the 6.3% increase we saw in 2021 but not quite as much as the 10.4% increase in 2022). And it feels as if prices go up every time we visit the grocery store!
So let's see if we can't help you to find some cheap, healthy recipes for your family. Rather than a collection of recipes, we're going to suggest how to find them and other tools that can soften the blow at the grocery store.
Start living better for less.
Subscribe to get money-saving content by email that can help you stretch your dollars further.
Twice each week you'll receive articles and tips that can help you free up and keep more of your hard-earned money, even on the tightest of budgets.
Subscribers receive a free copy of our eBook Little Luxuries: 130 Ways to Live Better for Less.
We respect your privacy. Unsubscribe at any time.
What Foods Are You Currently Buying?
Begin by looking at the food that you're buying now. What you have in your cart will tell you a lot about where you'll find savings.
Are you buying a lot of individual ingredients or already prepared foods? Is everything ready to pop into the microwave? Does your food include a lot of individual serving sizes?
Once you've examined your current shopping and cooking habits, you're in a position to look for ways to save.
The Best Sources for Cheap Recipes
Our grandmothers may not have worked outside the home, but they worked very hard inside it. They found simple recipes that were tasty, nutritious, easy, and inexpensive.
Ask grandma for her favorite recipes or search out copies of older recipe books like Betty Crocker. You can find them at thrift shops or online.
Look for recipes online. Include words like "easy," "simple," and "cheap" in your search. Look for Depression era recipes, too.
Make an extra effort to find easy recipes that can replace convenience foods. Despite what you see on the Food Network, cooking doesn't need to be complicated or take hours.
Change Your Cooking Style
Many of us think the microwave is for popcorn and heating premade dinners we've bought at the store. The surprising fact is that you can cook many things in the microwave. Both main and side dishes can be cooked in a relatively short period of time.
The slow cooker is another great tool for anyone looking for cheap recipes. Not only does it allow you to prepare an easy meal in the morning and have it ready when you come home from work, but also the slow cooking makes even cheap cuts of meat tender. (See 12-Hour Slow Cooker Recipes.)
Instant Pots are a modern update to the pressure cooker that our grandparents used. They're good for quick meals and tenderizing anything that you cook in it. And they're not expensive. You can find them on sale for as little as $50.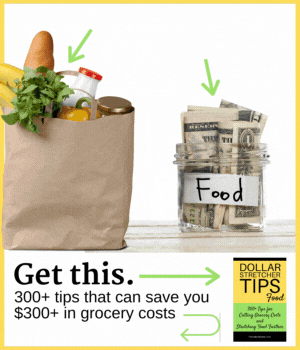 Change What You Eat
Dieticians will tell you that Americans have a very meat-centered diet. Meat is expensive. Other sources of protein (think beans) are less expensive.
You don't need to become a vegetarian, but every meal doesn't need a quarter of a pound of meat per person. An occasional meatless meal won't stunt your children's growth.
Transition To a Simpler Diet
Many cultures have a diet featuring grains and vegetables. Items like rice are very inexpensive.
In-season, locally-grown veggies are also cheap.
Pay Attention to Unit Pricing
Have the calculator on your phone handy when you shop.
Often your favorite brand might not be the cheapest. Why not try the cheaper brand? Perhaps you'll find you like it.
Keep Your Kitchen Time to a Minimum
We buy convenience foods to save time in the kitchen, but that's not the only solution. Look for ways to get two meals out of one cooking effort.
For instance, you may be browning ground beef for today's sloppy joes, but you could just as easily brown twice as much and save half for another meal in a few days. (See Ways to Stretch Ground Beef (and the Grocery Budget).)
Learn to cook your own fast food at home. Most fast food is not that hard to make, and the ingredients are generally simple and often cheap.
You can pre-make and freeze many fast food items. Things like burritos, pockets, and personal pan pizzas can be made a dozen at a time and frozen.
Admittedly, many of these tools will require minor lifestyle changes, but those changes could benefit your family. Reducing prepared and fast foods could provide better nutrition for your growing children.
Spending a little more time in the kitchen isn't always a bad thing. It's a perfect time to talk to your kids about their day at school or to help them with their homework. It also gives you the opportunity to teach them about cooking, so they're in a better position when they have their own family to feed.
About the Author
Gary Foreman is a former financial planner and purchasing manager who founded The Dollar Stretcher.com website and newsletters in 1996. He's the author of How to Conquer Debt No Matter How Much You Have and he's been featured in MSN Money, Yahoo Finance, Fox Business, The Nightly Business Report, US News Money, Credit.com and CreditCards.com.