Super Frugal Weekly Meal Plans (+ Tips for Cutting Food Costs)
Plan to reduce your grocery bill with these super frugal weekly meal plans and tips for keeping food costs low when the budget gets tight.
Dear Dollar Stretcher,
I'd like to ask readers to contribute ideas for a super frugal weekly meal plan, including ideas for breakfast and snacks.
I think something like this would be very helpful and appreciated by a lot of people right now.
C.I.S.
Super Frugal Weekly Meal Plans from Our Frugal Readers
We got a lot of responses from our savvy frugal readers for our request for cheap weekly meal plans. These plans, along with the money-saving tips they submitted, should help you keep food costs low.
Tips for Super Cheap Meal Planning
A few tips that allow me to feed my family of four inexpensively in Seattle, which is a pricey part of the country:
Plan every meal and every ingredient so that you don't have to run out to the store "for one more item." One more item turns into a $60 trip of things you see and buy on impulse. (See Sabotaged By Impulse Buys.)
Plan one night a week as meatless and one night's meals as homemade soup. It's inexpensive to make and provides good leftovers for the next day.
Weigh everything. A ten-pound bag of potatoes might actually weigh up to 12 pounds and a three-pound bag of apples might weigh four to five pounds. You get more for your money.
Use online coupon sites and coupons from your grocery's weekly ad. However, do not clip coupons for items you do not use regularly. That is a waste of money. Put your coupons in a small photo album purchased at the dollar store and organize them so they match aisle by aisle in your grocery store.
Learn to cook. Homemade spaghetti sauce costs a fraction of canned spaghetti sauces. The same is true with soups, macaroni and cheese, mashed potatoes, homemade bread, and pizza sauce.
Invest in a freezer. Breads on sale, frozen veggies from the garden, extra waffles from Saturday's breakfast all can be stored for future use.
Gayle
Start living better for less.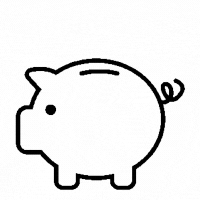 Subscribe to get money-saving content by email that can help you stretch your dollars further.
Twice each week you'll receive articles and tips that can help you free up and keep more of your hard-earned money, even on the tightest of budgets.
Subscribers receive a free copy of our eBook Little Luxuries: 130 Ways to Live Better for Less.
We respect your privacy. Unsubscribe at any time.
Cheap Meal Plans
My number one recommendation for those that are wanting to be frugal in their meals is to have a well-stocked pantry, fridge and freezer. If you have a well-stocked pantry, fridge, and freezer, you don't have to go shopping very often, and when you do, you only buy the items you are out of or low on.
For a frugal meal plan I go online. I tried a number of weekly plans I found. Saved the ones we liked best and ditched the rest. I don't follow the menus exactly. If I don't have an ingredient, I substitute with something close that I already have, so I don't have to run to the store. Tonight I had ham and veggie linguini. The menu called for Italian bread to go with the linguini. I didn't have any, so I substituted by making garlic toast out of a few left over hamburger buns I had on hand.
Being frugal with menus sometimes involves being creative and not giving into the urge to run to the store when you don't have the exact ingredients on hand. It's amazing what you can do with what you already have on hand.
Susan
A Sample Meal Plan
Here's my sample. You can move things around and use dinner leftovers for lunches. That's more or less how our meals look like. We do eat a lot of soup and we also have soup and salad/sandwich/quesadilla for dinner.
Breakfast 1 – Oatmeal with raisins and walnuts
Breakfast 2 – French toast and two slices of tomato
Breakfast 3 – Cereal of your choice
Breakfast 4 – Yogurt and fresh fruit
Breakfast 5 – PBJ
Breakfast 6 – Eggs and toast
Breakfast 7 – Muffin and jam
Lunch 1 – Black bean soup and tortilla
Lunch 2 – Salad with nuts
Lunch 3 – Veggie soup and bread
Lunch 4 – Sandwich
Lunch 5 – Chicken noodle soup
Lunch 6 – Salad and tortilla
Lunch 7 – Bean burrito
Dinner 1 – Chicken and potatoes
Dinner 2 – Pizza
Dinner 3 – Pasta
Dinner 4 – Burritos
Dinner 5 – Stew
Dinner 6 – Fish and rice
Dinner 7 – Quiche and salad
Krystyna
Cooking from Scratch Is Required
Cooking and baking from scratch would be required on any frugal meal plan that I am familiar with. I do not follow a set meal plan. My plan involves using what I have on hand, purchasing items on sale, and volunteering at two food pantries so I am given a few food items in exchange for my labor each week.
Holly in NH
Try These Frugal Meal Plans
Perhaps these ideas will help. We don't have a concrete meal plan but work with what's on sale or seasonal.
Breakfast
We eat oatmeal a couple of times per week. We also have pancakes (from scratch with homemade syrup), scratch muffins, scratch biscuits, or cream of wheat. The baked goods are generally made with mixed flours (whole wheat and white). If we get a really good deal on cold cereal, that's put into the mix, but not often, as it is pricier and the kids like to snack on it. Sometimes I make granola. We have juice and milk (1/2 non-fat dry and 1/2 regular) on hand and hot tea. Another option for breakfast is a smoothie (if the bananas are getting a bit over ripe).
Lunch
We eat sandwiches or leftovers from supper. We have peanut butter and jelly at least two times per week. The kids' packed lunches include a sweet snack and a vegetable or fruit. Right now the cherry tomatoes are finishing up in the garden so those are going into small containers and into lunches. Sometimes they have pickles or carrot sticks.  (See 14 Ways to Buy Produce for Less.)
We have a discount grocery near us, so the sweet snack is made up from larger packages. It's cheaper than baking. Thermoses haven't worked well for us and we don't do juice packs so the kids drink water from the school fountain. When they get home, they have a snack. At home, we have milk, juice and water with yogurt and fruit for a snack.
Supper
Lentil soup made with some sort of smoked meat, carrots and onions and served with crusty bread or corn muffins.
Quiche made with different kinds of vegetables in it and served with a salad.
Vegetable stir fry (usually made with a lot of broccoli, carrots, cabbage, onions or garlic) with chicken served over rice.
Baked chicken fingers with a vegetable and oven fries.
Baked potato with cheese sauce and broccoli or spinach.
Pasta with tomato sauce and a salad. The pasta sauce does not always have meat. We sometimes serve mozzarella fingers (not fried, just cut).
Hot dogs in blankets with items like carrot sticks, cherry tomatoes, coleslaw or sauerkraut and applesauce.
Pizza made with homemade crust and toppings and a salad or cooked green vegetable.
For Strata, put leftover bread in a greased casserole and layer with vegetable and/or sausage crumbles and/or cheeses. Then pour a combination of eggs, salt and a little milk over and bake. We serve this with a cooked green vegetable.
Beef is out of our league right now, but we have a grocer with great deals on chicken, so we stock up. When we have company, we try to do something more fun, like a curry with lots of toppings or have pizza night. We give each person individual crusts, so everyone can make his/her own pizza.
OF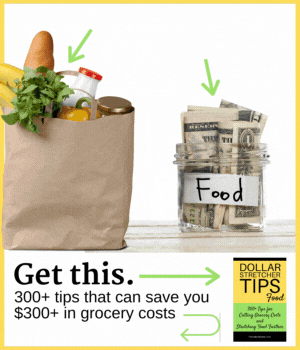 Put Saved Money to Use Elsewhere
I've been filling up our cupboards to the max by surveying the store for reduced meat, produce, dairy, bakery, and close-out priced canned goods. I freeze anything that is about to expire and use the produce in stir-fry and salad right away. I get organic food and special things I would not ordinarily buy. My family is grateful for the variety. (See: A Grocery Stockpiling Guide: How and When to Save.)
For thrifty meals, I recommend hot cereals for breakfast, including brown rice cooked with raisins. Also I recommend smoothies made with peanut butter, powdered milk, and over-ripe bananas.
For lunch and dinners, I stretch meat with black beans and TVP mixed with ground beef and ground turkey from Aldi's. We use chick peas in salads, and refried beans in tortilla wraps. Mostly, I save on these meals with my reduced meats in the freezer. Whatever I find is what I use to cook up a variety of meals. I also use all poultry bones/carcasses to make soup. I save all broth from canned vegetables or cooking water in a container in the freezer that I add to until I have a significant quantities. My family really enjoys the soups I can come up with by simmering all this "garbage" together, straining out the bones, skin, etc, then adding pasta, rice, beans, etc. Seasonings make the difference, but a cookbook can tell you what spices go with what meat/vegetables.
We also scavenge fresh food from any source we can find it. My husband recently stopped at a house that he passes every day while running and asked them if he could have the tomatoes that he observed were rotting on the vines in their backyard. They even gave him a bag to collect them in! This year we have enjoyed the less-than-perfect apples from the trees at our local membership resort, where we also picked berries from the woods in the summer.
With the savings that I realize from this frugal way of shopping, cooking, and eating, my family enjoys vacations and monthly frills that we would not be able to afford otherwise. We are not low income, struggling, in debt, or unemployed. However, I don't like spending money on things that I could be saving money on. Saved money is tax-free income to me.
Robin in Illinois
If circumstances have put your family in debt, we can help you create a plan for conquering it. One that is personalized to your family's budget and lifestyle.
Meal Plan with Mississippi Coastal Roots
Monday
Baked Chicken
Red potatoes
Green beans
Milk, OJ or water
We use chicken breasts with the bone in, removing the skin. This saves money and helps us cut down on our portion sizes. When picking red potatoes, we buy smaller potatoes because they taste better, stretch to cover more than one meal, and cut down on portion control. Green beans are fresh and we usually drink water with all meals (adding a straw and ice to encourage the kids to drink it) but we offer milk or OJ too, in small portions.
Tuesday
Rice and Sausage Casserole
Cucumber Salad
Fruit Slices
We use instant brown rice or regular white rice with sausage, which can feed more than four or can be used for leftovers at lunchtime. We no longer use cheese, croutons, ham, and other additives because they not only cost money, but they also add more than half of the calories in a perfectly good salad. A cucumber salad is simple, healthy, and cheap. Fruit slices consist of fresh slices of whatever fruit we find on sale.
Wednesday
Chicken Pot Pie
Fruit Slices
The chicken pot pie is a simple recipe that uses chicken pieces, frozen vegetables, cream of chicken soup, and instant biscuits. The recipe saves money because it cooks quickly and because we save vegetables all week for this recipe. For example, if we make corn on the cob and one piece is left untouched, we cut off the corn and add it to a small, thick plastic container in the fridge. We do this with all leftover vegetables that have not been handled (for safety), and that would be appropriate for a chicken pot pie. In essence, the vegetables are "free." The chicken also can be a cheap cut that you remove the bones and skin from, cook separately and freeze for use in the chicken pot pie.
Thursday
Shish Kabobs (i.e. pork, green peppers and potatoes)
Rice
Pineapple and berries (whatever's in season)
Our shish kabobs are made with a meat we get on sale and loaded with whatever vegetables are in season and cheap. The rice is either instant brown or regular white and the pineapples are canned with a sprinkling of whatever berry is in season. You only need a shot of blueberries for them to make a difference in your health and the canned pineapple is not fresh but cheap and good with the blueberries.
Friday
Brunswick Stew (in the slow cooker to save time and money)
Crackers
Salad
The salad is greens with tomatoes and low cost, low calorie salad dressing. The Brunswick Stew is made with a cut of meat bought on sale, frozen the day we bought it and then defrosted. The vegetables for this can be acquired in the freezer container in same way as above, or by using a stockpiling of canned veggies you might need to use. Today we got some fresh corn and tomatoes on sale, so we will use those.
Saturday
Blackened Fish Fillets
Red Potatoes
Green beans
We use whiting fish unless we can buy another kind on sale, small red potatoes, and steam fresh green beans in the microwave. This is a popular dish and doesn't leave much leftovers.
Sunday
Chicken Gumbo
Rice
Salad
Our family has Mississippi Coastal roots and this is a favorite recipe of ours. It can be made with chicken breasts with bone and skin removed by us. The salad is either cucumbers and tomatoes or greens and whatever vegetable we got on sale that week. This week it was tomatoes.
Lunches and Breakfasts: Mom only cooks once a day, so teenagers and husband make an oatmeal packet, cereal, toast, or an egg for breakfast with fruit. For lunch, leftovers or sandwiches can be made with carrot sticks, celery sticks, or fruit. We are a home schooling family so we each make a lunch to take with us or to eat at home. (Dad's lunches are at work and aren't included in the grocery budget.)
Rachael