4 Meal Planning Mistakes That Could Be Costing You
by Andrea Norris-McKnight
Meal planning can be a time- and money-saving tool…if you use it correctly! We explore some meal planning mistakes that could be costing you both time and money.
If you are trying to feed your family well while saving money at the store and time in the kitchen, meal planning can be the ideal tool. A meal plan is nothing more than a plan for what you are going to eat during a given time frame. Sounds simple, right?
Unfortunately, meal planning can save you a lot of money while costing you a lot of time. Or it can cost you both time and money if you aren't careful.
If you're making any of these meal-planning mistakes as you plan out your weekly or monthly meals, you could be spending too much time planning and preparing meals that are inadvertently increasing your food budget.
Meal-Planning Mistake #1: You don't have a simple plan (or two!) for how you will use up leftovers.
One of the trickier meal-planning tasks to master is preventing food waste by using up leftovers. After all, the amount of leftovers you may have after any given meal is unknown.
You can plan on having leftovers from a meal and your son may wipe them out in a second helping. Or your daughter may opt to eat during a study session with a friend instead of at home and you haven't planned on having "leftovers" night that week.
To plan around these meal-planning monkey wrenches, try one or both of these simple solutions: Plan at least one "leftovers" meal each week to eat up any of the week's uneaten food.  Or make a habit of eating up leftovers for lunch, whether at work or at home.
Just make sure you have meals you can pull out of the freezer for those "leftovers" nights or lunches when you end up with no leftovers so you can avoid calling for pizza delivery or making a dash through the nearest drive-thru.
A few tips:
Mark and date the leftovers or meals you put in the freezer so you can plan to eat the food before you lose it to freezer burn.
Don't plan on having a lot of leftovers of any new meal you've never cooked for your family before. If they really dislike it the first time, they aren't going to want to eat it a second time.
Any meal for which you plan on eating leftovers is one less meal you have to take the time to plan and prepare. If you are typically short on time, double each recipe you cook (as long as your family has had it before) and freeze the second meal or eat the second meal later in the week. Some busy families have "leftovers" night every other night. (See Meal Planning Around Leftovers to Stretch the Food Budget.)
Leftovers do not always have to be transformed into some other meal as some master meal planners like to do. If you don't have the time to transform the leftover pot roast into a stew, your family can just eat the pot roast as originally prepared.
Start living better for less.
Subscribe to get money-saving content by email that can help you stretch your dollars further.
Twice each week you'll receive articles and tips that can help you free up and keep more of your hard-earned money, even on the tightest of budgets.
Subscribers receive a free copy of our eBook Little Luxuries: 130 Ways to Live Better for Less.
We respect your privacy. Unsubscribe at any time.
Meal-Planning Mistake #2: You don't start your meal planning with your grocer's weekly sales flyer or in your pantry and fridge.
When meal planning, it is easiest to just pull out a week's worth of recipes and jot all the required ingredients on your grocery list. Sure, this can save you a lot of time and effort, but it will certainly inflate your food bills. You'll typically be buying food that is not on sale as well as items that you may already have in your kitchen.
The solution? If your family eats meat, plan around the week's meats, as meat is typically the most expensive component of any meal and a good place to save money. If you already have a freezer full of meats you've bought on sale, start your meal planning in your freezer. If not, you can save a lot of money by planning meals around meats on sale at your local grocer that week. (See How to Read Your Grocery Ad Like an Insider.)
Once you pick your meats (or if your family prefers meatless meals), pull out any recipes you will be using and make your shopping list of ingredients. Then go shopping in your kitchen. Determine which ingredients you already have on hand and cross them off your list.
And be mindful of what you have stocked in your pantry. Are you staring down too many cans of kidney beans each time you open the cupboard? Make a note to cook a pot of chili as soon as ground beef is on sale.
A few tips:
Don't buy produce or other perishables without already having a plan for how you will use the food. A large portion of wasted food dollars come from buying fresh foods that rot or spoil before they get used.
As often as you can, stick to preparing and buying seasonal veggies and fruits to reap the biggest produce savings. (See 14 Ways to Buy Produce for Less.)
Keep a written or digital inventory of everything in your pantry, fridge and freezer and remove things as you use them and add them as you buy them. This will save you the time of physically looking through your freezer, fridge and pantry each week to determine what you have on hand. (See Keeping Track of Pantry Inventory.)
Get in the habit of putting your new grocery purchases away with newer items behind older items. When you need to grab a can of tomatoes out of the cupboard, you won't have to take the time to check the expiration dates of all 5 cans you have to ensure you are using up the oldest can first.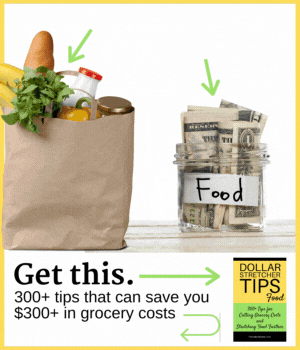 Meal-Planning Mistake #3: You create a completely new meal plan every week with complex new recipes.
While Pinterest and Instagram, and food sites like Delish.com have inspired us all to become at-home gourmet chefs, they have also caused many of us to fall into a costly meal planning time suck trap. So many tasty-looking recipes, so little time, right? And who cares about the price of filet mignon when the recipe looks so darn delicious?
If you just can't resist the call of new recipes but feeding your family is starting to cost you more and more time and money, trade the time you are currently taking to scroll for new recipes and use it to find a good variety of inexpensive, simple meals you can rotate into your meal plans. (See Super Frugal Weekly Meal Plans.)
Then allow yourself no more than one new recipe each week. If the new recipe proves to be well-liked by your family, not overly expensive and not too time-consuming to make, you can rotate it into your current recipe repertoire. One new recipe a week will allow you to try 52 new ones a year!
A few tips:
Try not to select recipes that call for more than 5 ingredients or ingredients, such as spices, that you'll have no further use for if your family decides they'd rather not eat it again. And don't make more than one meal each week that calls for a pricier cut or meat or expensive out-of-season vegetables.
Most recipes now provide an estimate of how long it will take for you to prepare and cook it.  Before deciding to try a new recipe, consider these times and whether they will actually fit into your schedule. Also be mindful of the cooking method. If it is new to you, it could take you even longer.
Meal-Planning Mistake #4: You plan meals entirely around homemade ingredients.
Yes, cooking from scratch is typically healthier and cheaper for your family than pre-packaged meals, but it isn't always the case. Sometimes you can save yourself a lot of time and money while still feeding your family well by using premade ingredients in your meals.
Jarred spaghetti sauce is a good example. When spaghetti sauce is BOGO and you have a coupon to boot, you likely cannot make homemade sauce cheaper than you can buy it. And you certainly can't make it faster. Many brands now offer organic and other healthier options for almost the same sale prices as their non-organic and less-healthy counterparts.
A few tips:
Learn how to stockpile sale ingredients, such as sauces and dressings that you use often, and then make sure you actually use them.
Not all sales items are a good deal. Spice packets, even when on sale, are rarely cheaper to buy than using what is already in your spice rack unless the packet is for something you rarely use and don't keep on hand.
If you do prefer to make everything from scratch, determine which meal components you can make ahead of time and keep on hand for when needed.
Meal planning and preparation can be as simple or as complex as you make it. And it can cost you a lot of money or save you quite a bit. You just need to keep your time- and money-saving goals in mind and avoid some of these costly mistakes.