Ways To Stretch Ground Beef (and the Grocery Budget)
Meat is often the most expensive component of a meal and a good place to look for savings. Try these money-saving ways to stretch ground beef and your food dollars further.
We have received several tips over the years from our frugal readers on ways to stretch ground beef in order to lower food costs. Here are some of the most helpful.
Read on to see if a few of these can you help save on your next trip to the meat counter.
Is It Meatloaf or a Burger?
For years, I followed my mother's example of stretching ground beef by adding dry oatmeal and an egg if I was going to make meat patties. I would fine chop onion and sometimes add green peppers or celery as well as throwing in an adequate amount of seasoning. My son would tease me about my "meatloaf" burgers, but I have found these burgers to be easier to digest than pure meat.
Mary Lou
TVP Is a Great Addition
I use TVP (textured vegetable protein). It is dried soy and takes on the taste of whatever I cook with it. Also, I add some dry oats, along with grated carrots, celery, onion, and green bell pepper.
Linda
Looks Just Like Ground Beef
I cook bulgur wheat with water and add it to sloppy joes, chili, Spanish rice, etc. When I use it in a tomato dish, it looks just like ground beef.
Caroln
Start living better for less.
Subscribe to get money-saving content by email that can help you stretch your dollars further.
Twice each week you'll receive articles and tips that can help you free up and keep more of your hard-earned money, even on the tightest of budgets.
Subscribers receive a free copy of our eBook Little Luxuries: 130 Ways to Live Better for Less.
We respect your privacy. Unsubscribe at any time.
Add Grated Potato To Stretch Ground Beef
I add grated potato to hamburger for Mexican dishes. It makes great tacos and chili.
Carol
Puree Veggies First
I find the best way to disguise veggies in ground beef is to puree them in the food processor. This works even better than grating. I put in a cup or more of cabbage, carrots, peppers, broccoli stems, celery, etc. in as I start to cook the meat. I usually also add half of a cup of filler like precooked lentils, kasha, quinoa, rice, or ground up beans.
I often boil up this mix and put one cup containers in the freezer for those busy nights when we just have crumbled ground beef for tacos or shepherd's pie. I usually have double the amount of meat mixture when I'm done. My family loves to eat meat, so this is a great way to stretch it. Add a little beef soup base to salt the meat and strengthen the flavor.
Mark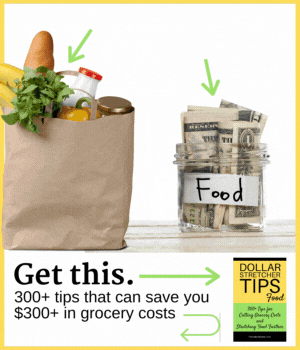 A Good Way To Use Stale Bread
I add stale bread, torn into small bits, mixed with an egg and spices to stretch ground beef. This makes great burgers, and I get double the material. It's terrific for meatballs, meatloaf, etc.
Stephanie
Healthy Way To Stretch Ground Beef
I mix fresh ground turkey and ground beef in equal amounts. It's better for our health, and it tastes good, too.
Alice
Stretching Sloppy Joes
I love to make Sloppy Joe meat, and recently came up with a way to stretch it without sacrificing flavor. With the pound of ground beef, I add in a chopped bell pepper (any color) and a can of black beans. I simmer it all together with the Sloppy Joe sauce once the beef is no longer pink, and the beans and pepper take on the flavor of the sauce. I get almost twice as much "meat." I've added a vegetable component, and the beans add more protein and fiber to my dish. This is especially delicious over a baked potato. Yum!
Susan K. from Virginia
Just a Little Less
I always cheat a little on recipes, and it saves me money every time. For instance, if I'm making spaghetti and it calls for a pound of ground beef, I'll use 3/4 pound. That's especially important now that beef prices have gone through the roof! Not only do I find that I spend less, but we probably eat a little less, too. It's good for the budget and the waistline!
Dawn