How to Clean Vinyl Siding Inexpensively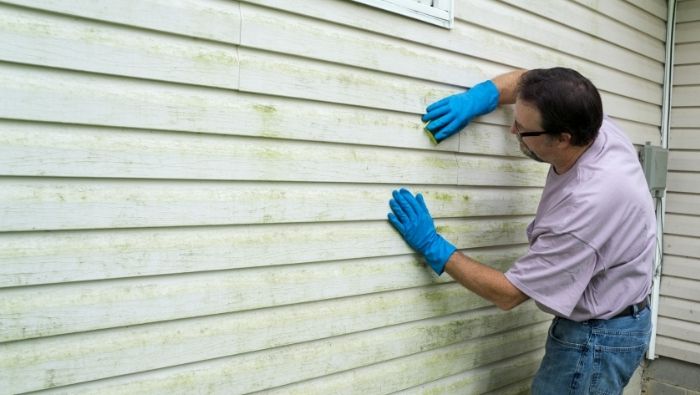 Has your vinyl siding become discolored with mold or mildew? Our frugal readers offer tips for cleaning and renewing your home's vinyl siding without paying a cleaning pro.
Dear Dollar Stretcher,
My house has vinyl siding. One side has become an ugly and very noticeable green instead of the gray color that the rest of the house seems to have remained.
Do you or your readers have any suggestions for cleaning vinyl siding? And once I start cleaning it, should I be prepared to do the entire house?
Debbie B. from Kentucky
For Cleaning Vinyl Siding, Try a Bleach and Water Solution
I mix a mild bleach and water solution to clean my vinyl siding. Just a couple of swipes with an old soft rag wetted with the bleach water does the trick! Then I rinse quickly with a spritz from the water hose.
C.
Clean and Then Paint
I work for a company that installs vinyl siding. I checked with our Operations Manager and this is what he had to say on cleaning siding.
The siding has faded and is oxidized. You can clean it with Vinyl Siding Cleaners
, but then you will have a shiny, faded wall and a sore body for a week. You can also paint it, which is the best solution! You will have to clean and rinse the wall, and then primer and paint it. Don't forget the primer first. Glidden Satin is the best and only type of paint that I would use.
Brenda
Start living better for less.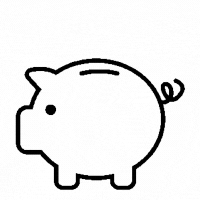 Subscribe to get money-saving content by email that can help you stretch your dollars further.
Twice each week you'll receive articles and tips that can help you free up and keep more of your hard-earned money, even on the tightest of budgets.
Subscribers receive a free copy of our eBook Little Luxuries: 130 Ways to Live Better for Less.
We respect your privacy. Unsubscribe at any time.
Don't Live Without It!
We use a product called Quick-N-Brite
that works great on everything. It is very economical and a single container will last years! It is an enzyme and is non-toxic and pleasant smelling.
I have used it for cleaning moldy patio furniture with fantastic results. It may also work well on the vinyl siding. It is a wonderful stain remover on laundry, carpets, and furniture. It cleans the bathtub scum wonderfully. We originally got it at a home show, but I believe they have a website now. We couldn't live without it!
Carla
Cleaning Vinyl Siding with Bleach
I would bet the ugly green stuff is mold. In high humidity areas, this is very common.
When we bought our century-old house in Tennessee last year, we had the vinyl siding pressure washed professionally. They used hot water under high pressure and mold killing chemicals in the water (like bleach). Since I'm allergic to molds, we thought the expense was worth it. When it needs another cleaning, we'll do it ourselves with a good cleaning product, some bleach and a scrub brush on an extension handle.
The high pressure is probably not necessary if you don't let it get really out of hand. Be prepared to do the whole house, but not necessarily all on the same day! Do it in sections and it won't seem like such an impossible undertaking.
Colleen
Not Just for the Toilet Bowl
Last weekend, we cleaned our vinyl siding. There was a drainpipe spilling water down it and it created rust stains. We used Lysol toilet bowl cleaner. It was the only thing that would really clean the stain that we had on hand. Regular soap and water didn't do it.
It worked so well that my husband tried it on the north side of the house for the green algae stains, and it worked great!
Crystal M. from Tennessee
Stay Away from Pressure Sprayer
Vinyl siding wash is available at many hardware and home center stores for around $10. Many experts recommend not washing the siding with a pressure sprayer since it can easily get behind cracks in the siding and other fissures and pull those pieces apart.
Instead, use a long-handled brush to scrub the wash into the siding and then rinse immediately with a garden hose. This treatment also works for aluminum siding.
Darcy
Before Cleaning Vinyl Siding, Find and Eliminate the Cause
If your siding has become "green," it means you probably have a water/mold problem. This may be caused from sprinklers, gutters that are not functioning properly, rain water running down in inappropriate areas, or simple weather conditions.
In any event, you really need to try and solve the water problem first so the green won't return. After that, the best product I have found for cleaning all kinds of vinyl is Simple Green. It comes in gallon bottles with dilution instructions. I would use a fairly strong mix, scrub well, and then rinse.
You probably will want to do the rest of the house. Once you have one side clean, the dust and dirt on the remaining sides will really stand out.
If you want to make your siding last longer, you might want to consider treating it with spray Armor All or a similar silicone-type treatment.
Kamia
Attack with Mean Green
I buy Mean Green
. I also have a long handled soft brush that is used for washing vehicles. Simply spray a section at a time, starting at the top. Brush the siding and hose it down. Go on to the next section.
I can do the whole side of my house in less than an hour. One bottle of Mean Green should do the whole job. It is good for almost all cleaning jobs. It will cut grease and loosen any dirt! I use it all over the house. I now purchase the half-gallon size and refill my spray bottle that I bought the first time. I even use it as a pre-treat for stains on laundry, especially grass stains.
Josie