Inexpensive Living Room Redecorating Ideas and Tips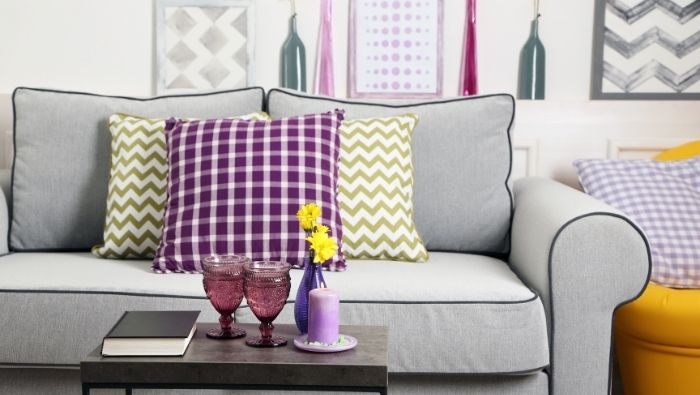 Don't let a lack of funds keep you from updating your living space. Our frugal readers share inexpensive living room decorating ideas and tips.
Dear Dollar Stretcher,
Help! I desperately want to redecorate our living room, but we have very little money to spend. We won't be able to replace furniture or draperies.
Do you or your readers have any inexpensive redecorating tips to share?
Leah
Do You Sew?
Paint and rearranging furniture can make a big difference. Also, I'm considering using an inexpensive wall stencil to do an all-over damask design in two colors in one room. It can look great, although it does take some practice, and the cost is just for the stencil and extra color of paint.
If you sew, you can often do quite a bit with not much money. I've seen pillows, throws, and wall hangings that are easy to make, especially if you have a discount fabric place nearby.
Diana
Repurpose Furniture from Other Parts of House
You can get a nice set of sheets to use as curtains/drapes (they have a pocket at the top of sheets to use for hanging) or use café clips and just clip to the top of the sheet and hang. With a few bright throw pillows to brighten up the couch and a couple of throw blankets on the chair, you have a whole new look.
Repurpose furniture from other parts of the house to change up the furniture a little. A piece of furniture need not be used for its original purpose.
Also, check out HGTV. They have many low-cost decorating tips.
Cindy
Start living better for less.
Subscribe to get money-saving content by email that can help you stretch your dollars further.
Twice each week you'll receive articles and tips that can help you free up and keep more of your hard-earned money, even on the tightest of budgets.
Subscribers receive a free copy of our eBook Little Luxuries: 130 Ways to Live Better for Less.
We respect your privacy. Unsubscribe at any time.
Shop Your House First
Go room to room and see what may have a new life in your living room. We often place items in the home and then never move them around. It is surprising how old things look new.
If you are able to, give your walls a fresh coat of paint. You'll get big impact for little money.
A new furniture arrangement always gives a fresh perspective. Also, if you are lacking wall art, take photographs, get them developed, and frame them. Dollar stores and second hand stores have some really great frames that can be painted the same color to give a cohesive look. Also, pillows can provide a punch of color for little money.
Most importantly, have fun and seek out your creative friends to help.
B
In a Word… Paint!
Paint is inexpensive and can transform a space! Besides the obvious of painting the walls, you can paint all kinds of things. I have personally painted furniture, lamps, and floors. You would be amazed at the results!
Wait for it to go on sale, or try the miss-tints section at your local paint supply or home improvement store. If you can't afford to buy rollers or other painting supplies, try your local freecycle.org. Often people will step up to the plate for you if you ask!
You can also refresh your space by changing window treatments. I know you said you don't have the money, but for very little cash, you can use bed sheets and clips on inexpensive rods for a fresh, fun look. Or try finding a steal on fabric from the clearance section of the fabric store or even the thrift shop!
Even just moving furniture around can make a dramatic difference. Be creative and have fun!
Carolyn
Reclaim Your Space
Repurpose: Maybe an unused nightstand in the spare bedroom would make a great end table, or an empty bookshelf can be used to display knickknacks and small framed photos.
Rearrange: You can make a huge difference without spending a dime simply by rearranging the furniture. Draw a diagram of your room and make paper cutouts of the furniture. Then have fun trying them in various configurations until you find an arrangement you like. When you decide on an arrangement, move the real furniture and enjoy!
Re-cover: You can have "new" furniture instantly with fresh slipcovers. Dated prints, dull colors, and worn fabrics can all be hidden at a low cost.
Use Freecycle: If there's anything new you actually do need to get, post a request on Freecycle or ask family and friends, and you may find just what you're looking for.
Reclaim Your Space: Decluttering is another way to make a big change without any expense. Purge the excess that doesn't add anything to your life, dump the old newspapers and magazines, and put things away where they belong.
Diva
Visit Thrift Store Often
A great way to update or redecorate would be to check out local thrift stores. You might have to visit often. You might also have to be creative (maybe a coat of paint on a picture frame). Look at the items and think of different ways to use them.
Fontaine
What about a "Feature" Wall?
Go to the local home improvement store to see what mixed color they have on sale/clearance. It'll be the ones that people mixed and didn't buy. Then use that color to paint one wall.
Are you handy with a sewing machine? If you can't get matching pillows for the featured wall, maybe you can make a slipcover using a matching fabric to go over a pillow you already own?
Put an array of pictures on the wall or make an inexpensive enlargement of a favorite family photo.
FM
Inexpensive Living Room Redecorating Tips
If you want a brand new look in your living room, you can put an afghan across the back of your sofa. If you are hiding worn areas, tuck a colorful sheet around the sofa. This will make clean-up a snap.
Find inspiring photos and hang them on your walls. Add plump cushions to a loveseat or place an area rug under a coffee table. All these items can be found dirt-cheap at your local secondhand store. Have fun!
MD
Start with an Empty Room
Be creative when you have very little money to redecorate!
First, take everything out. Only put back the main pieces that you need, perhaps in a different arrangement. Then go shopping in your home! Often you can find items that look new in a different room.
If you really need a new look, try paint. One gallon will cover most living rooms if you use a paint brush instead of a roller. It might take a bit longer, but the results are great.
Finally, if you really want to jazz it up, go to thrift stores or garage sales for a few new-to-you accessories. You can change the whole look of the room with just a few dollars.
Shaunna