Ways to Reupholster a Couch Inexpensively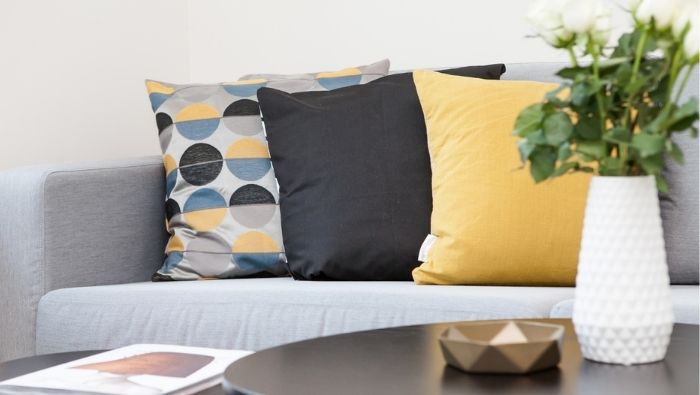 Could your sofa use a cheap makeover? Our frugal readers share ways to reupholster a couch inexpensively so you can avoid the higher cost of new furniture.
Dear Dollar Stretcher,
Do any of your readers have any tips on ways to reupholster a couch inexpensively? We don't want to pay for something new right now. Our current couch fits our space perfectly. It just needs a cheap makeover.
Raj T.
Browse Overstock.com
When my couch and loveseat started to look really bad, I decided to recover them myself. I looked for a good sale on denim (a durable fabric for a household with dogs), took my measurements, and calculated the cost. It was still going to be outrageously expensive!
While brainstorming, I browsed at Overstock.com. They had heavy-duty denim slipcovers from SureFit for $80 and $100 each (loveseat and sofa). That was about half their regular price, and approximately the same amount the fabric would cost to do it myself! Plus, I wouldn't have to recover the couches myself. I could whip off the covers and toss them in the washer/dryer anytime I liked.
The slipcovers were the best deal for me, and I'd recommend that anyone check into them. The selection varies, but there are usually some neutral/basic options that would work for pretty much everyone.
Rebecca
Visit a Vocational School
I was appalled at the prices I found when trying to have some antique furniture recovered. Once I did some checking around, I found that we had a vocational school in our area that offered upholstery classes.
We were able to have the work done at a fraction of the cost through their upholstery program. All work was done by students, but supervised by the instructor. We were allowed to choose the fabric and the instructor was very helpful with this. The only cost to us was the price of the supplies. Of course, you have to arrange your own delivery and pick-up.
Our antique furniture is still beautiful after seven years.
Karen
Start living better for less.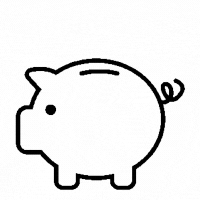 Subscribe to get money-saving content by email that can help you stretch your dollars further.
Twice each week you'll receive articles and tips that can help you free up and keep more of your hard-earned money, even on the tightest of budgets.
Subscribers receive a free copy of our eBook Little Luxuries: 130 Ways to Live Better for Less.
We respect your privacy. Unsubscribe at any time.
Simple Savings
The best idea I have heard for keeping the cost of slipcovers to a minimum also happens to be very easy.
Go to the hardware store, head for the paint department, and pick up some durable canvas drop cloths. Be sure to measure the length and width of your furniture. Drop cloths come in several sizes, but usually are of a light goes-with-everything sand color. You will want plenty of material for tucking in and pinning at the arm, back, and cushion areas. A large silver grommet can be applied to both sides of the arms. Leftover material can be sewn to slide through the grommets and tie into a bow.
These covers are no problem to keep clean. Simply toss them in the washer and remove from the dryer as soon as the drying cycle stops. Putting the covers back on the sofa as soon as they're dry will help avoid wrinkles and ironing. Now, that's simple savings!
Patricia
D-I-Y Delight
After looking into prices for reupholstering my La-Z-Boy chair and deciding it was too expensive, I decided to hit eBay.
I found some beautiful fabric that matched with the rest of the furniture for about $50 for a roll large enough for two chairs. On eBay, I also found the thread for $10 and the large needles (straight and curved) for under $5. I did a web search and found many sites that had helpful upholstery hints. I tore apart the chair as well as I could and started going. It was easier than I expected it to be. I laid the fabric out, cut it a bit bigger than the correct size, pulled it tight, and started sewing. The job looks so nice that everyone that comes over thinks that we bought new chairs. So, for under $70, I have two new (looking) chairs and I love them even more because I did it myself!
BK
Find an Industry Newcomer to Do the Couch Reupholstery
Your best bet is to take a class and do it yourself. Second best is to find someone starting out and see if they will do it for the materials plus a small labor fee. In exchange, they can use you as a reference.
Don't skimp on the materials. Expect to pay more than $40-50 a yard for top quality fabric that will hold up to life in a real person's house.
Be warned that most couches/sofas made in the last 15 years or so are not well made enough to be worth the time and expense of reupholstering. The frame's materials and workmanship are just not good enough to last another 15-25 years. Ask an upholstery hobbyist, and they will tell you that old sofas from top brand names of 30-50 years ago can be found for free if you are willing to look hard. Their quality will repay you the effort. Similar quality sells new for $2,500-$10,000 and up if you can find them nowadays. And you have to know what you are looking at to see the gems mixed in with the trash at that price point.
Also, it would be worth calling an experienced professional to evaluate whether your old sofa is worth redoing. A $30 consultation may give you a $300 education in what to look for in a used sofa. And often a pro may be able to get you a free used sofa that has great bones that the previous owner balked at re-doing due to expense. From what I have seen, if you can find one of the really well made older sofas, it is worth the time and expense of recovering it. You will never need to buy another one. You can just replace the fabric every 15-20 years from now until you no longer need a sofa.
It may sound strange to spend more than a cheap sofa costs to keep recovering an older sofa. However, the best made ones will laugh off anything kids, pets, husbands, teenagers, etc. can do to the structure and still always be a non-fad style statement of form and function triumphing through excellent design and workmanship. I am in favor of buying investment quality items once and never having to buy again. It is cheaper in the long run.
An $800 redo of a wonderfully made old sofa will last 12-15 years with minimum care and careful fabric selection. And every 10 to 20 years or so, you can make it look like a new one while keeping the quality built into it by craftspeople who took their work seriously 50-100 years ago.
Debbie
Take an Upholstery Class
Many years ago, I knew a couple who needed to reupholster their couch. They took a course together on it at the local community college. They brought home their knowledge and did a really professional job. The course didn't cost very much and they did it in their spare time.
Ginger