Tips for Updating Outdated Ceiling Fans Inexpensively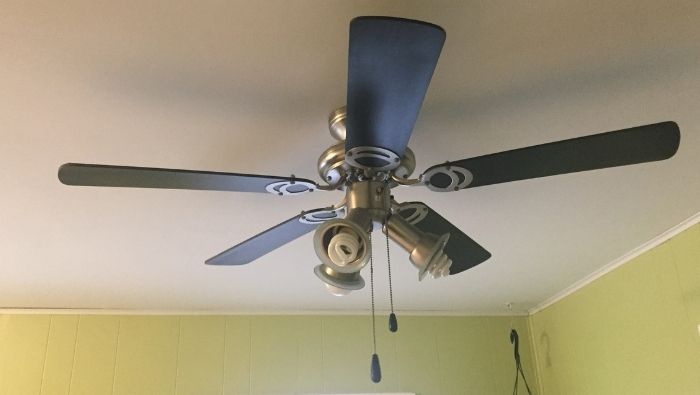 Do you have a ceiling fan that works just fine, but looks really old? Or perhaps no longer matches your updated décor? Our frugal readers share their tips for updating the look of an old ceiling fan.
Dear Dollar Stretcher,
Although the ceiling fans in our home work perfectly fine, they are very dated looking and really do not match our décor. I cannot bring myself to buy new ones.
Do any of your readers have tips for updating ceiling fans? I assume I can paint the fan blades? Can I paint the hardware and the metal around the motor? Two do have light kits. Any clever ideas for updating those?
My husband is confident he can take the fans down and rehang them, but if I take the blades off to paint them, can I cause the fan to become unbalanced once I rehang it?
Thanks a bunch to anyone who has some advice for us and our outdated fans!
Jill
Replace the Pieces
I love my ceiling fan and use it to cool in summer and (set on reverse) to keep heat down towards living space. (See What's That Little Switch On My Ceiling Fan? And How Can It Save Me Money?.)
My fan blades were dark and the light covers (glass) were opaque. I bought new glass at a big box home store that was prettier and on sale for $6 total. At a thrift shop, I bought a whole ceiling fan for $5 with light color blades and switched those blades for mine. All it took was a screw driver and the fan did not need to be removed. Plus, I have an extra motor should mine burn out.
Clare
Buy New Blades
Home Depot/Lowe's sells blades for ceiling fans. I don't know how much they cost, but this might be worth looking into.
D
Start living better for less.
Subscribe to get money-saving content by email that can help you stretch your dollars further.
Twice each week you'll receive articles and tips that can help you free up and keep more of your hard-earned money, even on the tightest of budgets.
Subscribers receive a free copy of our eBook Little Luxuries: 130 Ways to Live Better for Less.
We respect your privacy. Unsubscribe at any time.
Experience Speaks Out
First off, I've had over a dozen years as a self-employed and licensed handyman. After that, I got tired of getting wet doing plumbing and became a self-employed and licensed electrician. I've repaired and/or installed over 200 ceiling fans.
As for updating a ceiling fan, yes, it can be done rather easily. Change the light kit and/or the type of glass and bulbs on the fan. Change the finish to nickel, antique brass, polished brass, brown, black, white, silver, and even chrome. The big deciding factor in doing this is the cost, as typically the parts total a much higher cost than a new complete ceiling fan!
If you still want to do it, first check the fan out completely to see if it is in good, mechanical condition. For example, check the lamp sockets to see if they show signs of over-heating (brittle or discolored). These can be a high cost item(s) depending on the type of sockets required. Do the same for the fixture wiring throughout (look for black coloring, stiff wiring, etc.).
If any defects are found, remove and replace them. If you are going to paint the fan, pre-sand it lightly with a 320-440 grit emery paper and clean completely afterwards with a tack cloth. Paint with a metal-type paint like Rust-Oleum® or similar. For added protection if needed, seal with a matte, spray varnish. If it looks like the update will be too expensive, buy a new one and just donate the old one. This should get you started anyway.
Denny
Dress Up with Contact Paper
You don't have to paint the blades. You can use contact paper (or any other self-adhesive) materials carefully cut out to update them and it will last longer.
If you go online, you will see how to balance your fan blades. If you hear a sort of knocking noise when they run, they need balancing. You can buy the weights at any home hardware store.
As for fan light kits, there are both entire kits that can change out how everything looks, or you can just buy new light covers that are more modern, along with more modern light bulbs. I don't recommend painting the metal housings because they do get hot, and trying to do so will result in peeling paint. If you spray them and get paint in the motor, it could result in a completely ruined fan.
Kamia
Be Careful About Balance on the Fan
Yes, you can paint the hardware and the blades. Rust-Oleum® makes a spray paint for metal with many metal refinish choices. The blades can be painted as well. The light kits can get new shades at any big box hardware store. Just watch the opening size. There are many, many choices.
If you're concerned about the balance on the fan when you reassemble, simply number or mark blade and slot, so you can reassemble in exactly the same way.
E
Nice, New and In Style
I spray painted my old ones to give it an updated look. I cleaned it well first and did three light coats of spray paint. My ceiling fan had lights/globes, and I inexpensively updated those with new ones.
Our fan looks really nice, new, and in style. It only cost a few dollars and a couple hours of work.
Pamela
Make Reassembly Easy
When you remove fan blades, mark the top and the place you took them from with a matching mark. That way they will be easy to put back in the same place.
You can paint – just clean well and sand them down. Then paint away.
Virginia