Liven Up Your Living Space on a Budget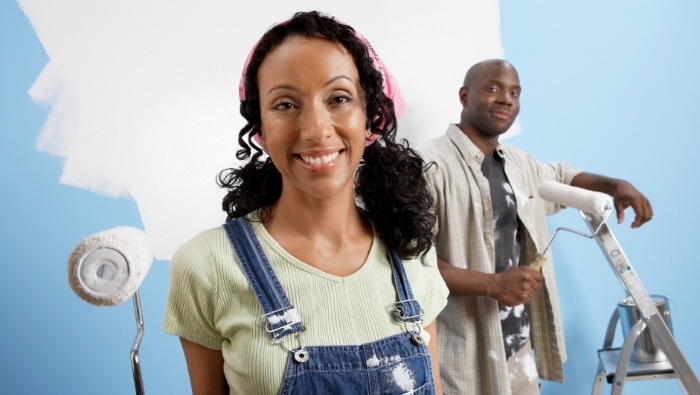 Have you grown tired of your home after being stuck inside for so long? You may not be able to physically relocate, but you can use these tips to relocate a few key pieces of furniture or swap out rooms to get a new look and feel on a small budget.
Is your home driving you crazy? You were stuck indoors for over a year with covid. Now you can venture outside, but every time you return home what bugged you before is still a thorn in your side? 
You don't have enough space, the décor is outdated and you want a whole new look. Your income took a hit and your finances are at an all-time low. So spending a lot on redecorating is out of the question.
No, you don't need to move. Just use some of these tried-and-true tricks to refresh your space without spending a fortune.
Which room do you dislike the most?
What are its weaknesses? Is it too crowded?
Eliminate clutter by selling, discarding or moving excess furniture to other rooms. Leave only the basics to make the room function better.
For example, in a family room, you would need adequate and comfortable seating, probably a television set and perhaps a computer. You can save space by sharing end tables and picking pieces that have built-in storage. Corral clutter with attractive baskets and magazine racks.
Start living better for less.
Subscribe to get money-saving content by email that can help you stretch your dollars further.
Twice each week you'll receive articles and tips that can help you free up and keep more of your hard-earned money, even on the tightest of budgets.
Subscribers receive a free copy of our eBook Little Luxuries: 130 Ways to Live Better for Less.
We respect your privacy. Unsubscribe at any time.
Have your once favorite décor colors become drab?
Paint is the easiest and cheapest way to update a room and can make a dramatic difference. Just choose a color that pulls together the components of the room, like picking a deep red out of the sofa and chair cushions.  You can paint one wall to create a focal point. Or just pick a fresh new color that you like.
Are you tired of the same old room layouts?
Rooms become stale or boring when everything stays the same.
Add some excitement by changing the floor plan and mixing things up.  If the sofa has always been in front of the window,  put it against the wall. Move the television stand to a new corner. Pick a new wall or area for the focal point with a large picture, mirror or wall design. Create your own with a collage of favorite pictures in matching frames.
I find inexpensive frames at The Dollar Store or thrift stores, and then paint them a uniform color like black or gold.
A floor plan doesn't have to be square. Move the pieces on paper before you shift heavy furniture. Try setting everything on a diagonal. This works especially well in square or extra-long rooms.
Furniture-mover disks or plastic coasters make it easy to move large pieces of furniture to give your room a whole new outlook while saving your back!
Are you sick of your furniture?
Go shopping…in your home!
Bring in the patio furniture for a new dining experience. New cushions or sewing inexpensive covers make it fresh, while metal furniture can be painted any color to match the décor.
Swap out chairs in the living room for comfy egg chairs that are trendy but cheap at Target.
Move your nightstands to the living room for new end tables. Just moving an accent table or the pictures on the wall can make everything feel updated.
What if your children hate their bedrooms?
Pull a room swap. This is a major undertaking, but it beats moving altogether!
Our family recently switched out four rooms of our house, simultaneously. It helps to plan everything out on paper, and make sure everyone is happy with the switch, before you begin moving. Measure large furniture to make sure it will fit in its new place. 
Now our two children have "new" rooms. The "new" computer room shares space with an extra television and game center and doubles as our storage area. I doubled our pantry space with vertical shelving all the way to the ceiling. I hung an attractive sheet from the ceiling to mask the shelves, while still providing easy access. The family room in the basement is much roomier and more comfortable since we moved the computer upstairs. 
Our décor got to relocate, as well. The contemporary prints no longer worked in our Safari-themed living room, so they moved down to the family room. The kids' posters and décor moved with their furniture and only required a coat of paint in each room to make everything coordinate.
It might not be possible to pick up stakes and move. Yet by relocating a few key pieces of furniture, or swapping out rooms, you can liven up your living space and once again, it will be home sweet home.
About the Author
Shaunna Privratsky became an expert in personal finance out of necessity. Between writing, reading and gardening, she is always on the lookout for bargains. Visit her at The Discount Diva.