Does it seem like your budget gets tighter as the days grow shorter? Here are 5 things that may be to blame and what you can do to keep these sneaky costs in check.
Good money habits have a way of accumulating and reinforcing each other while improving your financial condition over time. Anyone can develop these five simple habits in their daily routine. And they are sure to have a significant impact on your finances.
Stop paying big money for common cleaning ingredients and start making your own homemade cleaners for big savings.
Cold weather and heating bills are almost here. Reduce your winter heating bills and keep more money in your pocket with these frugal home winterization tips.
Could you be hurting your retirement by taking a 401k loan now? Borrowing your own money rather than taking out a conventional loan does have its advantages, but you also need to consider how a 401k loan will affect your future wealth.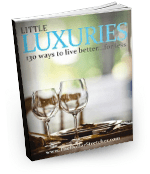 Subscribe to The Dollar Stretcher, our free twice-weekly newsletter aimed at helping you live better for less on the money you already have!
Subscribers get a copy of our ebook Little Luxuries: 130 Ways to Live Better...For Less for FREE!
Of course more money will make you happier. Right? The answer may surprise you. Read on to find out why more money isn't always the answer.
Moving back in with your parents won't necessarily make your life better. But here are 15 steps that can help make it a positive experience.
You want to save money, time and stress when it comes to meal planning. Our frugal readers share their best tips for beginners looking to master meal planning.