Are there really secrets to attracting and saving money? Here are some money-attraction facts that you might not know.
No one likes being worried or stressed out, but when money problems arise and times get tough, anxiety and stress is inevitable. A lot of us could use some relaxation techniques right now so we went to an expert for tips.
Maintaining your garden this summer does not have to sting your pocketbook. With a little ingenuity, you can enjoy your lush greenery and fragrant flowers with minimal effort and maximum savings.
Have you grown tired of the look of your home's décor? Use these tips and a small budget to make over any room in your house and take your décor from tired to admired.
Is your budget ready for that good old summertime energy bill hike? Consider these summertime kitchen energy efficiency tips that can help you save not only on your electric, but possibly your grocery bill, too.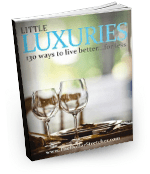 Subscribe to The Dollar Stretcher, our free twice-weekly newsletter aimed at helping you live better for less on the money you already have!
Subscribers get a copy of our ebook Little Luxuries: 130 Ways to Live Better...For Less for FREE!
Is your budget in need of some radical cost cutting? Use these tips to get through and survive financially tough times.
Most of us could use some extra money right now. Have you considered being a test subject for psychological studies or clinical trials? Here some places to find studies that will pay you to participate.
You should be sure your finances are in excellent shape before embarking on a career change. Consider making these smart money moves first.