Want a better relationship with money? Treat your finances like you treat yourself. We explore psychologically tested concepts that you can apply to your money relationship (and yourself!).
Practice one or all of these happiness-increasing tips, and you may be surprised to find yourself wearing a genuine grin before you know it.
Want to know what cosmetic companies don't want you to know about all-natural cosmetics? The best skin care products are homemade. Give these recipes a try.
Do you typically brew more coffee than you drink? Save yourself some money by saving it for some other later use.
Are you guilty of making these money mistakes over and over again? Have you fallen for any of these slick sales tactics? Let's all stop making these costly financial mistakes.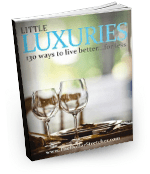 Subscribe to The Dollar Stretcher, our free twice-weekly newsletter aimed at helping you live better for less on the money you already have!
Subscribers get a copy of our ebook Little Luxuries: 130 Ways to Live Better...For Less for FREE!
Moving is not always an easy or enjoyable experience, whether cross-country or just across town. Don't let the cost make it worse. Minimize those moving costs with these tips.
Do you think saving all of your spare change constitutes saving money? If you do, you may have fallen into the money jar trap. By placing your extra coins in a jar, you may actually be losing money.
When the family budget gets tight, it isn't always easy to get your family on board with necessary cost-cutting measures. These steps can help get the whole family involved in solving financial problems together.