A change in seasons can cause a change in your budget. Consider these things frugal folks do as temperatures drop. Are you taking advantage of these opportunities to save?
We know taking proper care of our teeth can save us tremendously in dental costs. So are electric toothbrushes worth the cost? And which brands do the ADA recommend?
Sitting around a fire is a great way to spend a cool evening. Follow these tips to build your own backyard fire pit without burning up your budget.
Disposables are supposed to make our lives simpler, but do they? They certainly do not typically save us money. See how much you can save by disposing of the use of disposables.
Winter wear can be pricey if you don't shop carefully. Use these tips to find outdoor clothing that will keep you warm for less.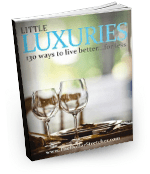 Subscribe to The Dollar Stretcher, our free twice-weekly newsletter aimed at helping you live better for less on the money you already have!
Subscribers get a copy of our ebook Little Luxuries: 130 Ways to Live Better...For Less for FREE!
When buying a used car from a private party, sure you worry about getting a good deal, but you also need to be careful of scams. Don't get cheated! Take these steps to protect yourself.
Health Savings Accounts (HSAs) are a tax advantaged way to reduce medical expenses. Here's what you should know about HSAs and how they can be beneficial to your finances.
Do you have more expenses than income? Here are some things you can do when you don't have enough money to cover your bills or pay down your debt.