Do you have trouble controlling your spending? Here's a look at how to peel back the layers of your financial onion and discover the real problem behind your overspending.
We offer up 71 ways you can save money this summer. Most can be done from the safety of your home. So pick a financial goal and get to saving. You may be surprised how much money you can save by the holidays!
The foods you prepare this summer will save you time and money in the fall. Here is how to go about stocking your pantry for fall so you can do both.
Want a beautiful outdoor space without overspending? Our frugal readers share their tips for creating an outdoor room that is both inviting and affordable.
How clean are your appliances that are used to clean? Take these simple steps to clean appliances such as dishwashers, washing machines, and garbage disposals with little to no effort.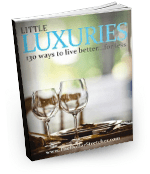 Subscribe to The Dollar Stretcher, our free twice-weekly newsletter aimed at helping you live better for less on the money you already have!
Subscribers get a copy of our ebook Little Luxuries: 130 Ways to Live Better...For Less for FREE!
Use these 10 tips to build a better burger on a budget and find your way to Hamburger Heaven in your own backyard.
Losing your spouse is challenging on its own, and that stress multiplies if you find you are in the dark about your family finances. Take these steps to make sure you both will be equally prepared for the future.
With a little creativity and out-of-the-box thinking during back-to-school sales, you can turn bargains for scholars into cool, yet frugal holiday gifts.