This Week's Readers' Tips
by Dollar Stretcher Reader Contributors
Each week we publish a new batch of money-saving tips from our frugal readers that can help you stretch your dollars and live better…for less.
Cheap Homemade Fabric Freshener
I love to use the fabric refreshers like Febreze, but have found that they are very pricey. So I use a spray bottle filled with tap water and then put in about a capful of fabric softener. It works wonderfully and is much easier on the wallet.
Debbie
Additional fabric freshener recipes: Natural Homemade Room and Fabric Deodorizers on the Cheap
Easy Instant Salads
Instead of getting all the salad ingredients out of the refrigerator every time I want a salad, I cut it all up and put it in a plastic bag or container and just grab a handful to put on some lettuce when I want a salad. Or I make up some containers complete with lettuce minus the dressing. I'm eating more salads since it's so easy to just grab one without all the fuss.
Carolyn
Salad savings: Produce Purchasing Tricks from a Produce Manager
DIY Tangle-Free Hair Helper
Instead of buying expensive detangling spray, I make up my own and it leaves my hair moisturized and smelling great.
First, I take a regular 16-ounce spray bottle and put in two tablespoons of hair conditioner. Then I slowly fill the rest up with warm water and shake until conditioner is completely dissolved. To take care of my curly perm, every morning I spray my concoction on my hair. My hair just comes untangled and I am able to work out curls with my fingers.
Cynthia
More affordable hair helpers: 5 Inexpensive Homemade Hair Treatments
The Right Time to Shop
I do most of my shopping right before stores close. Often they'll do their mark-downs near the end of day. Same thing is true of flea and farmer's markets. People don't want to return home with their stuff so they'll sell it cheap. It even works at yard sales, too!
Gabby
Additional shopping savings: A Buying Guide For the Farmers Market
Shopping for Others
When COVID hit, my 84-year-old next door neighbor was afraid to go to the grocery store. So I shop for her. To make it easy, we'll buy a gift card and load it. Then I use that whenever I shop for her. We never have to worry about her going to the bank for cash to pay me. Plus she always knows exactly what I've spent.
Gwen
Subscribe to Dollar Stretcher Tips, our free twice-weekly newsletter filled with tips just like these aimed at helping you live better for less on the money you already have! And get a copy of our ebook Little Luxuries: 130 Ways to Live Better...For Less for FREE!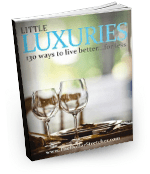 Subscribe to Dollar Stretcher Tips, our free twice-weekly newsletter filled with tips just like these aimed at helping you live better for less on the money you already have!
Subscribers get a copy of our ebook Little Luxuries: 130 Ways to Live Better...For Less for FREE!
Patio Furniture Care
At the end of BBQ season, it's easy to forget about your patio furniture. But if you do, you'll spend more next spring getting ready for those outdoor dinners. Here are a couple of things that you can do now.
Use a pressure washer on any plastic chairs, benches, or tables. No scrubbing required. Take any cushions and spray them with diluted bleach. Hose off before you put them away in the garage. It's also a good time to pressure wash your deck and reseal it before the winter snow.
The time and money you spend now will be repaid next spring!
Sol
More ways to get ready for winter: Minimize the Costs of Winter's Chill with these Home Prep Steps
Saving on Everyday Dishes
For our everyday dishes, I only buy heavy white ones. When they break, it is easy to find a similar replacement without having to match patterns or colors. If I want to add color to the table, I do it with napkins and centerpieces.
Jennifer
Extremely Cheap Stain Remover
Instead of expensive spray-on products for grease stains, I use cheap store brand shampoo on the oily rings and spots. They come out perfectly clean. I buy generic shampoo for little and only have to use a few drops on a stain before a brief scrub and tossing it into the washer.
Katey
Additional stain remover tips: Inexpensive Homemade Stain Remover Recipes and Remedies
Winter Bird Feeding
Every winter I always think of the poor birds, don't ask me why. So I find an old pine cone, slather on the peanut butter, then roll it in bird seed. I hang it on a tree, close enough so I can enjoy the birds. Come November or December, I can see them enjoying a little snack. The squirrels really like this, too!
BW
Reduce Your Mortgage Little By Little
My bank allows me to pay directly to my mortgage online. The minimum payment is $10. Any time I have $10, I put it towards my mortgage. If I save $10 on something, I apply it to my mortgage. It can be surprising how often an extra $10 can be eeked out for this worthwhile purpose!
Connie
Additional mortgage savings: 5 Ways to Save on Your Mortgage
Protect Your Appliances (and Your Wallet)
A few years back we bought a whole home back-up generator. It was the best move we ever made since our area seems to have power outages quite often.
Imagine our surprise when I went to turn on my 3-year old TV and could get sound but no picture. I called the cable company and they walked me through some tests and then sent a technician out to troubleshoot the problem. The cable system turned out to be fine. However, a few of my neighbors said that they had lights flicker on the day my TV went out. The electrical power surge wasn't enough to set off my home generator, but it was enough to break my TV because the TV was not on a surge protector power strip. 
I talked to the company that installed my generator and they told me about a system called a Whole House Surge Protector. This protects appliances that have digital components that can't be plugged into a strip cord. This includes stoves, refrigerators/freezers and dryers and washing machines. 
The cost to install a Whole House Surge Protector was less than it cost to replace my TV.
Toni B.
A related resource: How to Calculate Appliance Electricity Usage
Saving Money on Pet Vaccinations
Instead of taking my pet to his veterinarian for his yearly vaccinations, I watch for specials that the Humane Society or local pet stores offer. Seems like at least once a month one or the other is offering discounted vaccines. That leaves me a little more money to buy chew toys for my boy!
Cliff
For additional savings: Reduce the Cost of Pet Healthcare
An Inexpensive At-Home Spa Wrap
Haven't been able to have your hair or nails done recently? Then how about an at-home spa wrap?
Boil some water in a large pot and put one cup of your favorite herbs in it. Place a towel or a wide ace bandage in the pot, let it cool a bit, then wrap it around your stomach, legs, arms, etc. Cover up with a blanket. At-home body wrap for pennies!
Dawn S.
Pamper yourself for pennies: 9 Do-It-Yourself Beauty Treatments
The Early Bird Gets the Grocery Savings
Many people have been having their groceries delivered or are using pick-up services. That means fewer people in the store to catch markdowns.
I do my grocery shopping early in the morning. Overnight the stockers will have marked down items like bagged salad, bread, meats, etc., that will soon hit the expiration date. Sometimes for less than half of what they cost the night before!
And you don't need to worry about bad food. Even the markdowns are good for four or five days if stored properly when you get home.
Ceil
Save even more: 18 Ways Empty Nesters Can Cut Grocery Bills
Scented Sleep Aid
Lavender is said to produce a calming effect and combat insomnia.
Take a nice sprig of it, put it in an old clean sock, and then put the sock inside your bed pillow. Give it a good crush with your hand and enjoy the fragrance. If you wake up in the night, just give it another "crush" to release more fragrance and drift back off to sleep.
It works wonders.
HT
Additional cheap sleep tricks: 8 No-Cost Ways to Get to Sleep
A Trick for Defrosting Bread
When defrosting bread, put a piece of paper towel or a paper napkin into the bag and reseal. This absorbs the moisture from the ice crystals that make the bread "wet" after thawing. Keeping it sealed in the bag, the bread will remain fresh longer.
YS
Reduce food waste and food costs: 17 Ways to Use Stale Bread to Reduce Food Waste
Chore Control
I have twin daughters that recently began fighting with each other constantly. I created a "chore bucket" with different chores inside (age appropriate of course, and very specific). Each time I have to tell them to stop fighting or to speak nicely, they must pull a chore and do it right then!
The first week we had to pull many chores. After about three weeks, we're down to maybe three chores a week. Every now and again, they forget, but it has worked very well!
Michelle S.
Additional advice: Getting Kids to Complete Chores
Easy Clean Savings
Baking soda and vinegar make a great cleaning combo.
For instance, to clean my combs, I put them in a glass, add a tablespoon of baking soda and some vinegar. It bubbles the combs clean!
I do something similar with the water bottle that I take on my daily walks to keep it from getting slimy. I rinse it thoroughly after. My bottle has been clean and fresh for over a year!
Jules
More ways to save: Just 4 Ingredients to a Cleaner House for Less
"Canning" the Grocery Budget
I spend one day every month at a friend's house canning. We make pasta sauce, pizza sauce, jams, and soups. We buy the ingredients at the warehouse club and use fresh fruits and vegetables as much as possible. When we are done, there is enough to last the month and it costs us about half of what we would normally spend on the pre-made items.
The best part is spending the day with a good friend.
Nancy K
Try it yourself: Top 10 Foods for Home Canning
It's a Good Time to Hunt for Clothing Bargains
If you're fortunate enough to have any high end stores in your area, now is the time to visit them. Many people are afraid to go shopping in person. So they do it online. That means that stores have fewer people looking for bargains in odd sizes or seasonal close-outs! Perfect for me!
I visit a store that I could never afford at full price and just visit their clearance racks. My friends think I spend a lot on clothes. If they only knew!
Cloe
Additional clothing savings: 6 Clothing Resale Shop Saving Secrets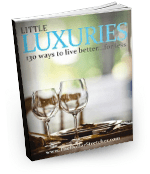 Subscribe to Dollar Stretcher Tips, our free twice-weekly newsletter filled with tips just like these to help you live better for less
Subscribers get a copy of our ebook Little Luxuries: 130 Ways to Live Better...For Less for FREE!