What is the Cheapest Way to Build a House Yourself?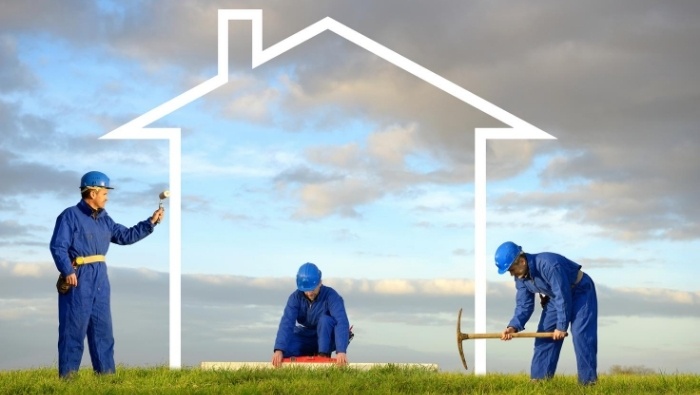 Do-it-yourself home builders share their experiences and tips for building a do-it-yourself house on the cheap.
Dear Dollar Stretcher,
My husband and I live in rural East Texas. We have just purchased 20 acres and plan to build a home on it.
What is the cheapest way to build a house? I want a beautiful home, but I still want to be able to pay for it. Does anyone have experience in this department?
We plan on being our own contractors and that should save about 20 thousand dollars. We will do our own HVAC, as that is my husband's business. But still it seems like every acceptable floor plan I see is well over $100,000. Aren't there any 1600 square foot homes anymore around $65,000? Is a log home kit any cheaper or more expensive? Is brick that much more expensive?
Any help for a do-it-yourself house will be appreciated.
Shelley W.
Can You Help This Reader with the Cheapest Way to Build a House Yourself?
We sent this question to your frugal readers. Read on advice from both DIY home builders and contractors on the cheapest ways to build a house yourself along with some pros and cons to consider.
Building a House: General Contracting's Downside
First of all, don't finance anything in your home that won't last the length of your mortgage, such as a stove, refrigerator, dishwasher. You're paying interest on items that may be gone by the time you pay off the mortgage. (See An Insider's View On Kitchen Appliance Deals.)
There are builders who are willing to put up the shell of the house and let you finish as much of it as you feel comfortable doing. This can save you tons of money if you have the time and skills to hang drywall, paint, carpet, etc. However, my husband and I are in the construction industry. I've seen many homeowners try to do their own painting and staining, thinking they'll save money. But they end up with an awful job, frustrated and sorry they ever attempted this. Most people are unaware of the amount of work involved in this project. You have to prime the walls before you paint and then if you want a texture on the ceiling you have to have special skills. It usually takes several coats of paint. You also have to fill in all the wood nail holes before you stain and you have to sand between the coats of poly. If you know how this is done in homes you can save money, but if you're not very skilled I wouldn't recommend you try this.
You can build your home with an eye to the future by not finishing the lower level until you can afford it. Find out from the building department what exactly has to be done in order to get a permit to move in. I understand that you feel you'll save money by being your own general contractor. We are in the construction industry as subs and unless you are a very, very patient person I wouldn't recommend this course of action. General contractors have the connections to keep your house project on course. If you contact a plumber and want him to come in for the rough work, you may have to wait in line until all his general contractors have been serviced. Since he has to come back at least twice, once for the rough in and once for the finish, you may have to wait a long time in both phases. At the very least you need an attorney to draw up specific contracts between yourself and your subs. General contractors also provide home warranties.
If you general contract this yourself and one or more of your subcontractors goes out of business, you are out of luck and will be responsible for your own repairs! Also general contractors also check the work and backgrounds of their subs and make sure they are reputable. It's also usual for a home to settle in the first several years, causing minor problems such as cracks in the drywall, nail pops, etc. Generals will return or have their subs return to repair these items. You will have no leverage with these subs once your home is complete. At the very least, get to a library or bookstore and start reading up on this subject. I know that doesn't sound encouraging, but in the end it could save you more money and headaches than you ever thought of.
JGH
Start living better for less.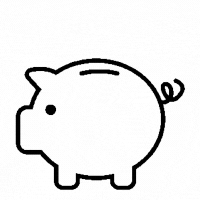 Subscribe to get money-saving content by email that can help you stretch your dollars further.
Twice each week you'll receive articles and tips that can help you free up and keep more of your hard-earned money, even on the tightest of budgets.
Subscribers receive a free copy of our eBook Little Luxuries: 130 Ways to Live Better for Less.
We respect your privacy. Unsubscribe at any time.
We Did It! A Lot of Work but a Good Profit
My husband and I did exactly what you are doing – except we built a 1750 sq. ft house on five acres in Indiana. We found and bought our floor plans after checking out lots of architectural magazines out of the local library. You have many, many books to choose from for free!
After we bought the plans, we found local subcontractors (foundation guy, concrete guy, carpenter, plumber, etc.) that would do the work on their own time. They were all trade workers who treated this as a side job. The carpenter was the only full time worker on the site. We functioned as the general contractor ourselves, and when we could do the work, such as getting the permits, installing insulation, general site clean up, purchasing all materials, scheduling the inspections, painting, shingling the roof, etc., we did it.
We looked at log home kits and found them to be more expensive in our area. Brick was also more expensive. It was a ton of work, (and I do mean a ton) involving a lot of learning and exhausting late nights working on the house after working at a job full time. There were also a few times that we were taken advantage of by subcontractors because of our lack of experience and our youth. There were also many tears shed on my part, from frustration. However, we got through it and we loved our house once it was finished.
We lived in it for 4 years, and then had to move because of a job transfer. Our house sold 9 days after we put it on the market and we cleared over $45K in profit. I can highly recommend building your own house. This was our first house, we were 25 years old, and we had no contracting experience. However, and this is important, we had relatives who had built many houses and were in the trades. We relied heavily on their expertise and advise. We had a lawyer reviews all our contracts. We are also very organized and self-motivated people. If you don't have good people to advise you, and you aren't an organized self-starter, doing this is going to be a real disaster. (See What to Know about Any Contract before You Sign.)
John
Building a House: Construction Choices
Brick is a lot more expensive than frame or stucco construction, but if you intend for this to be your retirement home, the lack of maintenance and longevity may be things you would like.
Look through the log-home guidebooks and you can find plans that only include the log frames – not the interior finishes for as low as $53,000. That then allows you to do the interior finishes as you have time. My sister and her husband did this and saved a bundle, because they learned to do most of the interior work themselves.
You can do almost the same thing by good pre-planning on a traditional frame home if you tell everyone from the beginning this is your goal – to just get the exterior skin built and finish each room, as you need it. The unfinished room(s) will be cold and unwelcoming, but you will save up-front cash.
Personally, I loved the look of the log-framed home and enjoyed the entire process. The key is to choose someone close to you for the delivery, and pick someone to help you complete the foundation and utility lead-in work and exterior construction who has worked with log homes before. Your supplier can often recommend several contractors for you to review.
Kamia
Monolithic Dome Homes Offer Resources
Have you considered a Monolithic Dome Home? We too live in rural East Texas (who knows we may be secret neighbors) and have visited the Dome Institute (www.Monolithic.com) in Italy, TX several times (about 35 miles from Dallas, toward Waco). We did, and continue to do, research to determine the type of home to build when we retire, (not too far off) and the dome has won hands down.
They offer a great book of floor plans, which also includes misc. information you will want to study. The only thing your husband will not like is the fact that in our area a central heating/cooling unit is not necessary. We plan to have a window combo unit, which will heat/cool a lot cheaper, the little it will have to run. They offer schools during which you actually build a home on their site. Who knows, your husband may be able to start a side gig.
Viv
Log Homes Have Drawbacks
A log home may be a cheaper floor plan. But, be very careful. We live in a log home that is 15 to 20 years old. The maintenance is incredible. I would not recommend a log home to anyone living in a humid or rainy climate unless you have a complete understanding of the costs and extent of the maintenance involved.
Marianne
Building a House: Budget and Value Need to be Balanced
Budget is important, but it has to be balanced with what result you want. I would suggest figuring a budget, and using 10 percent of it to consult an architect and a landscape architect. These people can help you end up with the most beautiful, livable, high resale value result, and they will respect your budget if you make it clear they have to. I am not an architect or a landscape architect, but my husband and I saw a lot of ugly rural homes when we were looking to buy. People built them with cost only in mind, forgetting that a good plan is the cheapest way to have both shelter and a livable, attractive home. Fixing bad designs is very expensive, so plan for the long run.
You can achieve a beautiful do-it-yourself home with inexpensive materials and the right design approach. You can save money with preprinted plans but sometimes they will work better if they are modified for your particular site. The landscape part is important too, as a good plan can be done in phases and will set off the house and make it more livable too. One more thought: A good house that is right for you doesn't have to be big. Again, good design is the key.
Kris
Maybe A "Shell" Could Help
Have you looked into finding a builder who will build a "shell" house or modified shell house? This is the building of the basics: foundation, walls, roof, electrical, plumbing, etc and leaving the finish work for you. You can leave as much or as little as you negotiate with the builder. Also, if you are going to be your own contractor this is all in your hands anyhow, but it may be cheaper to have a builder handle the shell for a set price. Then you handle the rest; either sub it out or do it yourself. With the proliferation of do-it-yourself big box hardware stores, it is easier to do this now. (See 11 Ways to Save at Home Depot.)
If you do the entire job yourself (be the general contractors and sub out the whole thing) you will have a long strenuous project on your hands. So you need to figure in the intrinsic costs such as stress, fatigue, cash flow, etc., and you may not get the insider prices for the basics (lumber, plumbing, drywall, etc).
Connie