Do DIY Bathtub Refinishing Kits Really Work?
DIY bathtub refinishing kits are certainly cheaper than paying for a professional job, but do they really work? Our do they just end up costing you more in the end? Our frugal readers weigh in.
Dear Dollar Stretcher,
We have had our house up for sale for over a year and have renewed our decluttering and fixing up efforts.
The tub is not in the best shape. We have done our best with it, but it just doesn't look very good. I had an estimate of $600 to refinish it, and that is $600 we don't have.
I know there are DIY refinishing kits for bathtubs. I found them online, and we can do this ourselves.
Has anyone done this? How hard is it? Did it look nice afterwards? How did they do it? I suspect that most of the $600 is for labor. Any help would be very appreciated.
Aynne
Tub Refinishing for Porcelain
Years ago, we bought a house with a ratty looking, but charming claw foot tub. Rather than give up the wonderful soaks afforded by its high sloping back, we painted it with an epoxy paint made for refinishing porcelain. It smelled to high heaven (open the window!) and was hard to get smooth, but it worked.
Except we used a Rubbermaid bath math with a suction cup back, and it pulled some of the paint off the bottom of the tub. But overall, it was a frugal success.
Antonio
Professional Job Better Decision than DIY Tub Refinishing
We went the cheap route and bought the bathtub refinishing kit to do it ourselves. What a mistake! It was far from the easy job that they made it sound or look in the directions. We were never happy with the way it turned out, even though we were very meticulous about doing it right.
After about two years, the entire bottom of the tub started peeling off like a bad sunburn. We eventually had the professionals come in to do it right, which cost about the $600 mentioned, plus an additional $150 to remove the residue left by the kit repair!
Overall, I'd recommend staying away from the DIY kit. Find the money to do it right, or leave it as is and be willing to accept slightly less for the house based on the state of the tub. Chances are that the new owners will redo the bathroom eventually anyway.
Mary-Ann
Start living better for less.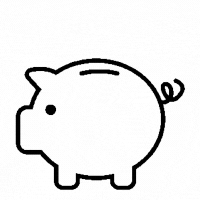 Subscribe to get money-saving content by email that can help you stretch your dollars further.
Twice each week you'll receive articles and tips that can help you free up and keep more of your hard-earned money, even on the tightest of budgets.
Subscribers receive a free copy of our eBook Little Luxuries: 130 Ways to Live Better for Less.
We respect your privacy. Unsubscribe at any time.
Give Paint Time to Cure when Refinishing a Tub
I've used the epoxy paint to refinish tubs many times.
At one point, I owned a small cottage resort and we had limited income with regular expenses. When a tub got looking less than ideal, I would paint it. The results were very nice, provided the paint was put on evenly and without brush streaks. You also need to follow the directions exactly and make sure to put a watertight bag over the spout before starting, as a drip will ruin your new finish and destroy your work.
Make sure you won't need the tub for a while, so the paint has proper curing time. I believe, if I remember correctly, that I would wash the tub with TSP before painting it. Make sure it's well rinsed so no phosphate is left on the surface either.
Cindy
Don't Bother with Refinishing the Tub Yourself
We had a friend refinish our tub with a kit from Home Depot. It only lasted about three months.
If you can come up with the $600, it would be money well spent. And your reputation with the buyer would be better.
Barb
Tub Refinishing Advice from a Real Estate Investor
My husband and I are investors in real estate. I would not advise refinishing a tub by yourself for several reasons.
It's harder than it looks. If you do it incorrectly, it can look like the tub was painted and you can leave stroke marks on the tub. It takes awhile to do it also, and if you are still using the tub, you need to take that into account.
You want your house to show like a model home. If you aren't sure what I mean, you can go through a neighborhood show house. It looks like it should be on or in a magazine. A tub done incorrectly could cost you more than $600 if your house has to sit on the market an extra six months because of the tub. See Staging Your Home for Sale (Tips From a Pro Home Stager)
Deana
Consequences of DIY Tub Refinishing
Spend the $600 or wait until you have it. We recently bought a home that had one of those cheap "refinishing" jobs done. It looked great, until we cleaned it. Off came the "paint." It looks horrible. Not only are the old, yellow stains still there, but also the patchy paint that's still coming off shows as well. It is embarrassing and I have to explain it to every guest.
And by the way, $600 is a low price for a good refinish. The estimates I have start at $800 and that's because we have an easy ventilation route for them. Make sure you really research the process and get an iron clad guarantee. The previous owners of our house had a guarantee too, which was the kind that's on the side of a paint can. Just try to collect on that!
Jill