Keeping Food Costs in Check: 11 Free Online Resources
by Andrea Norris-McKnight
Do you feel like it is getting harder to stretch your family's food dollars? You aren't alone. If your food budget is feeling the squeeze of inflation, these free online resources may help you save.
Does your grocery store receipt keep getting shorter while the amount you spend increases?
According to the USDA, overall grocery prices in December 2022 were 10.1% higher than in December 2021. Family food budgets are getting out of control between continually climbing food costs and product shortages.
We've put together a list of free online resources for keeping food costs in check that can help you find savings with just a few clicks.
Seasonal Food Guide
In-season produce is typically cheaper than out-of-season picks. If you're never sure what is in season in your state, you can use this guide from SeasonalFoodGuide.org.
Simply select your state, enter the month and then search for all produce in season or select a specific type of produce.
You can also check your grocer's weekly sales flyer. The in-season produce is often "on sale."
Start living better for less.
Subscribe to get money-saving content by email that can help you stretch your dollars further.
Twice each week you'll receive articles and tips that can help you free up and keep more of your hard-earned money, even on the tightest of budgets.
Subscribers receive a free copy of our eBook Little Luxuries: 130 Ways to Live Better for Less.
We respect your privacy. Unsubscribe at any time.
Freezer Guide
If you choose to stock up on in-season produce and freeze it, you want to ensure you're freezing it properly so you don't lose it to freezer burn or end up with a texture that isn't appealing to eat.
Food and nutrition specialist Julie Garden-Robinson, Ph.D., R.D., L.R.D., from North Dakota State University, wrote this Food Freezing Guide. It explains how to freeze most types of foods properly and outlines which foods you shouldn't freeze. It also provides tips for maintaining your freezer inventory and has a chart that lists how long foods remain edible in the freezer.
Shelf Life Guide
Did something sit in the pantry, fridge or freezer too long and is quickly approaching or has passed the recommended use-by date? Go to StillTasty.com and do a quick search to find out whether you want to use up the item or toss it. The site has thousands of food items in its database.
You don't need to wait until a food item is expired to benefit from using StillTasty.com. It is also an excellent resource for determining how to best store a particular food item and how long it will last in the pantry, fridge or freezer (whichever is applicable) so you can prolong its shelf life.
You might also find this cold food storage chart from FoodSafety.gov a helpful resource.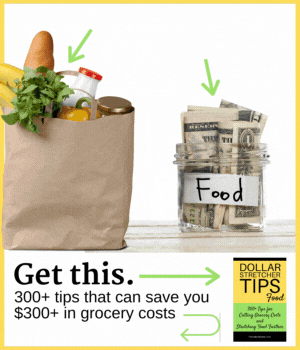 Ingredient Substitutions
Whether you've simply run out of a needed food item for a recipe or you want a substitution for something that has become unaffordable or unattainable at the store (like eggs!), the following food substitution guides may point you to a convenient or affordable alternative:
Cheap Recipes
There is an unlimited supply of cheap recipes on the internet. You can just do an internet search for "cheap recipes," but our frugal readers recommended the following:
Allrecipes.com: Its Budget Cooking section is packed with easy, affordable recipes.
BudgetBytes.com: BudgetBytes provides the cost per meal and per serving of every recipe.
EasyBudgetRecipes.com: Do you know how much you spend per meal for your family? Easily search for recipes that fit your food budget on this site.
Keeping Food Costs in Check
Considering the current high price of food, most of us need to use every resource available to save at the grocery store and in the kitchen. Below are some other Dollar Stretcher articles that can help: