The Time to Plan for Your Kids' College Is Now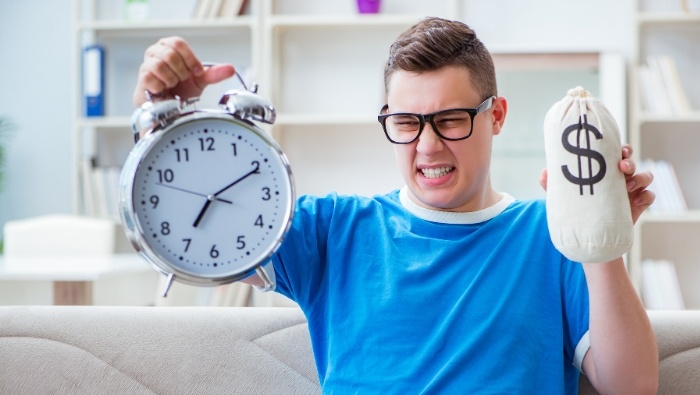 The earlier you can plan on how you will send your kids to college, the better. You have options now that won't be available later and that can save both you and your kid from a lot of potential student loan debt.
Student loan debt in America has hit an all time high of $1.73 trillion according to NitroCollege.com, with the average student owing $37,172.
According to EducationData.org, "At public 4-year institutions, the average in-state tuition and required fees total $9,308 per year; out-of-state tuition and fees average $26,427. At private 4-year institutions, the average tuition and fees at a nonprofit college total $35,801 annually; at for-profit institutions, tuition and fees average $15,156 annually."
The problem is the average starting salary of a college grad is about $55,260 according to ThinkImpact.com. This problem is massive and the most likely the next major financial issue our country will face.
It is very tough to have student loan debt forgiven.
Student loan debt is an issue that causes people to reach out to me, as a certified financial counselor, for solutions on what to do. The problem is that there is little I can help with after the fact.
This type of debt is federally protected, meaning it cannot be included in bankruptcy (unless you can prove some very strict qualifications  that rarely get approved). Although there are some loan forgiveness programs, those are also very limiting as well, most having to do with working for a non-profit or government entity. They also only cover the federal loans, not any private or Parent Plus loans. (You can get a full list of forgiveness programs here.)
I recently spoke with a dad who is on the hook for $200,000 in student loans and his youngest daughter still has a year to go. This is made up of some Parent Plus loans and some he co-signed for. Parent Plus student loans are only in the parent's name, not the students, and is money that mom and dad owe. This man told me he is beginning to panic, and with good reason. The payments on these loans will be as much as his monthly mortgage (and in some cases higher). He expressed that his ability to retire is in jeopardy and he will probably have to work into his 70's.
Start living better for less.
Subscribe to get money-saving content by email that can help you stretch your dollars further.
Twice each week you'll receive articles and tips that can help you free up and keep more of your hard-earned money, even on the tightest of budgets.
Subscribers receive a free copy of our eBook Little Luxuries: 130 Ways to Live Better for Less.
We respect your privacy. Unsubscribe at any time.
How can you avoid the burden of student loand debt?
So, what can we do to avoid this situation? Planning is key. Beginning to save for college as soon as possible is a good place to start, and yes right from birth.
Start saving as soon as possible.
I generally recommend people begin in a savings account or Money Market. They could also work with a CFP to do a long-term investment and it does not have to be a 529 Plan or Education Savings (ESA). The funds in those accounts have to be used for tuition and books, and if your child decides not to go to college at all (maybe they decide to go find themselves backpacking around Europe for example), there is a 10% penalty for cashing in the investment.
Get the interest you deserve.
Consider a community college for their basic classes.
Community college is another great alternative.
According to EducationData.org, "At public 2-year institutions, or community colleges, in-district tuition and fees average $3,412 annually; the average for in-state students is $4,444, while out-of-state students pay an average of $8,516."
Getting the basics, such as their English and math requirements (and anything else that will transfer!), is a great way to reduce the overall cost. If their chosen career path requires a Bachelor's Degree, at least they can reduce their student loan debt by doing half of it at an 80% discount.
My path was exactly this. In fact, I received both a Business and Accounting Associates from community college before transferring to a university and received my B.A. in Business for about $7,000.
Be honest with yourself and your kid about what you can afford and what they can do.
My final piece of advice is to be honest with yourself about what your child wants versus what you can financially do. The dad I mentioned above couldn't bear to tell his kid that their dream of attending a specific college (that was both out of state and private) was out of their reach, so he didn't. I understand crushing your kid's dream is not fun; however, neither is struggling to pay off this debt for decades.
The other factor is to look at their career goals, study habits, and maturity level.
I had to do that with my own son, who was an elite wrestler in high school. His team took multiple state championships and he was #5 in the state. He got numerous scholarship offers. The problem was, he loved wrestling much more than actual school. I never saw him open a book (and his dismal grades proved it). Being honest with myself about how successful he would be in college was difficult, but I did it. We had a heart to heart about how tough it would be. There would be no teachers chasing him down, giving him more time or extra credit like they did in high school. He would have to sink or swim, and my heart knew the answer. He is taking this year off (he graduated in May) to do some soul searching and to work and is contemplating trade school or the Navy. I could be a Navy wrestling mom, which sounds fine with me. My daughter is currently in Nursing School at a community college and will probably owe less than $10,000 when it's all said and done. I want you to know I walk the walk.
Think hard before you leap into student loan debt.
You really need to think about this complex issue. Before making any major decisions or signing on the dotted line, please sit down and take a look at your overall budget. Those student loans do eventually kick in and will make an impact. Debt takes away your choices and stops you from pursuing your dreams.
Also, help your child understand the reality of accumulating a ton of debt before they even get a start on life. I have counseled many people that cannot afford a simple apartment while paying their student loans. The goals should be to be financially secure and love your life.
About the Author
Beth Blanco is a certified financial counselor through the AFCPE. She has provided counseling for over 14 years, including the University of Michigan Credit Union & Habitat for Humanity. She is also the author of Dust Yourself Off, My Dear: Nine Lessons for Living Your Best Life.
Wouldn't you like to be a Stretcher too?
Subscribe to get our money-saving content twice per week by email and start living better for less. We'll send you a free copy of our eBook Little Luxuries: 130 Ways to Live Better for Less to get you started.

We respect your privacy. Unsubscribe at any time.