A Variable Income Budgeting Strategy for the Seasonal Worker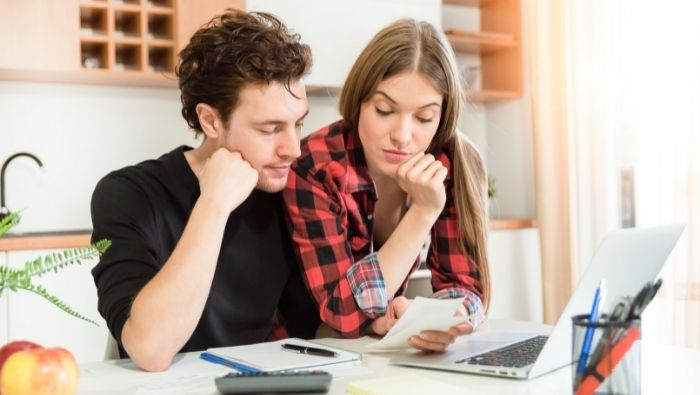 Does your family's variable income make it tough to budget? Try this smart 3-account strategy that can help you better stretch your dollars evenly year round.
My husband works in the construction industry, and his hours fluctuate from more than 60 hours per week in the busy summer months to less than 40 hours during the cold winter months.
For years, we limped along from December through March, paying all of our bills on time but with little, or nothing, left for non-essentials. We would save a few hundred dollars during the summer, but it was always spent by Christmas.
After much trial and error, I finally discovered an excellent way for us to keep on top of my husband's variable income.
An effective 3-account system for budgeting variable income
We have three unique bank accounts.
1. A main checking account for recurring bills
The first account we call our main checking account. We deposit weekly paychecks into this account and pay most of our recurring bills from it by check, cash withdrawal, or automatic bill pay (mortgage, utilities, auto insurance, religious donations, health insurance, groceries, personal allowances).
2. The variable expense account.
We electronically transfer a set amount per paycheck into this account for expenses, such as gifts, vacations, school expenses for our children, clothing, furniture, appliances, medical co-pays and prescription medications, car repairs and maintenance, and landscaping.
We do not use checks for this account. We only have a debit card with this account, which we keep at home rather than in our wallets. This prevents us from nickel and diming ourselves into a zero balance, as we were accustomed to with our previous method of money management (using only one checking account and two debit cards).
3. A savings account for loss of income only
Some people may call this an "emergency fund," but "loss of income account" fits our situation better, since my husband's work hours drop dramatically every winter, resulting in an expected loss of income. "Loss of income" also means my husband having to take time off work above his allotted vacation days to visit a sick relative or for our children's needs.
What we used to call an emergency is actually a predictable event. My husband's income drops every year for four months, and our children and relatives often need help that requires missing a day or two of work.
I prefer to be proactive and save enough to see us through those slow months, rather than spend freely during the busy months and wind up in a financial "emergency" later on, which is how we used to live. I can tell you from experience that financial preparation solves many problems. One bonus to setting aside larger sums into this savings account during the busy months is that the interest we earn pays for Christmas.
Get the interest you deserve.
We opened all three accounts from a local bank with great online banking services (bill pay, account management, funds transfer, etc.). The first two accounts are free checking accounts, and the third is a savings account with no monthly service fee.
If your household income varies by the seasons like ours does, why not try the three-account method and see for yourself how much your financial life improves.
Get better with money.
Subscribe to get a daily dose of money-saving content aimed at helping you get better with money, fix your finances, and live better for less.
Since one of the biggest hurdles to achieving financial independence is debt, subscribers get a copy of Do You Have Too Much Debt? A Checklist and Solutions for FREE!
We respect your privacy. Unsubscribe at any time.