Minimize the Costs of Winter's Chill With These Home Prep Steps
by Andrea Norris-McKnight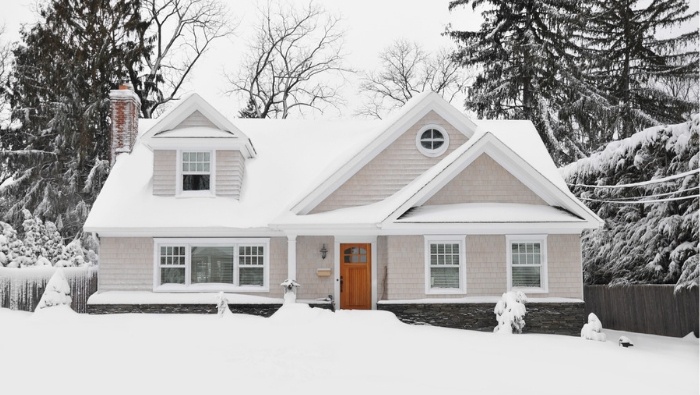 Is your house ready for cold temperatures? See if any of these easy-to-do inexpensive tasks can help keep your winter costs to a minimum. Just a little prep time this fall can save you money next spring.
You might be ready for some relief from summer's heat, but is your home? Before freezing temperatures set in, you should perform these cold weather prep steps that will help protect your home from winter damage, saving you both time and money in potential repairs this winter and next spring. Most of these tasks can be done easily and affordably.
Even if you live in a warmer climate that never sees snow, if can be beneficial to perform some of these tasks at least once per year. They can help you prevent damage or spot potential problems when repair costs will be minimal, as well as keep energy bills in check. And what better time to do outdoor tasks than when temperatures aren't too hot or too cold?
Roof
The dead of winter when your roof is covered in a layer of snow is not the time you want to try and hire a roofer to come out to perform repairs. At a minimum, inspect your roof yourself. If climbing on your roof is not an option, grab a pair of binoculars and examine your roof from the ground. You're looking for curling, broken or missing shingles. If you suspect a problem, hire a professional to perform a thorough check-up before that first snowfall.
Gutters
Speaking of the roof, clogged gutters can cause roof problems any time of the year, but can really wreak havoc in the winter. Clear your gutters of fall leaves and debris and run water through them to ensure they are not clogged. The last thing you want is ice dams forming in your gutters where melting snow has nowhere to go. If it backs up under roof shingles, it can cause leaks, water damage and worse case, the need for a new roof.
And even if icy gutters do not damage your roof, the extra weight can cause sagging and misalignment of your gutters, or worse, cause complete detachment from your roof in places.
Start living better for less.
Subscribe to get money-saving content by email that can help you stretch your dollars further.
Twice each week you'll receive articles and tips that can help you free up and keep more of your hard-earned money, even on the tightest of budgets.
Subscribers receive a free copy of our eBook Little Luxuries: 130 Ways to Live Better for Less.
We respect your privacy. Unsubscribe at any time.
Structure Gaps and Cracks
Use caulk and/or weather stripping to keep warm air in and cold air and moisture out of your home. Caulking is very easy to do and just filling tiny cracks near windows and doors can significantly reduce heating bills. Weather stripping involves plugging the gaps on your doors and windows. You can buy affordable weather stripping kits from your local home improvement store or online.
In addition to sealing air leaks, check to make sure that you have enough insulation. While insulation can set you back a few bucks, as with caulking and weather stripping, you'll get that money back and then some with lower heating bills.
Fireplace
Before lighting the first fire of the cold season, be sure to check that your chimney is clear of obstructions and the damper is working properly. If you can't remember when the chimney was last cleaned, it might be time to pay for a professional cleaning.
Carbon Monoxide and Smoke Detectors
Test your carbon monoxide and smoke detectors and replace the batteries if you have not done so in the past year.
Determine if any detectors should be replaced. Typically, carbon monoxide detectors should be replaced every 5 to 7 years and smoke detectors every 10 years.
Lawn Equipment and Garden Tools
Outdoor power equipment such as mowers and trimmers should be cleaned and maintained prior to storing them. For gas-powered equipment, run the engine until the fuel tank is empty or use a fuel stabilizer. Consult your owner's manual for recommendations and instructions.
Does your mower have a battery? Remove it and give it a full charge so it will be ready for reinstallation in the spring.
Clean dirt and debris from garden tools. Use rubbing alcohol to remove sap and steel wool to remove rust. Spray metal surfaces with oil. Rub wooden handles with linseed oil to protect them from splitting and cracking in the dry winter air.
Bring garden hoses inside unless they are empty. Freezing could damage them.
Grill and Outdoor Furniture
If possible, store your grill (minus the propane tank) and outdoor furniture in a garage or basement. Cold temperatures can damage them. If you have a gas grill with a propane tank, close the tank valve and disconnect the tank for outside storage.
If you don't have storage space to bring things indoors, consider purchasing covers to protect them from the elements. The cost of covers will be less than the cost to replace your grill or furniture.
Taking time to perform these tasks and prepare your home for cold temperatures might not be the most enjoyable way to spend a fall weekend, but the money and time it can save you this winter and next spring will make it well worth it.
Wouldn't you like to be a Stretcher too?
Subscribe to get our money-saving content twice per week by email and start living better for less. We'll send you a free copy of our eBook Little Luxuries: 130 Ways to Live Better for Less to get you started.

We respect your privacy. Unsubscribe at any time.