How To Create Cheap Shade for Your Porch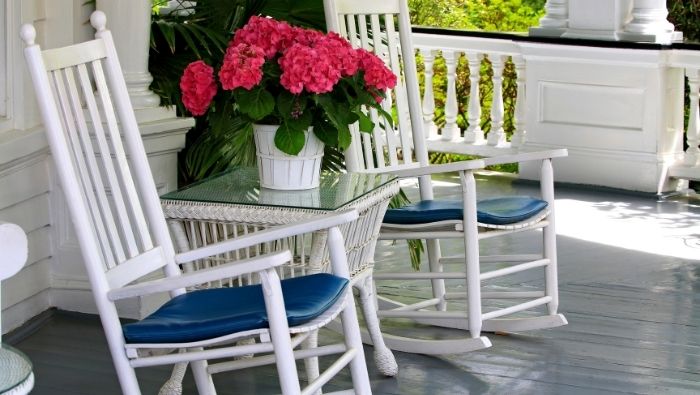 Does your porch get too hot to enjoy? Try one of these frugal methods for creating shade for your porch on a budget.
Dear Dollar Stretcher,
We are fortunate to have a screened porch, but the morning and afternoon sun make it uncomfortable when it's hot. I looked at purchasing matchstick blinds at local stores, but they're too expensive for our budget.
Do any of your readers have a better (and cheaper) solution? To really make it challenging, I don't have a sewing machine and hate to sew! Any ideas on how I can create cheap shade for my porch will be appreciated.
Mary in VA
Sheets
Try using sheets! You can put up an inexpensive rod and use the larger hem to slip on the rod. (Cut a small slit in each end.) Using multicolor ties, shoe laces, etc. you can tie them up when you don't need them like the expensive ballon-type curtains. You have lots of choices to choose from and lots of times you can pick up sheets at yard sales for next to nothing!
You can also do this for rooms for kids and a quick change of pace in the summer when you want more air to flow thru! Happy Shading!
Debi in F'burg. VA
Try Lattice
I have used lattice for just about everything from providing a screen for my compost, enclosing the bottom of my deck, making inexpensive "shutter lookalikes" for my windows, and also providing shade. One sheet is probably all you would need, cut to match your needs. You will be amazed how much it filters the light.
Lucy
Start living better for less.
Subscribe to get money-saving content by email that can help you stretch your dollars further.
Twice each week you'll receive articles and tips that can help you free up and keep more of your hard-earned money, even on the tightest of budgets.
Subscribers receive a free copy of our eBook Little Luxuries: 130 Ways to Live Better for Less.
We respect your privacy. Unsubscribe at any time.
Woven Straw Mats
At our local Walmart, they sell these cheap beach mats woven of straw. They can be attached with a staple gun easily along the tops, with the sewn in "ties" positioned on each side of the top and then you can "draw" them up whenever you please by simply rolling them up and tying the ties to hold them up.
Michelle H.
Vine is Fine
You don't say what part of the country you are in, but I would consider planting some type of vine or tall plant. To be really savvy, plant some kind of climbing vine that you can harvest food off of. Peas, butter or lima beans, lots of peas will climb fast and give shade.
For long term relief plant a shade tree, but annual plants can tide you over until the tree matures. If you rent, get large containers to hold the plants and provide a trellis.
Debbie Z.
Paper Porch Shades
Check out the pleated paper shades available at home improvement warehouses. They are very affordable. They come with an adhesive strip at the top which will stick to a window frame or directly on the glass. They are easily trimmed with scissors to any width and length. I think they only come in white, but that would give maximum reflection of sunlight anyway.
Once they're hung, two plastic clips will allow any length you desire. Although they are sold as a "temporary" window covering for when you need instant privacy, they can last for years.
Marcy
'Sun Block' Material
There is a black material that they sell in hardware stores that effectively blocks out most of the sun's ray and can be rigged to roll up when you don't want it there. I lived in the Mohave Desert, CA where this material is very popular to reduce the sun and the heat associated with it. It is almost like the black material you can put in your garden to prevent weeds and it is sold by the yard from a bolt so you can have it cut to whatever size you need it.
Laura W.
Plastic Porch Shades
You can buy inexpensive pull down shades which come in a variety of widths and lengths and decorate them in a plethora of different ways. One is to paint them with designs using acrylic paint, then sealing them. Another is to use fusible webbing to iron on the fabric of your choice.
There is also a spray on adhesive which works well. This works beautifully because you can choose fabric to compliment the cushions or pillows on your porch furniture. Or you could use pre-made foam stamps to create a painted design on the shades.
Cheryl-Ann P.
Shower Curtain Solution
Purchase some expandable curtain rods or shower curtain rods. Go to a dollar or discount department store and buy plain, light colored nylon/fabric shower curtains (not plastic, and not the fancy ones with the pouf valances since they will collect bugs and dirt) and hanger rings.
You'll be able to block out the sun, but pull them aside like regular curtains as well. When they get dirty, throw them in the washer (if you get light colors you can use bleach) and dry in the dryer.
WL