Will You Throw Away $500 in Disposables This Year?
Stop throwing your hard-earned money away. Look around your home (and in your trash cans) to see which disposable items you can replace with reusable items. Start with these opportunities for eliminating disposable items from your home and your budget.
When you use disposable products, you're literally throwing money away after each use. Keep that money in your pocket and some extra trash out of landfills by replacing these disposable products with reusable ones instead.
Tissues
Handkerchiefs are easier on the wallet and the nose! You can buy these ready-made, use bandannas, or cut some from old t-shirts. 100% cotton feels best. You can sometimes find embroidered, vintage hankies at thrift stores that are almost too pretty to use. If your family uses two boxes of tissues a month, that's a savings of at least $3.50 if you use store brand tissues. You'll save even more if you're buying expensive, brand-name, aloe-infused tissues.
Feminine supplies
According to the U.S. Department of Health and Human Services Office on Women's Health, on average, females in the U.S. begin menstruating at age 12 and go through menopause at about age 50. That's almost 500 periods in a lifetime. Reusable silicone menstruation cups can take the place of tampons and washable cotton sanitary pads eliminate the need for disposable pads, saving thousands of dollars over a woman's life. Paper products also tend to leech moisture from sensitive tissues, so reusable products are often more comfortable to use than their disposable counterparts. You will save a minimum of $3.50 up to $10 a month or more per female family member.
Start living better for less.
Subscribe to get money-saving content by email that can help you stretch your dollars further.
Twice each week you'll receive articles and tips that can help you free up and keep more of your hard-earned money, even on the tightest of budgets.
Subscribers receive a free copy of our eBook Little Luxuries: 130 Ways to Live Better for Less.
We respect your privacy. Unsubscribe at any time.
Cotton swabs
According to the National Institutes of Health, you should never use cotton swabs to clean ears. Ears are self-cleaning. When you use a cotton swab to clean the ear canal, you may actually cause damage by pushing ear wax further into the ear. Stick to cleaning the outer ear with a soft cloth if necessary. A family of four could save about $1.00 a month (and potential hearing problems) by swapping swabs for washcloths.
Swiffer-type pads
While Swiffer® floor cleaning systems (and their copycats) are certainly easier than conventional mops on your back, buying the refill pads is not easier on your wallet. Instead, cut an old towel into pieces large enough to fit the cleaning head and to tuck the edges into the notches on top of the cleaning head to hold in place. Wet the towel and clean away. Add a few drops of essential oils if desired, and never buy (or throw away) a Swiffer® pad again.
Swiffer® cleaners are old-fashioned dust mops. Buy one with a removable, machine-washable cover and it can take the place of both wet and dry Swiffer® pads. Forgoing a disposable pad for cleaning just once a week saves $3 to $5 a month.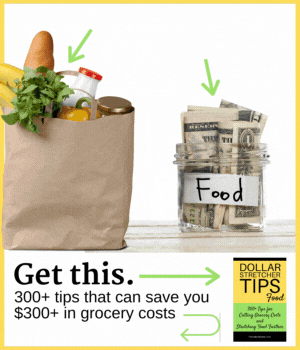 Bottled water
Just like lunch bags, there are reusable travel cups for every imaginable situation and taste. Many are even insulated, so water stays icy cold all day long. Replacing just one bottle of water per day per family member in a four-person family could save you at least $20 to $25 a month.
Paper napkins
Use cloth napkins instead. Save the fancy linen ones for special occasions. Darker-colored dishcloths make inexpensive, durable, stain-resistant napkins that will last for years. Replacing your disposable napkins at each meal nets a savings of over $2 a month.
Garbage bags
Dumpsters.com states that the average American creates about 4.5 pounds of trash a day. That's 123 pounds per week for a four person family, about six trash bags per week. Reduce your trash output and buy fewer trash bags by composting organic materials like fruit and vegetable scraps, eggshells, grains, coffee grounds, and tea bags. According to the United States Environmental Protection Agency (EPA), food scraps and yard waste currently make up 20% to 30% of the trash stream. These materials could be composted instead, meaning a household that composts could use 20% to 30% fewer trash bags. And you get free soil for your garden!
Using just two fewer trash bags per week (the amount you could save by composting alone) could eliminate at least $2 from your monthly budget, if you're using bargain brands. Buying and using fewer of the disposable items in this article could reduce trash output even further.
Little expenses add up over time and can take a big bite out of your household budget. Adopting just the reusable products in this article can save a family of four a minimum of almost $40 a month, depending on the price of the disposable products you buy. That's almost $500 a year you may be throwing away, even if you're buying store brands.
Opportunities for eliminating disposable items from your home and your budget are everywhere. This is just a start. Look around your home (and in your trash cans) to see what else you could replace with a reusable item and stop throwing your hard-earned money away.
Wouldn't you like to be a Stretcher too?
Subscribe to get our money-saving content twice per week by email and start living better for less. We'll send you a free copy of our eBook Little Luxuries: 130 Ways to Live Better for Less to get you started.

We respect your privacy. Unsubscribe at any time.