Getting Kids to Be Happy With Hand-Me-Down Clothing
Are your kids boycotting their hand-me-down-clothing? Our readers offer up the solutions their frugal families came up with to keep both the kids and the budget happy.
Dear Dollar Stretcher,
We have five kids (four girls and one boy), and we're on an extremely tight budget. One way we save a considerable amount of money is by handing down my oldest daughter's clothing to the younger three girls. As you can imagine, my younger daughters are not always thrilled about this, and they often feel it isn't fair, even though they know we don't have much choice but to buy new clothing (yes, it often comes from thrift stores) for my oldest daughter and son. The complaints have gotten more frequent now that the older three are in their teens.
Can any of your readers give me any frugal tips to help keep the younger girls from feeling slighted? Should I be letting them thrift shop on occasion even though they might not necessarily need the clothes? The older two have gotten much closer in size the past few years. Has anyone had their daughters or sons share a wardrobe without it causing arguments over who wears what?
Thanks for any clever tips that will help keep the peace and my budget intact!
Yolanda
How Have Your Kept Your Kids Happy with Hand-Me-Down Clothing?
We sent this question out to our frugal readers. Quite a few have dealt with this siutation with their children. And they had some extremely savvy, frugal soltuions to share. You are sure to find a few tips to keep your kids happy when getting big brother or sister's hand-me-downs.
Give Hand-Me-Down Clothing a New Look
You and your daughters should learn some basic sewing skills. By doing something simple like adding trim or changing sleeves on a shirt, old clothes look like new or at least look different from when their sister wore it. Also, try brightening faded colors (or change light colored clothes completely) with dye.
Anita
Host a Hand-Me-Down Clothing Swap
Have a clothing swap with other families with children the same age. Have a party and serve cupcakes! Make it fun!
Dale
Modify and Love
My oldest two daughters were close in age. When the eldest grew out of her clothes and passed them on to her sister, her sister would modify them. She liked to sew and would add trim to items to make them personal. Fabric paint, a few snips with scissors, or a hem or two would make them seem like new clothes to her.
Ruby
Loosen the Reigns
If it's possible, give each child a small clothing budget. They can use it to add to the hand-me-downs and create a different look. There are numerous bargains to be had at department stores and stores like Marshalls and TJ Maxx. The need to be frugal should be a family effort, and if they see the value, it will help as they grow to adulthood. But holding those reigns too tight can result in resentment, and when they are old enough, they may overindulge to compensate for childhood wants.
Dee
Give Clothing Allowances
I wish I hadn't waited so long to give my daughters a clothing allowance three times a year in August, April, and October. Once I did, they quickly learned to budget and appreciate clothing choices. If we could, we would go "halfsies" on boots and winter coats.
Ellen
Start Teaching Your Children the Importance of Saving
Let Them Thrift Shop
I would give them each a budget for shopping at the thrift store/garage sales. I would also help them personalize their choices with trim, buttons, zippers, etc. Then I would let them bargain shop with one another via trades. Also you could let them sell the extras at a back-to-school garage sale and keep the profits.
A
Kids Can Earn Money for Clothes
If the older girls are in their teens, they're old enough to start baby-sitting to earn money for clothes. Interestingly, when my daughter started doing that, she became very frugal. It was a hoot to see her following in Mom's footsteps.
Also, do you sew? When I was growing up, I learned to sew and making my own stuff saved me a ton. Plus, I could "afford" the more stylish stuff that I made myself. When my youngest was little, I sewed a bunch of shorts in wild patterns, many that he picked out. He's turning 30 next week and he still remembers them! It's not only more frugal, but it's more personalized.
Another thing they can do is to personalize their hand-me-downs with trimmings, sequins, and fabric paint. There is a great variety at Michaels in their art-to-wear aisle, and there are always coupons. When I was in high school, I had embroidered a design on an old army-surplus jacket. Several people paid me to embroider their jackets!
Rani
Let Them Express Their Style
I let all the children go shopping at the thrift stores several times a year. That way they had clothes they selected. They had enough hand-me-down clothes, but this allowed them to express their style, not their siblings. I found they were usually fine with the pants and skirts that were handed down. They enjoyed selecting their own shirts, sweaters, dresses, and other accessories.
I would watch for sales, usually held around various holidays, and back-to-school sales. Then we would go shopping. It helps if your thrift store has a try on room, so they can see how the items will look and fit on them. My children really enjoyed these shopping trips, and it didn't cost too much money.
Loretta
Give Autonomy While Teaching Them to Spend Wisely
You could let them choose an accessory to make their outfits look new or, as you mentioned, let them choose one or two clothing items themselves at the thrift shop. If you give them a budget, it will also help them figure out how best to stretch their money. Not only will they have some autonomy but also they'll begin to learn how to spend wisely.
Shell
Online Clothing Exchanges
There are used clothing exchange sites on the internet. Moms send in clothes that their kids have outgrown and receive gently-used clothing in return.
Miriam
Check Out Plato's Closet
I would give them each the money you budgeted for that season's clothes and let them figure out how to best spend it. Plato's Closet has trendy, secondhand teen clothes, but they are choosy and take only the best/most "in" clothes and accessories. That way, they get to pick out/look for sales that work for their needs. Plus, they can resell to Plato's Closet the clothes they no longer use for store credit or cash.
Sheryl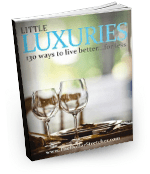 Subscribe to The Dollar Stretcher, our free twice-weekly newsletter aimed at helping you live better for less on the money you already have!
Subscribers get a copy of our ebook Little Luxuries: 130 Ways to Live Better...For Less for FREE!