5 Ways to Stash Some Holiday Cash
by Andrea Norris-McKnight
Why not put money away now for the holidays so you don't have to worry about paying back holiday bills later? Here are some ways you can find extra money to fund Christmas costs without taking on any new debt.
You've likely taken some tough financial hits this year. Many of us have. The last thing you or your finances need is more unpaid bills. But that is what many of us will be left with after the holidays if we don't start putting aside some extra cash now to cover Christmas costs.
Use these tips to start finding and stashing that Christmas cash so you can fund the coming holidays without taking on new debt.
1. Make November a no spend month.
Never heard of a no-spend month? It is when you avoid all non-essential spending and purchases for the month. You may be surprised how much you can save if you cut out all of those small unnecessary purchases you tend to make with little thought, such as that dress on the sale rack that would look so you cute on your daughter but she doesn't really need, or that large soda and order of fries you dart through the drive-thru to get a few times a month.
During your no-spend month, note that not all of your monthly bills are essential. Most of your monthly subscription services fall into the non-essential category and many allow you to cancel and renew as you please, or put your membership on hold for a brief amount of time. Skipping a month or two of Netflix and Amazon Unlimited might not seem like it will save you much, but the goal is to find a lot of little temporary cuts these next few months that can add up to a decent-sized holiday fund. (See 5 Simple Budget Cuts That Can Save $200 a Month.)
Spending on additional food when you already have food in your pantry, fridge and freezer is also considered non-essential during a no-spend month. Try to use up food you already have on hand so you can drastically limit or skip a week or two of grocery purchases. If you normally average $100 per week at the grocery store and you can skip just one or two weeks of grocery purchases, you could have an extra $100 to $200 for the holidays.
Perhaps the most non-essential spending you'll want to avoid in November is Black Friday and Cyber Monday. Unless you are disciplined enough when it comes to online shopping to limit any purchases to deeply discounted holiday gifts you'll be buying before Christmas anyway, stay offline that last weekend of November and focus on earning some extra cash instead.
Start living better for less.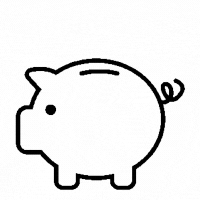 Subscribe to get money-saving content by email that can help you stretch your dollars further.
Twice each week you'll receive articles and tips that can help you free up and keep more of your hard-earned money, even on the tightest of budgets.
Subscribers receive a free copy of our eBook Little Luxuries: 130 Ways to Live Better for Less.
We respect your privacy. Unsubscribe at any time.
2. Get a seasonal job to help cover upcoming seasonal costs.
Even though a lot of jobs were lost during the pandemic, delivery positions now seem more abundant than ever. Online shopping has drastically increased and people are having everything from groceries and restaurant orders to prescriptions delivered right to their door. And the holidays will only increase that delivery need even further. Someone needs to get paid to deliver all of these orders. Why not you?
If you have reliable transportation, consider picking up a few hours a week as a delivery driver. Jobs delivering food, whether from a grocery store or restaurant, are an ideal way to get started since you have some flexibility in the hours you choose to work. Or, if you don't own your own vehicle, see if delivery companies such as UPS, FedEx and Amazon are hiring additional help for the holidays, whether in the warehouse loading trucks or riding on a truck to help busy drivers meet hectic holiday delivery schedules.
Don't feel comfortable delivering to strangers? While brick and mortar stores likely won't need as much seasonal help as in previous years, online stores will certainly need extra people to take and process customer orders. If you have a reliable phone, computer and internet connection, you may be able to earn that extra Christmas cash as a customer service rep without leaving your house.
In many places sitdown restaurants and fast food outlets are hiring. It might be minimum wage, but could provide just what you need this holiday season.
3. Make money with a seasonal side gig.
The holidays offer some unique money-making opportunities that are not necessarily available year round. See if any of these ideas can help you earn some extra cash or spark an idea for some other seasonal side gig that better suits your skills:
Hang holiday lights or put up decorations for people.
If you own a truck, provide Christmas tree delivery service for people who don't want the hassle or mess of strapping a tree to the roof of their car.
Are you crafty at crafting? Sell homemade holiday decorations or cards on sites such as Etsy.com. Gifts that can be personalized are especially popular.
Housesit over both the Thanksgiving and Christmas holidays. It you can find a few people that simply need someone to stop by a few times or even once a day to bring in mail and check on things, and perhaps feed the family cat, a few weeks of housesitting could cover your holiday costs.
Offer gift-wrapping or toy assembly services. Some people have neither the time nor patience for these things and are more than willing to pay someone else to do them instead.
4. Sell old stuff so you can afford new stuff.
If you haven't already sold your unused stuff to get you through the pandemic, consider selling what you can now. Not only will you be earning some extra cash, but you'll be freeing up space for any new gifts your family receives this year.
Not sure you have anything left in your home to sell? Don't forget about things stored in your attic, basement or garage. Maybe you're sitting on an excess of Christmas or even Halloween decorations you can part with. Or some old tools that you keep planning to use some day but never do.
And if you really don't have anything left in your own home you can sell, sell other people's used stuff instead. If your town has any good thrift stores, take a weekend or two to peruse them for  inexpensive treasures that you can flip for extra cash. And keep an eye out for potential inexpensive gifts while you're at it.
5. Divert other savings into your Christmas fund – temporarily.
If you are putting money away regularly towards another financial goal, such as a vacation fund, emergency fund or sinking fund, decide if putting that money in your Christmas fund instead just for the next few months could better benefit your finances. If your only means of paying for the holidays is to pull out the plastic it if you can't save the cash, then diverting other savings could be a smart financial move.
Just be sure to get back on track with your original savings habits as soon as you've bought that last Christmas gift. You can even replace those dollars you diverted from your other savings goals by continuing that part-time job or a side gig into January or try another no-spend month. February is the ideal no-spend month since you only have to keep your spending in check for 28 days. (See The One Month Budget Squeeze.)
Start stashing that holiday cash.
Hopefully, over the next few months, you'll be able to stash enough Christmas cash to enjoy the holidays without adding to any financial burden you may already be carrying. After all, the best gift you can give yourself and your family this Christmas is to head into the new year without the worry of how you'll pay off holiday bills.