How To Avoid Loan Payment Pain
The worst place to be is behind on an upside down loan. Learn how to avoid loan payment pain with these warning signs for the smart consumer.
Many people are having trouble with their auto loans, leases or payments. According to,
USA TODAY
, car buyers who purchased a car in 2022 when car prices were soaring may soon find themselves upside down in their loans as car prices decline.
And, our cars aren't the only place that we're seeing loan problems. Many homeowners are struggling to keep up with adjustable mortgage payments that are increasing.
We won't attempt to tell people how to get out of these situations. Partly because there's already been a lot written about it. And partly because there aren't any real good answers.
The two primary reasons for loan problems
Once you're upside down in a car or living in a home that you can't afford, there's no easy solution. There is no painless way out. In fact, the choice is usually between taking your lumps now or putting them off and suffering even more later.
These problems usually have one of two causes: either the consumer bought something that required making payments that they couldn't afford, or in the interest of getting "affordable payments," they stretched out their payments, which left them owing more than the house or car was worth for a long time.
Sign up for a daily dose of dollar stretching.
Subscribe to get money-saving content by email each day aimed at helping you live better for less, get better with money, and fix your finances so you can achieve financial independence.
Since one of the biggest hurdles to achieving financial independence is debt, subscribers get a copy of Do You Have Too Much Debt? A Checklist and Solutions for FREE!
We respect your privacy. Unsubscribe at any time.
Warning signs of a painful loan situation
Let's see if we can't help people to avoid these painful situations. Like most disasters, there are some warning signs that the smart consumer can look for. Let's examine a few.
What if?
The first is a simple question: what if? Before you sign the papers to buy a house or car (and commit to the payment), ask yourself what would happen if you lost your job. Or got sick for awhile. Or became pregnant. Or any other significant life event. Would you be able to make your payments or would you have a crisis on your hands?
Life happens. A wise person is not surprised when it does.
Are you close to the edge?
Another good question is: are you close to the edge? There are budget guidelines that suggest limits for spending on houses and cars. How close to that edge would this commitment take you?
It's always wise to leave a margin for error. Don't let a salesperson convince you that you can spend more than the guideline and make it up somewhere else. It won't work. At least, it won't work for long.
When you're poised to take the keys to a shiny new car, it might seem like you won't miss your weekly Friday night dinner out with friends. But six months down the road you'll begin to resent the payment. It's easy to get talked into buying a house or car that you can't afford, but the salesperson will not be there when the payments begin to hurt. At that point, you'll be alone with your problem.
How long could I be stuck?
Next question: How long could I be stuck? Sure, we all like "affordable payments." But usually that means that you're not paying enough (or any) principal, so you build up equity much more slowly.
It's hard to sell something if you owe more than it's worth. Yes, you can roll some "negative equity" into a newer car. But that only makes the underlying situation worse. Instead of being upside down for the first three years of the car loan, now it's four or five. Are you sure that you'll want to be driving it that far down the road?
Being stuck in a home could potentially be even worse. You may want to move to a new city for a job or to be with a sick relative. If you owe more than your home is worth, you could be without options.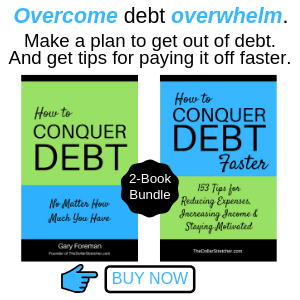 How can you know whether you're upside down in your home or auto?
The best way is to graph out the value of your home/auto and the amount of equity you have in it (i.e. the value of the item minus what you owe on it). Most consumers probably won't bother to do that.
The next best thing is to take a good guesstimate. For autos, you probably should figure that you'll be in negative territory until about the last year of your payments. Maybe two years if you have a newer car that holds its value well.
That works reasonably well for a car where you can predict future value. For your home, it's purely a matter of guessing what your home will be worth in the future. And, that's not nearly so easy. So if you do a zero down payment, interest only loan, you're completely dependent on the housing market. You have almost no control over your situation.
What's the morale to the story?
It's a wise person who anticipates future problems and avoids decisions that could easily lead to pain later. They may live in a little smaller home and drive a little older car. But by avoiding problems, they actually have a better quality of life.
Get better with money.
Subscribe to get a daily dose of money-saving content aimed at helping you get better with money, fix your finances, and live better for less.
Since one of the biggest hurdles to achieving financial independence is debt, subscribers get a copy of Do You Have Too Much Debt? A Checklist and Solutions for FREE!
We respect your privacy. Unsubscribe at any time.