Cutting Your Burn Rate During Tough Financial Times
How can you get by when your income gets drastically reduced or completely cut? Start by asking these tough financial questions and then use these tips to slow the rate at which you're burning though your money until your income is restored.
Out of work and needing to stretch those dollars?
We found ourselves in this situation recently, and by asking some hard questions, we cut our "burn rate." If you find yourself in this situation, perhaps these tips will help you, too.
Where did it all go?
First, review your current expenses.
Which costs are "fixed" or must be paid? Which costs are "discretionary"?
Divide your monthly expenses into these categories, and review them carefully.
Do I really need it?
In reviewing our expenses, we discovered we could easily manage with one car. Because we had no debt on our second car, we chose to return our leased car and manage with our debt free, relatively new second car.
Likewise, before making any new purchases, we asked ourselves, "Do we really need it? And, do we need it now?" Most of the time, the answer was "no."
Sign up for a daily dose of dollar stretching.
Subscribe to get money-saving content by email each day aimed at helping you live better for less, get better with money, and fix your finances so you can achieve financial independence.
Since one of the biggest hurdles to achieving financial independence is debt, subscribers get a copy of Do You Have Too Much Debt? A Checklist and Solutions for FREE!
We respect your privacy. Unsubscribe at any time.
How do I save on necessities?
If you know you will use the extras, and you can save by buying in bulk, you can lower your burn rate by shopping for items at warehouse food stores, or by purchasing the featured items at your local grocer. However, use caution! When cash is scarce, you may decide to forego shopping too far in advance. Extra items on your shelf mean less cash in your wallet.
Shopping store brands over the name brands often saves money. By working featured sale items into your menus, you can also economize. Planning menus, making a shopping list from those choices, and using the list can prevent costly spontaneous purchases, too. (See How to Read Your Grocery Ad Like an Insider.)
Too often, we find our cupboard shelves filling faster than we are emptying them. Make a pact with yourself to make at least one meal each week using those stored items.
How much of those "necessities" are really necessary? For example, you can, at least temporarily, substitute inexpensive hand lotion for the more costly name brands. By buying whole chickens and cutting them into parts yourself, you can save substantially. Hand written notes on stationery purchased at a discount store may prove more meaningful to the recipient than an expensive greeting card.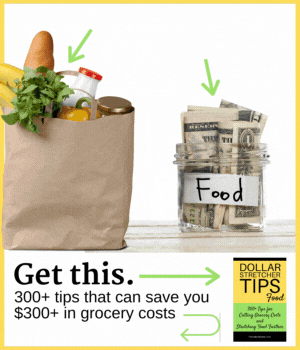 Can I do it myself?
Like most of our California neighbors, we contracted with a garden service to maintain the sensitive landscaping. We discovered we could improve our cash flow by doing our own yard work.
As job hunting did not consume all of our time, we tackled many home projects. We purchased some additional tools, but saved a great deal over hiring contractors. (You may not be a "Bob Vila," but with the help of classes at your local home improvement store, you can tackle many formerly daunting projects and save hundreds of dollars in labor costs.)
Can I still have fun?
Yes! Conserving cash does not keep you from enjoying yourself. Watching a rented movie rather than going to the theater or catching a matinee rather than seeing the evening feature offers entertainment at a reduced rate. When did you last go for a drive just to appreciate the views?
Do you miss eating out? Use coupon books and discount offerings to treat yourself to dinner in a nice restaurant. Enjoy one of your favorite recipes at home, and seek out a unique coffee shop and enjoy its desserts. Or buy an inexpensive cookbook, and make yourself a gourmet meal at home.
Do you miss those evenings on the town with friends? Invite those same friends to your house for dessert, games or a movie. Enjoy a good book? Your local library can loan you those books and movies free of charge!
Can I continue to give gifts?
Yes, again. Remember, the cliché is true. It really is the thought that counts. So, practice putting more thought than money into a gift. Are you accustomed to giving cash or gift certificates? Find a meaningful gift for less value. 
If you have the desire and ability, you can craft your own gifts. However, the cost of materials may override any savings. Think sentimental! Do you have a photograph at home you could attractively frame and present as a meaningful gift to a friend or relative? You might consider finding a nostalgic gift by shopping eBay for a used, but appropriate item. Everyone enjoys receiving a gift that says, "I thought about you."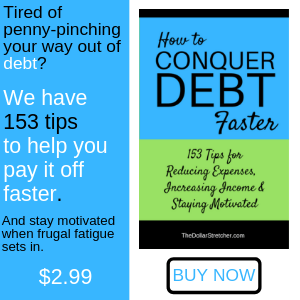 By asking yourself some hard questions and willingly making adjustments, you can keep more of that hard earned savings. And, when you return to work, you will have made some changes in your spending habits that will enable you to keep more of that hard earned cash.
Get better with money.
Subscribe to get a daily dose of money-saving content aimed at helping you get better with money, fix your finances, and live better for less.
Since one of the biggest hurdles to achieving financial independence is debt, subscribers get a copy of Do You Have Too Much Debt? A Checklist and Solutions for FREE!
We respect your privacy. Unsubscribe at any time.