Affordable Ways to Update the Color of Appliances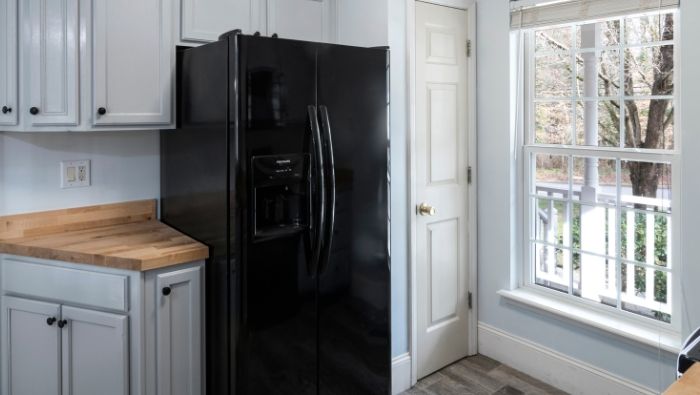 Can you paint appliances when you want to change the color? Our frugal readers share ways to update the color of appliances instead of buying new ones.
Dear Dollar Stretcher,
How can I change the color of my refrigerator without buying a new one? I would like to change it to black. It's a great refrigerator; however, it clashes with the rest of my décor. Help!
Terri
Panels Can Be Changed
I know there are companies that will simply change out the panels on the fridge. You can go to the appliance store and ask for a brochure. I also believe there are specific paints for appliances, though I don't know how well those work.
Stephenie
Try Appliance Refinishing
The best solution is "appliance refinishing" or otherwise known as electrostatic painting. Assuming your appliance is in good condition (no cracks, chipping, and so on), the refinisher can have your color updated and ready to use in as little as 48 hours for a refrigerator to 7 days for a stove (this is 99.5% drying time).
We used this process to turn a 1970s gold tub and sink to a 1990s almond color with great success. In our local Kansas City directory, these services are listed under "Appliance Refinishing". Enjoy turning those ugly ducklings into swans for a fraction of the cost of new.
Patti
Contact Paper Works Great
We once bought a home with a kitchen that had dark brown cabinets with black counters, fridge, dishwasher and stove and a dark red floor. I was desperate to brighten the place up. The fridge was only a year old, so replacing it was silly.
I simply bought heavy duty Contac paper and covered both it and the front of the dishwasher. It was sturdy, easy to wipe off and quick to apply. If you haven't used Contac paper in a while, you'll be surprised at how much easier it is to work with. After about 2 years, the seams had shrunk just a tad, but I caught a sale and just bought a new covering in a new color for a fun update!
Peggy
Start living better for less.
Subscribe to get money-saving content by email that can help you stretch your dollars further.
Twice each week you'll receive articles and tips that can help you free up and keep more of your hard-earned money, even on the tightest of budgets.
Subscribers receive a free copy of our eBook Little Luxuries: 130 Ways to Live Better for Less.
We respect your privacy. Unsubscribe at any time.
Appliance Painting is Simple
We've painted a fridge and a dishwasher with melamine paint and a foam roller. They both have looked great for years. They have that no fingerprint texture because of the foam roller. We've also painted two range hoods this way with great results.
Connie
TV Demo
I recently saw an episode of "Trading Spaces" on TLC where they did the very same thing. They just went to a home improvement store and bought black appliance paint in a spray can.
It's important to get the appliance paint and not regular spray paint because the appliance paint is formulated to withstand hotter temperatures without cracking and peeling. You may have to put more than one coat on it, depending on the present color of your refrigerator but I got the impression it isn't much more expensive than regular spray paint and the result was beautiful.
Julie
Body Shops Can Change the Color
The way to change the color of your refrigerator is to take it to the same place you would take your car if you needed it painted. I used to clean houses and one of my clients would take her appliances to a body shop whenever she wanted to change colors in her kitchen. Worked great and it wasn't really too expensive. It was better than getting new appliances each time.
Sandy