5 Things To Know When Buying Carpet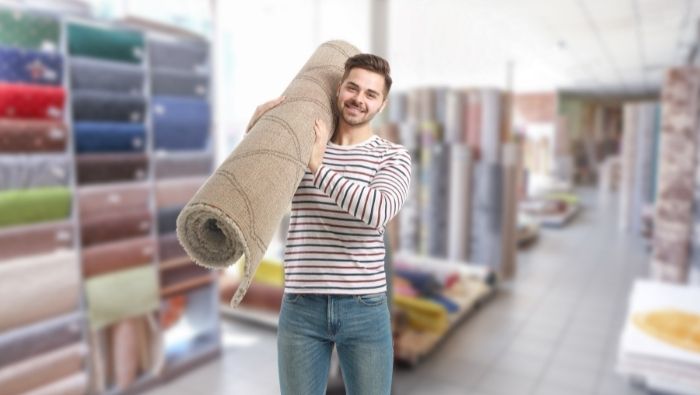 You can have affordable wall-to-wall carpeting installed if you know what to look for when shopping around. Here are some things to know that can help you save.
You've finally worn a path from the bedroom to the bathroom on your 25-year-old carpet. Or maybe your wooden floors have taken a beating over the years and you think carpeting would be better.
Carpeting can be a great insulator against cold floors and against noise, especially on stairs. Carpeting can make a room or area more beautiful.
Affordable wall-to-wall carpeting can be installed in your home if you know what to look for. There are many online calculators that can provide guidance on choices and costs for your new carpeting.
Do-it-yourselfers can save money on carpeting labor costs.
Removing the old carpeting and pad yourself can save money. The job can be dusty, messy and tedious, especially if you are removing carpeting from stairs and other areas with more than average number of carpet tack strips. Be careful not to hurt your hands as the tacks on those strips are amazingly sharp. One wrong move and you might find a large and painful gash on a finger.
If you have never installed a new pad and carpeting before, it is best that you know what you are doing before you decide to embark on the project. Again, carpeting stairs is likely to be the most challenging part of the job. There are numerous online videos that walk you through each step for successful carpet installation.
Start living better for less.
Subscribe to get money-saving content by email that can help you stretch your dollars further.
Twice each week you'll receive articles and tips that can help you free up and keep more of your hard-earned money, even on the tightest of budgets.
Subscribers receive a free copy of our eBook Little Luxuries: 130 Ways to Live Better for Less.
We respect your privacy. Unsubscribe at any time.
Get estimates on carpeting both with and without installation.
You might discover that the labor on your estimate is relatively small compared to the cost of the entire job. One family paid $700 for the removal of the old carpeting and pad, and the installation of new pad and nylon carpet. The old carpet tack strips were in good condition and did not need to be replaced.
Included in that price was $30 to remove the old and $80 for the labor for just the stairs, thirteen in all plus two landings. Typically do-it-yourselfers, this couple felt that cost of the labor was worth it. Plus, the customer didn't have to worry about disposing of the old carpet and pad; the installers took care of that, too. All the customer had to do was move furniture and wall hangings to prepare for the installers.
Selecting the right carpeting depends on where it will be used.
Wool carpeting is beautiful but expensive to buy. Polyester tends to be the most stain resistant. Nylon is considered to be durable and is perhaps the most popular fiber for carpeting. The type of carpet pad needed will depend on which fiber will be installed. Also consider the pile, which is the height of the carpet and the density. Denser carpet tends to be pricier.
Where should you buy your new carpeting?
There are stores that sell flooring and even carpeting exclusively. The large home improvement centers also typically have flooring departments. Never assume that that one or the other is necessarily more knowledgeable, competent, or cheaper.
Some places will offer a free estimate where they come to your home and carefully measure everything. Other places may charge for the estimate, but then may include it in the price of the carpeting and installation. That deters customers who are not necessarily going to do business with them from wasting their time. You'll just have to shop around at several places to get an idea of who will do the best job for you. If you measure the area before you go carpet shopping, the store might be able to give you at least a rough estimate before coming to your house with a tape measure.
You will want to ask specific questions about the installation process. Are the installers employees or independent contractors? Many places only use independent contractors for installation. That has no real impact on you, unless there is a problem in which case it may be more difficult getting the independent contractor to stand behind their work.
You also want to find out about how long the installers will need to do the job. One job used one installer for a half day to do a hallway and stairs including removal of old. That's about average time.
Warranties vary.
Many carpet pads come with a lifetime warranty. The carpeting itself may have a ten-year warranty, but the labor may only be covered for a year. Expect to pay about fifty percent of the total cost when you order the carpet and the balance is expected when the job is satisfactorily completed.
If you stay in your home long enough, you will likely need to purchase carpeting. Be a good consumer and you will be pleased with the results. Take your time and shop carefully.
About the Author
Debra is an occupational therapist, accountant, teacher and freelance writer. She is a writer for Advance for Occupational Therapy Practitioners. She also writes for Grand Magazine, has some items (fiction and non fiction) selling on Amazon (Kindle)
, has written several travel articles for the Champaign-Urbana News-Gazette and several articles for freelancewriting.com and volunteers as a money mentor for the University of Illinois Cooperative Extension money mentoring program. Learn more about her at DebraKarplus.blogspot.com.