7 Non-Obvious Ways to Save on a Kitchen Remodel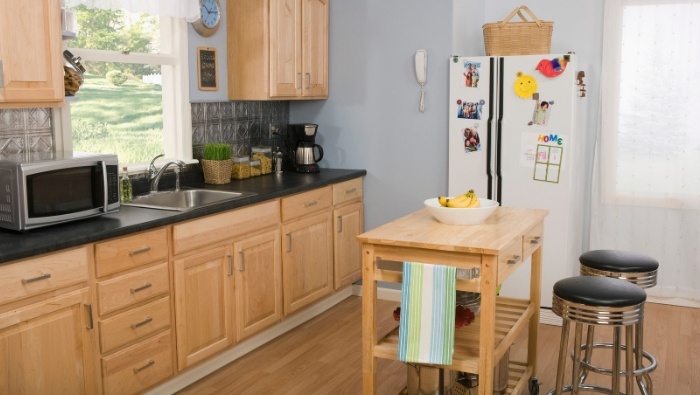 Want to remodel your kitchen but the cost is making you hesitate? Consider these 7 non-obvious ways to save on a kitchen remodel and you just might be able to update your kitchen on a reasonable budget.
Have you been diligently planning what a new kitchen would look like? You've probably saved dozens of images from Houzz and Pinterest and even been dreaming about how a new kitchen would bring value to your daily life.
Then it all comes to a screeching halt after you get sticker shock from your contractor. It's way more than you thought it would be and you're not a DIYer.
You don't have to give up on that kitchen renovation just yet. I've got seven not-so-obvious ways you can save some money on your remodel without sacrificing what you want, and there's no DIY involved.
1. Buy Your Hardware from eBay
Hardware is expensive, and it's one of those little details that you can't cheap out on. Those finishing touches bring all the colors and textiles together in a kitchen to make it complete. The good news is that you can get the same expensive hardware that you've been eyeing up at a reduced price, just by purchasing it on eBay. I know because I've done it before, and you don't have to compromise anything.
I just priced one and found the same exact brand name handle that costs $7.74 at a big box store compared to $3.50 on eBay. The seller had over 13,000 sales and 100% feedback. You might even be able to get this cheaper if you're buying in bulk, and it's not unusual to buy between 30-50 handles for a new kitchen. If you want to save even more money, try searching for the size and finish you want and don't get stuck on a particular brand. You'll often find the same hardware in unlabeled bags for even less money.
Start living better for less.
Subscribe to get money-saving content by email that can help you stretch your dollars further.
Twice each week you'll receive articles and tips that can help you free up and keep more of your hard-earned money, even on the tightest of budgets.
Subscribers receive a free copy of our eBook Little Luxuries: 130 Ways to Live Better for Less.
We respect your privacy. Unsubscribe at any time.
2. Buy Grade/Level 1 or 2 Granite
If you can choose a color that goes with your cabinets and floors in the grade 1 or 2 category, you can save yourself more than $1,000 than if you buy grade 5 or 6 granite. Just the other day I priced level 1 granite for a 30-square-foot kitchen counter. The cost was $1,800 compared to $3,000 for the level 6. The customer was thrilled with the grade 1 color, their new granite top, and the amount of money they saved.
So keep in mind, the higher the grade, the more you'll be paying. Also, shop the fabricators. They each price granite differently and they may also have different colors available for each grade. One company might put one color granite as grade 1, and another might rate that same color as a grade 2. It's worth shopping around to reap the benefits.
3. Do Not Pay an Upcharge for All Plywood Constructed Cabinets
New cabinets are going to be one of your biggest expenses. To cut costs here, only pay for plywood or wood veneer on the ends of the cabinets that are going to be exposed or get a finished end panel or real wood skin for these areas. Most of your cabinets will touch each other, and you won't appreciate the extra money you spent getting all plywood. The amount you save will vary depending on your supplier and the cabinet maker. A typical saving is around 15%. This is another example in which you won't even notice any difference in the appearance of your kitchen, but you'll appreciate the savings.
4. Skip The Pantry Cabinet and Build a Pantry Closet Instead
If you're having a contractor install your kitchen, then adding a pantry closet around 24″ x 36″ could add about another $750 to your costs. This same size pantry in a cabinet might cost you three to five times that amount. Pantry closets are a great space to stockpile all your canned goods, snacks, candy, and cereals. You might even be able to make a larger pantry than you would've been able to afford with all the money you're saving by not buying the pantry cabinet.
5. Price The Species and Finish Options On Your Cabinets
Some of the different species are similar in appearance and durability but not so much in price. For example, Cherry is similar in color to Select Alder, but you'll pay 4%-5% more for it. Taking notice of these details will get you the cabinets you want while still saving you money.
6. Minimize Your Gingerbread Cabinet Options
Roll out trash cans, lights when you open the drawer, and soft touch drawers are all nice accessories, but many of them are considered upgrade options. Don't get sucked into these because they'll quickly add a lot of extra costs. For example, just one single roll-out shelf can easily add $100 to your cost. First, find out what accessories your cabinets come with and then consider if the convenience of the upgrade is worth the price and choose wisely. Also, keep in mind that some of these options can be bought at your local hardware store and installed by you for a fraction of the price.
7. Check with The Manufacturer for Current or Upcoming Promotions
The manufacturers often run promotions. Their promos might include free upgrades, free modifications, a free sink base, or even discounts off certain cabinet lines and finishes. Make sure you call them or have your designer call to see what promotion is currently running, when it will end, and what promotions are coming up. If you find a promotion that you don't want to miss out on then, you'll have to place your order before it ends. This is just like coupon clipping for your cabinets.
Kitchen renovations can be expensive, but they're doable even for non-DIYers that are on tight budgets. I hope you use the tips above to throw out those old laminate tops, update your 80s cabinets, say goodbye to that brass hardware, and get the kitchen you've been planning.