Inexpensive DIY Backyard Fire Pit Ideas and Tips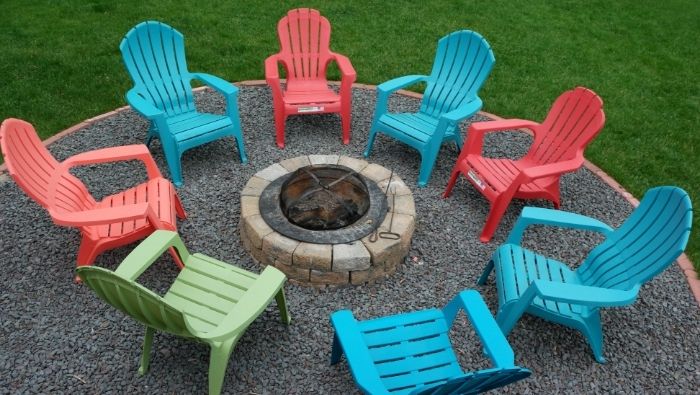 Don't let cooler weather or a tight budget keep you from enjoying your backyard. Build your own inexpensive backyard fire pit with these ideas from our frugal readers.
Dear Dollar Stretcher,
My family likes to spend time outdoors, but the cooler weather keeps us trapped indoors.
I'd like to learn how to build an inexpensive backyard fire pit. I'm told it's not that hard. And we don't need any thing too fancy.
Our friends have a firepit and they use it continually. Can anyof your readers help?
Marcus
Build a Backyard Fire Pit from an Old Truck Tire Rim
I found an old truck tire rim in the junk pile on the farm. I dug it into the ground and then circled the top with medium sized rocks. I also laid in stepping stones and pea gravel around the fire pit and used old logs to make benches.
It works great! And, it was free. Well, it was free except for the stepping stones and pea gravel, but their cost was minimal.
Pam
An Easy Weekend Project
You will love your fire pit! We built our house in the country and my husband and daughter used the leftover bricks to build our backyard fire pit. It was an easy weekend project that they enjoyed working on together.
The benefits from this firepit have been tremendous. It provides for fun gatherings. While our daughter was in middle and high school, it became a favorite place for her and her friends to roast hot dogs and s'mores.
After they gathered all the bricks needed, they mixed cement and stacked the bricks until a circle was formed. It's that easy! He didn't make a "bottom" for it. It's just dirt. We did buy a portable copper fire pit bowl to burn the wood on, but even this is unnecessary as the pit can lay flush to the ground. Ours is built up (mainly for aesthetic landscaping purposes), but we're thinking of building a "ground" one near our garden now.
If you don't have sufficient bricks lying around your house, stop at home building sites and offer to haul the leftover brick off or inquire if you can purchase it at a deep discount. Many brick sellers also discount leftover bricks or small stacks that don't complete a full load. If you are fortunate to live in an area that has natural rock or stone, you can gather and use that material to build your backyard fire pit.
Gracie
Start living better for less.
Subscribe to get money-saving content by email that can help you stretch your dollars further.
Twice each week you'll receive articles and tips that can help you free up and keep more of your hard-earned money, even on the tightest of budgets.
Subscribers receive a free copy of our eBook Little Luxuries: 130 Ways to Live Better for Less.
We respect your privacy. Unsubscribe at any time.
Alternative Explored
Before you start, make sure to call a fire station to check the laws in your area. In most cities near us, fire pits are illegal, but some people build them anyway. Also, if they are allowed, they're often required to be a certain distance from any structure, as well as from a water source.
Another possibility is just to buy a stand-alone fire pit from a hardware store. That way, you can move it around later without problems, take it with you on camping trips, or take it with you when you move.
You can probably pick one up pretty cheap at the end of the cold season.
Sharon (via Facebook)
Instructions from This Old House
This Old House has the definitive instructions on how to build a backyard fire pit. It's extremely easy. One of the advantages of building your own is that you can make it whatever size fits in your yard, and you can add grills, Dutch Oven holders, etc. that you can't get with ready-made fire pits.
To get step-by-step instructions that include a tool and materials list, go to ThisOldHouse.com.
If you can find many of the materials at a salvage yard, through friends' donations or by scavenging, the cost goes down considerably.
One thing to keep in mind is safety. Always locate your fire pit well away from overhanging trees and buildings. Large fires can accidentally grow out of control or throw sparks. You don't want to lose your home to a beautiful fall weenie roast!
Kamia
How Dad Did It
When I was a child, my dad built a large fire pit on our property.
He cleared an area and dug a large deep hole, removing all roots. Your hole should be at least 4′ across and 3′ deep. Build a circular wall in your hole with cement blocks. When you get near the top of your hole, use heavy decorative cement blocks for a nice look. Build it up a foot or more above ground level for safety. Back fill around the outer edges, allow to settle, and backfill again.
You can build a patio of patio brick or block around it, increasing the size as you can afford more patio block.
Lorelei
How to Build a Backyard Firepit in One Afternoon
We simply selected a location. We then decided on the size of the pit we wanted. We went to a local farm store and purchased a metal ring (they are much cheaper at a farm store). We decided on how much of the ring we wanted above the ground and then dug down that far plus about 4″ more. We put gravel/sand in the bottom of the hole for drainage and then set the ring on top of that.
We wanted a brick base around the pit, so we purchased patio bricks and placed the bricks around the hole based on the dimensions of the "fire pit patio" we wanted. We then used the edging type pavers to encircle the ring of our fire pit. We did two levels, but you can do it as high or low as you wish. Because we only went two bricks high, we did not use any type of mortar, but if you wish to build a higher base around the fire pit, you will want to use mortar.
It was simple. We did it in one long afternoon, and we thoroughly enjoy it now.
Pamela
Build a Backyard Fire Pit That You'll Love
We built one this spring and love it!
We dug a hole about 18″ deep and 3′ around, lined it with a piece of sheet metal my friend gave us, and then put in about 4″ gravel. We took some landscaping bricks and built a "wall" around the hole. After adding a metal grate, we were done!
Tina
Keep Your Fire Pit Portable
I bought a metal fire pit with a mesh cover at a local hardware store. I intended to buy blocks at the same store and make a stylish pit out of blocks I saw in their ad. My son then pointed out that if I used the blocks, I would be forced to keep the fire pit in on place in the yard. He also pointed out the cost would be quite high.
I decided to keep my fire pit portable, and after two years, I've never regretted it. At backyard parties, it can be moved from area to area, and I can just lift it to mow, clean, etc. I'm glad I kept my firepit portable!
Clare