How to Insulate Sliding Glass Doors Inexpensively
Insulated sliding glass doors can help keep cooling and heating costs down. Our frugal readers share ways to insulate sliding glass doors on the cheap.
Dear Dollar Stretcher,
My bedroom has a sliding glass door, which is not insulated. Therefore, the room is almost impossible to keep warm. Since I can't afford to replace the door with insulated glass, what else can I do? Are there inexpensive ways to insulate a sliding glass door?
I was thinking of hanging a thick blanket or moving pad over it, but that would also block the light. Do you have any good affordable ideas?
TDM
Tips for Insulating a Sliding Glass Door Inexpensively
We reached out to our frugal readers for tips and advice. See if one of these solutions will work to insulate your sliding glass door.
Insulate with Bubble Wrap
I've used bubble wrap on my windows. I sprayed the window with water and then stuck the bubble wrap to the window.
Plenty of light still comes in, and I think it helps with the cold.
Lisa
Hang Curtains
Use curtains for insulating sliding glass doors. If you can't afford new, go to thrift shops and look for king size comforters and bedspreads. Hang these as window quilts at night.
Cathy
Start living better for less.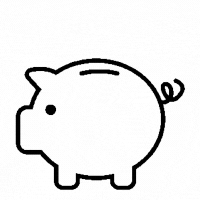 Subscribe to get money-saving content by email that can help you stretch your dollars further.
Twice each week you'll receive articles and tips that can help you free up and keep more of your hard-earned money, even on the tightest of budgets.
Subscribers receive a free copy of our eBook Little Luxuries: 130 Ways to Live Better for Less.
We respect your privacy. Unsubscribe at any time.
Adhere Plastic Film
I don't know where you live, but check your local hardware store. Where I live (it gets very cold), there's a plastic film that you can adhere to the inside frame/trim of your windows and doors using a special two-way tape included in the kit (plus you need your own scissors and a hair dryer). You effectively add an extra pane for insulation, stop drafts, etc. and it's perfectly clear like a piece of glass.
We did it for years before we could afford to replace our windows, and it makes a huge difference. The kits generally cost less than $10 and they do make ones specifically sized for patio doors.
Carolyn in Manitoba, Canada
Purchase Vinyl at a Fabric Store
During the winter, we cover our windows and sliding doors with clear vinyl that we bought at a fabric store. The vinyl is clear so you can see through it. Also, the vinyl lasts and lasts.
Dean
Insulate Sliding Glass Doors with Shower Curtains
Hanging a heavy duty clear plastic shower curtain liner with clear plastic dollar store hooks on a tension rod would definitely help.
Traci
Cut Insulation Board to Fit
We have a sliding glass door in our kitchen. Hubby cut two pieces of tongue and groove insulation board 1 1/2″ thick (1 1/2″ thick was what we had around the house) to fit the opening so that it goes inside the frame snug.
Then we got a sliding door size piece of plastic that had double-sided tape to stick it on the frame around the door. We used a hair dryer to get rid of all the wrinkles. It worked wonderful. We pulled the drape over it for extra insulation and to cover it so that no one sees what we did. It works really well.
Don't forget to save the insulation board for the next year.
Judy