Do you want to beautify your yard, but lack the funds or expertise? Relax! All it takes is a little creative DIY and you can have spectacular landscaping for less.
How many of you watch HGTV? Do you take notes on the transformations from seedy to superb? Or maybe you drive by your neighbors' yards and sigh over the flowing flowerbeds, fine grass or artful landscaping. You want to beautify your own yard, but lack the funds or expertise.
Relax! All it takes is a little creativity and you can have spectacular landscaping for less. Most of the expense involved in professional landscaping is labor costs. If you are handy or know a friend who is, you can cut costs dramatically.
Picking and pricing your landscaping project
For example, two years ago my husband and I decided to rock our front lawn. The decision was not undertaken lightly. Our small front yard is dominated by two towering, sixty-foot high evergreens. They are lovely, but were slowly killing our grass. The tree roots soaked up all the moisture and nutrients, leaving nothing for the grass. Constant watering, seeding, fertilizing, even hiring a professional aerator did little but drain our wallets.
We priced three different contractors and landscaping companies to edge our lawn and add rocks. The bids came in at $900, $1,050 and $1,300. Needless to say, all three were way out of our price range. Then we priced out the materials, which came to $225. By purchasing an extra yard of rocks from the gravel company, we got free delivery.
Start living better for less.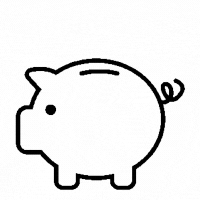 Subscribe to get money-saving content by email that can help you stretch your dollars further.
Twice each week you'll receive articles and tips that can help you free up and keep more of your hard-earned money, even on the tightest of budgets.
Subscribers receive a free copy of our eBook Little Luxuries: 130 Ways to Live Better for Less.
We respect your privacy. Unsubscribe at any time.
Figuring out how to DIY it
I did all the prep work in two days, which included installing scalloped brick edging all around and laying ground fabric. I highly recommend this step, since it keeps the weeds away. Another cheaper alternative is to lay damp newspapers and cover with a layer of straw. Don't use regular plastic because it traps heat and moisture and can lead to drainage problems.
The truck arrived and dumped seven yards of fist-sized river rocks in the middle of our yard. I thought the weight of gravity would slowly spread the rocks out, but I was mistaken! I ended up shoveling rocks into a sturdy wagon and dumping it into the corners. It took three more days of hard work, but I managed to complete the project for about $700 less than the cheapest bid!
Getting creative finding landscaping supplies
I have since added a path through the rocks by placing concrete chunks in a curving line. I simply drove around to various construction sites and asked the workers if I could take some of the discarded chunks of broken-up concrete. They all said "yes" and I chose smaller chunks about a foot square with a flat top. In three days, I had enough for the path. I dug each piece into the ground and made it level.
I completed the path with pea gravel on the edges and added pretty polished rocks leftover from an aquarium. You can also get them at the dollar store, discount chains, craft stores, garage sales or thrift stores. You can even raid your children's marble collection, if they don't mind!
I added two wooden wheelbarrows, painted red, filled with colorful flowers. My children and I also formed small flowerbeds on the corners of the yard with leftover edging. We just added a long section to the corner, making a triangle, then filled with fertilizer and flowers for a splash of beauty all summer long. Now we get comments all the time on our unique landscaping. The neighborhood children love to walk on our path and smell the flowers. At our annual garage sale, several people asked who our professional landscaper was. I just smiled and said "me."
Creating your own corner of paradise
To create your own corner of paradise, form a plan. Get ideas by visiting the library, watching gardening and landscaping shows or just by driving through town. Then gather or price out the materials you will need. Timing is important. If you shop later in the summer or very early in the spring, you can cash in on slashed prices and clearance items. Also watch the classifieds for free giveaways. I often see ads for free bricks, pavers, blocks, timbers and even dirt. Usually all you have to do is haul it away.
With a simple plan, a little hard work and the desire to have a beautiful yard, you can also enjoy landscaping for less.
About the Author
Shaunna Privratsky became an expert in personal finance out of necessity. Between writing, reading and gardening, she is always on the lookout for bargains. Please sign up for her free newsletters at The Discount Diva.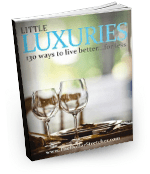 Subscribe to The Dollar Stretcher, our free twice-weekly newsletter aimed at helping you live better for less on the money you already have!
Subscribers get a copy of our ebook Little Luxuries: 130 Ways to Live Better...For Less for FREE!