DIY Cleaning of Light-Colored Upholstery
Professional upholstery cleaners recommend hand-washing lighter colored upholstery and it doesn't come cheap. Try these DIY cleaning tips especially for light-colored upholstery to save some money cleaning your furniture.
Dear Dollar Stretcher,
I have a couch and loveseat that are cream, almost white, that really need to be cleaned. The cheapest quote I can get is around $200.00. They say that because they are such a light color, they will need to be hand cleaned instead of steam cleaned.
If that's the case then I can do it myself only that I don't know what materials, detergents/chemicals that I need or even how to go about it. Do you or any of the readers have any suggestions for hand washing light-colored upholstery? I would really appreciate any ideas about this.
Susan
DIY Cleaning of Light-Colored Upholstery
We sent this question out to our frugal readers who had plenty of tips and advice to offer up. See if any of these solutions might work for cleaning your light-colored upholstery.
Whipped Cleaners for Upholstery
The Scotchgard company that I use told me to use "whipped" laundry detergent.
You just take a scoop of powdered detergent, add a bit of water and whip it in the blender. Take a cleaning rag, get a little of this whipped stuff and clean it gently. Afterwards to "rinse" take a clean wet rag and wipe down any leftover residue from your upholstery.
I also use a small fan to help it dry. I've also heard of doing this with shampoo.
Anonymous
Clean Light-Colored Upholstery with Carpet Cleaner
I have cleaned several types of upholstery using cold water and the hand-held attachment to my carpet cleaner (Bissell) which is one of the best buys I have ever made. I have used different purchased solutions made for this and have never had a problem. Woolite makes one and the carpet cleaners have their own brands.
Consider Scotchgard once the furniture is good and clean. It comes in cans you spray on.
Patty
Subscribe to The Dollar Stretcher, our free twice-weekly newsletter aimed at helping you live better for less on the money you already have!
Subscribers get a copy of our ebook Little Luxuries: 130 Ways to Live Better...For Less for FREE!
OxiClean Worked Wonders for Cleaning Our White Upholstery
Like you, I have a white sofa and chair in my living room. I was ready to toss them out and buy new until a friend told me about OxiClean
. I mixed it up according to the instructions and went over my entire sofa in less than half an hour.
My sofa came out almost as clean as new and I didn't even rinse it. At the end of summer I did it again and that sofa looks better than it did when I had it professionally cleaned! So for about an hour of my time and very little money I have an almost new piece of furniture.
Robin
Use a Special Upholstery Cleaning Brush
I had a similar problem with a white upholstered couch and a major case of the "grubbies". I had really great luck with a dry sponge. This is a specific type of sponge that you use perfectly dry but it seems to lift a lot of dirt and grime. Takes a bit of elbow grease but is really effective. You can wash it when it gets too dirty and then wait for it to dry completely before using it again. It is also a great tool for picking up pet hair.
They can be purchased for about $5 at most hardware and large discount stores and it lasts forever. I wouldn't trade mine for a silver saddle!
Sandra
Mean Green Does the Job for Cleaning Light-Colored Upholstery
I use an inexpensive product in my carpet cleaner for my carpets and upholstery. It works best on the toughest grime including cigarette smoke and residues. I use it on my walls, floors, stove and just about everywhere. But dilute it for items of color just in case fading may occur. The product is called Mean Green
. This is not to be confused with "Simple Green". It can be found at most dollar stores, Family Dollar, and Dollar Zones.
If you rent a rug doctor that has the upholstery attachment, put half the amount of Mean Green that the cleaner requires for upholstery. Do a test spot first, of course. You can do that by spraying a squirt from the bottle directly on an inconspicuous spot and wiping it with a damp white washcloth. If Mean Green won't get the stains out, I promise you, nothing will!
Venessa
Check With the Manufacturer First
I would definitely write or call the manufacturer for their suggestions. That way you don't end up inadvertently ruining the furniture. They might be able to recommend cheap substitutions you can use for the cleaning chemicals, and also tell you what not to use.
Also, I've found that when getting quotes from businesses on their services, sometimes the smaller, friendlier mom and pop places are more willing than large businesses to give you advice. They may tell you how you can do the job yourself or how they would do it, even if it means they won't get the job.
Rachael
Woolite Good for Delicate Upholstery Cleaning
I have cleaned upholstery with Woolite Foam
(aerosol), and it works well. I have also whipped Woolite liquid soap or mild dish detergent mixed with water into a foam. I then spread the foam on the upholstery, let it dry, vacuumed it off, and then wiped it off with a cloth lightly dampened with diluted vinegar to remove any soap residue. That worked well, too for cleaning upholstery, and was cheaper and more ecologically sound.
Diane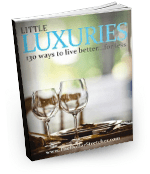 Subscribe to The Dollar Stretcher, our free twice-weekly newsletter aimed at helping you live better for less on the money you already have!
Subscribers get a copy of our ebook Little Luxuries: 130 Ways to Live Better...For Less for FREE!