Cutting Back on Tree Trimming Costs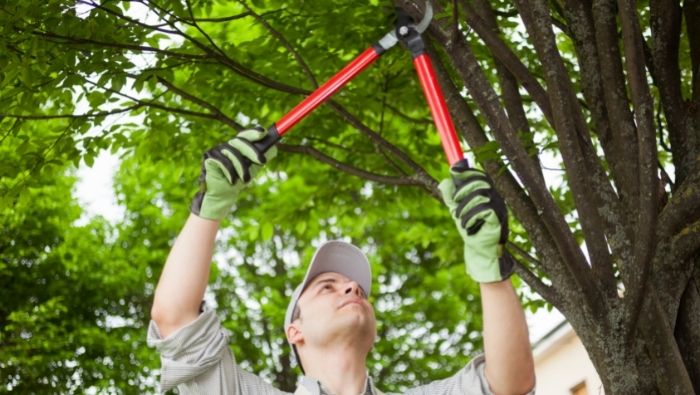 If you have a lot of trees, it can be costly to keep them healthy and off your roof. Here are a few ways to keep tree trimming costs in check.
If you live in a home with trees on your property, consider yourself lucky.
Besides the beauty of any tree, deciduous trees that shed leaves each autumn, fruit trees, flowering trees, and evergreens provide shade and help moderate temperatures, which is especially helpful in places with harsher winters or locations with extreme heat and intense sunlight.
Though most of the trees on your property require little care other than removing twigs on the ground each spring before the first mowing and the fall ritual of raking leaves, sometimes a tree will need pruning, trimming, shaping, or possibly removal. Here are some ways to reduce the costs associated with these tree care tasks. 
Why trim or remove a tree?
Trees look better, maintain their shape, and grow healthier when they are pruned periodically. Fruit trees will be more fruitful with a yearly trimming. On any tree, dead branches or overgrown limbs need to be cut. If a tree is too close to a roof, it needs to be trimmed. Branches near or touching a roof can cause serious water damage to a roof and other parts of a home. (See also Inspecting Your Roof for Winter Damage.)
A dead tree needs to be cut down before it falls down. Better to be proactive and control when and where it falls than to have a storm knock it down over power lines or atop your roof, fence, or car. A diseased tree may possibly be salvaged. Call an arborist, contact your university's cooperative extension office, or check the Internet for guidelines before you have a tree cut down.
Start living better for less.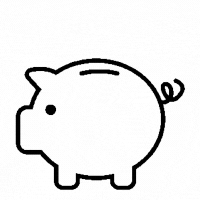 Subscribe to get money-saving content by email that can help you stretch your dollars further.
Twice each week you'll receive articles and tips that can help you free up and keep more of your hard-earned money, even on the tightest of budgets.
Subscribers receive a free copy of our eBook Little Luxuries: 130 Ways to Live Better for Less.
We respect your privacy. Unsubscribe at any time.
Going out on a limb with DIY tree trimming
Use your best judgment to determine whether tree pruning or removal is something you can do by yourself or with another person's assistance. Find out the best time of year to do the trimming that you will be doing, as this sometimes varies for different types of trees.
For relatively small jobs, one person using a pair of loppers can easily remove branches as wide as approximately one inch in diameter. Larger branches can be cut with a pole handsaw or electric pole chainsaw. Check the home improvement center to purchase the most appropriate tool for your job. These tools will pay for themselves in a short amount of time, if you have even a few small trees on your property. (See 11 Ways to Save at Home Depot.)
For larger jobs, a chainsaw (gas or electric) will do the job. Gas saws are typically heavier, but give you more mobility around the yard. The chain and bar can be as short as ten inches or as large as eighteen inches or more. Solicit advice on which size saw will suit your needs. For the larger jobs, you'll also need sturdy rope to guide a fallen large branch or tree to the specific spot where you want it to land; you'll need at least one helper for this. Trim away smaller branches first, and then plan ahead where the tree should fall.
Whatever side job, always wear work gloves and hard closed-toe shoes with good soles.
When to leave the job to a certified arborist
If you feel the job is bigger than you can do safely, hire someone, but be cautious. The handyman who fixed your toilet, for example, may lack the skill required to correctly and safely trim trees.
Certified arborists are schooled in tree care and are licensed, bonded, and insured. Hire an arborist that is recommended by a friend or neighbor, if possible. Don't be shocked when you're quoted several hundred dollars or more for even routine pruning. Arborists are trained and have special equipment. They often use a bucket truck, lift, and tall extension ladders.
There are some ways to lower the costs of professional tree trimming. Get your quote first, and then ask if it will be cheaper if they leave the uncut wood behind. Someone you know can certainly use the firewood for their campfire, bonfire, fireplace, or woodstove and can utilize the smaller pieces as kindling to start a fire. (See also: 5 Places to Find Free Firewood.)
Also inquire if the cost will be lower if they cut off-season, approximately October to April. Not having to dispose of leaves and brush should save the arborists time and expense; hopefully that savings can be passed along to you.
When getting a price quote, be sure to check if they'll do stump grinding also, as it's often a completely separate process. As with other home improvements, it's prudent to obtain more than one free estimate.
Stretch your dollars by keeping your trees healthy, well shaped, and off your roof. It's one way you can maintain the beauty of your trees and property while shading your home. Do it yourself or with a helper, or hire a professional.
About the Author
Debra is an occupational therapist, accountant, teacher and freelance writer. She is a writer for Advance for Occupational Therapy Practitioners. She also writes for Grand Magazine, has some items (fiction and non fiction) selling on Amazon.com (Kindle)
, has written several travel articles for the Champaign-Urbana News-Gazette and several articles for freelancewriting.com and volunteers as a money mentor for the University of Illinois Cooperative Extension money mentoring program. Learn more about her at DebraKarplus.blogspot.com.