Cheap Ways to Finish a Basement
by TDS Reader Contributors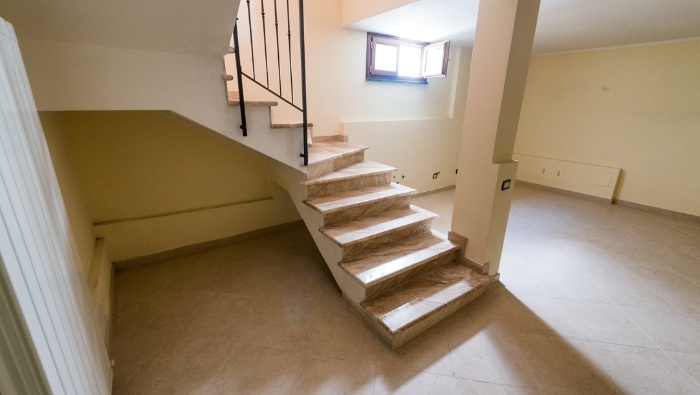 Need a little more usable living space? Our frugal readers share cheap ways to finish a basement and turn it into a nice livable space.
Dear Dollar Stretcher,
We would like to use our basement. When we built, we never thought we would ever want to use the basement for anything but storage, but two children later, we've changed our minds.
The basement is typical concrete. We do have an oil-fed stove installed down there, and it is warm. But what can I do with the floors and walls that would be livable, but at the same time, inexpensive?
We would love to hear tips from your readers for ways to finish a basement on the cheap.
Glorey
Frugal Folks Share Cheap Ways to Finish a Basement
Our frugal readers has plenty of tips to share for inexpensively finishing a basement. See if their tips can help you expand your living space without expanding your budget.
Cheap Rustic Look Basement
A friend of mine had the same situation. He attached wooden strips vertically to the wall so that he would have something to nail to. He then went out and retrieved wooden pallets that many companies throw away, especially if they have a little damage. He removed the slats and used them to "panel" the walls. He then varnished the walls so that splinters were not a problem. (Make sure the oil-fired heater is not on and there are no open flames when varnishing). He also did not have to worry about the children throwing darts or pinning up posters as it is very hard to damage these pallet boards.
For the floor, he used carpet samples, which many carpet stores throw away when they get new sample books. He attached the samples to each other and to the floor by using double sided tape. He ended up with a basement that was unique and very functional.
PKW
Start living better for less.
Subscribe to get money-saving content by email that can help you stretch your dollars further.
Twice each week you'll receive articles and tips that can help you free up and keep more of your hard-earned money, even on the tightest of budgets.
Subscribers receive a free copy of our eBook Little Luxuries: 130 Ways to Live Better for Less.
We respect your privacy. Unsubscribe at any time.
Try This Fabric Fix for Finishing a Basement
A few ideas I used to transform my basement years ago:
Get a good carpet pad and rug for whatever area you want covered, then paint designs on the exposed flooring.
Buy inexpensive fabric or sheets – cover the walls with it. This can be done by hanging as curtains all over the walls, or two other ways – by either gluing the fabric to the walls or, if sound and warmth are necessary, glue quilt batting or inexpensive carpet padding on the walls and then hang the fabric.
This may seem like a lot of work, but it really isn't and it is pretty cheap. It does serve the purpose of drawing the room together and making it cozy. Worked for me!
Sue
Basement Becomes Regular Room Simply and Cheaply
Attach 2″ x 2″ furring strips to the walls with a construction adhesive like Liquid Nails. Then you can use drywall or paneling to cover.
For the floor, you just cover with vinyl flooring or used carpeting with padding. Another wall covering possibility is covering the walls with carpeting. This makes for a very warm and comfortable room.
Anon
A Cheap Basement Floor
I had the same problem. We had a new basement under our house (dug by our own hands and built from used cement blocks, nonetheless!) and no money for finishing. I gave the floor a mock ceramic tile look that turned out "beautifully."
To begin with, you must have a good cement floor, and it needs to be absolutely clean. You will also need a pizza box, a 12″ x 12″ piece of foam (available for almost nothing at fabric stores), 3 colors of paint, a paint stick, and a clear coating product.
Go to a store that sells both terra cotta tiles and paint. Choose a tile you like. Identify 3 colors of paint that are similar to those in the tile. Have 3 quarts (or if it is a HUGE floor, gallons) of floor paint mixed, one in each color. I used a brown, an orangish, and a gold.
I began by making two pencil lines on the floor, one going vertically, and one horizontally (so they make a cross). Cut apart the pizza box, and cut one side of cardboard to a 12″ square. Using your glue gun, glue the foam to this square. This will be your "stamp" to make the tiles.
In the other half of the pizza box, pour in a little of each color of paint (enough to cover the bottom of the box). Swirl them just a little with a paint stick. Lightly press your "stamp" into the paint. Begin stamping your tiles onto the floor according to the grid you marked off. Just begin at the cross and continue moving out. Leave about 1″ of bare cement showing between the tiles. This 1″ of natural cement gray will appear as the grout.
Stamp one pattern, turn the stamp 1/4 turn and stamp again. Turn 1/4 turn and stamp again. By this time, it will be time to pour more paint in the pizza box, swirl and begin again. Because of the turning and reloading the stamp every 3 stamps, your tiles will all appear different–just like real terra cotta!
Let the floor dry, then seal with a clear coating product designed for floors. I used a quick dry semi-gloss product and applied it with a foam mop. It went on super fast.
I did this three years ago and have received nothing but compliments. Most people cannot believe it is not real ceramic tile. The entire floor (one very large room) cost about $50.
Darcie G.
Two Cheap Basement Bedrooms
We also had this problem. The only difference is that we have 4 children. We had a very large basement and needed two more bedrooms, plus wanted a family room so that the video games would be out of sight and sound.
We sealed our cement block walls with a sealer and placed 2×4's on the wall. Then put insulating panels up to help keep the basement a little warmer. On top of these we bought a basement quality paneling and hung them and primed and painted them. We now have a farm house look to the walls with tiled ceiling.
Since there were no windows on this end of the basement and that was where the two new bedrooms and family room were to be, it definitely brightened up the area. Our teenage sons are pleased with having their own rooms. Indoor/out door carpeting with painted trim finishes off the look that we wanted. This was a much less expensive means to finishing our basement and it looks much better!
Randy O.
Editor's note: be sure to check with your local building and zoning department to find out what permits if any are required in your area. Also make sure that you have sufficient ways to exit the room(s) in case of fire!