Adding a Vent to Existing Ductwork: Pros, Cons and Costs
Could adding a vent to existing ductwork help cool and heat a converted garage? Here are the pros, cons and costs to consider before attempting this DIY home repair.
Dear Dollar Stretcher,
We made a new bedroom in the area that was our garage. It has no heat and only a window air conditioner that is now broken. A small electric heater is sometimes used in the coldest weather to heat it. This is not very comfortable.
A main duct runs through its closet. What might be the pros and cons of making a duct into the room from it? Parts are available at Lowe's. We have a new heat-pump system, which is more powerful and efficient than the old one. Some air return would be required too – perhaps in the door toward the main house. Do you or your readers have any advice?
Wilda
What are the Pros, Cons and Costs of Adding an Additional Vent to Exisitng Ductwork?
We asked our frugal readers to offer up any advice they had about adding an additional vent to existing ductwork. Is it a DIY job? It is recommended? The pros? Cons? Costs? Here is some of the advice they sent it:
Insider Report: Advice from an HVAC Expert
After being married to a HVAC man for 20 years, here is what I know for sure. The big thing you need to check out is whether your existing unit is large enough to add another vent. I know you have a new unit that is more efficient, but does it have enough tonnage to carry another room? The amount of space you have determines your tonnage on AC units.
You may also want to consider that even if your unit has enough tonnage, you will deduct from its efficiency when you add that room. We added an addition two years ago and when my husband had upgraded the heat pump four years ago he had planned for the addition in the tonnage on the unit. But once he added the additional rooms and took from the unit, we have found a much larger increase in our electric bill than we expected. The tonnage on the unit is okay, but basically we topped it out and have decreased the efficiency by doing so (we added more space than he originally planned). We should be a 1/2 ton larger to get our efficiency back.
You need to check for a place for return air as you mentioned. The door option may or may not work depending on where the return is in the main part of the house and its ability to actually draw the air from that room. Have someone who is reputable look at it. If you don't know anyone, ask people you know who may know someone. You will want to know what your unit is now. How much tonnage is your unit? What is the sear rating (efficiency rating/load)? What is the square footage of your house without that room? How much square footage are you adding? With that info, an HVAC man can determine if you have enough tonnage to add that room without maxing it out and losing your efficiency.
If your existing unit does not have enough tonnage to add that room, then you may want to consider a "through the wall" unit (like what they use in hotel rooms but much quieter). We have installed these in converted porches, dens, additions, etc. They are thermostatically controlled and are not as loud as you think. This gives you heat and cooling in one unit.
Shelly of Richmond, VA
Start living better for less.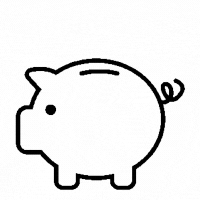 Subscribe to get money-saving content by email that can help you stretch your dollars further.
Twice each week you'll receive articles and tips that can help you free up and keep more of your hard-earned money, even on the tightest of budgets.
Subscribers receive a free copy of our eBook Little Luxuries: 130 Ways to Live Better for Less.
We respect your privacy. Unsubscribe at any time.
Be Cautious about Building and Fires Codes
I have a word of caution for the reader who converted a garage to an extra bedroom. My sister did this in a rented home in South Carolina. She discovered that it was in violation of building codes and fire codes because the room did not have the proper windows and doors installed, as did the rooms in the rest of the house. And it was for her three sons, too! Please remember safety and comply with the building codes.
Mary
Adding a Vent to Existing Ductwork is a DIY Job
We just ran ductwork to our upstairs and it is so wonderful. The reason we did it was because we wanted to sell our house. The realtor said that they do not count a room as a bedroom unless there is a suitable heat source. They would not count the electric heat installed in the room.
My advice is to go for it. It took less than one day to install three vents and run the ductwork from the furnace in the basement through the first floor to the second floor. We took the steps to draw a map and then bought all the pieces needed.
Trina
Consider Building a Subfloor Rather Than Adding a Duct
I would highly recommend building a subfloor, which basically means raising it a few inches off the original cement.
This is where you will feel a lot of cold during the winter months. Also floors hold that cold. Remember that the floor is going to trap the cold in the room, which means it is going to cost more to heat if you only use that room periodically. Since my family currently lives in a 'four season state' where winters can get below zero, cold floors are an important factor.
If your heater can handle the extra vent, go for it. One mistake people make is thinking they can just add a vent and the heating problem will be solved. However, if the heater you have is not able to handle the extra square footage, then your best bet is getting a bigger heater and air conditioning unit. By the time you spend the extra money for a window air conditioner and the added energy costs, you will probably find it would more than pay for itself to just upgrade your main heater and air conditioning unit. (See Can a New Air Conditioner Reduce Your Cooling Bills?.)
Also something else to keep in mind is the age of your home and the age of your original units. Utility companies have often offered to subsidize replacements of inefficient heating and cooling units. Sometimes they subsidize by way of rebates directly mailed to you or deductions on your utility bills spread over a period of time. I've also seen utility companies have resources to refer people to for low cost financing of more energy efficient heating and air conditioning units.
One thing I think every home should have is ceiling fans in every main living area. Spending a few pennies for the ceiling fans to run in the proper direction (move cooler air up in the summer months and warmer air downward in winter months) has shown big improvements on our heating and cooling bills. (See What's That Little Switch On My Ceiling Fan? And How Can It Save Me Money?.)
Don't forget that this may be considered a home improvement, which may be tax-deductible. So, talk with your tax advisor about your particular situation.
Denise
An Additional Vent Could Increase Home Value
Yes, add the vent as it will increase the value of your home at resale time (now or 20 years in future)! Try to make it as professional as possible. Handyman slap-dash results will detract value. (See Finding a Reliable, Safe and Affordable Handyman.)
Carole (Realtor)