6 Ways Travel Savings Can Cost You More
You may think you're scored some discounts on that next trip, but have you? Here are six ways paying a bit more up front for your vacation may actually save you money in the end.
After months of being stuck at home, you're looking forward to safely being able to travel again.
You've budgeted and saved for your upcoming vacation and everything is coming together nicely as you prepare to purchase plane tickets, reserve a hotel room, and shop for some last-minute items like a new snorkel mask or hiking boots.
Not so fast! That great discount you found may be setting you up to break your budget.
How can this be the case? I'm going to give you six scenarios where you will pay more up front, but save even more once that final total is tallied.
1. Choose your airline wisely.
If you intend to check baggage, spending a little more for a ticket that includes checked baggage will help you avoid crazy fees. In 2020, amidst the COVID crisis, airlines earned more than $2 billion in baggage fees just in the first three quarters.
Be aware that some airlines are specific about baggage fees depending on your departure location and final destination.
2. Know what is free to check on your chosen airline and what isn't.
If you are planning to travel for a specific activity like skiing or fishing, make sure you know what your prospective airline considers "sporting equipment," if they claim it's free to check. Sporting equipment can be very expensive to take if it doesn't fit into a certain criteria.
It just takes a little investigation to save yourself a baggage fee and avoid renting equipment when you get to your destination.
Start living better for less.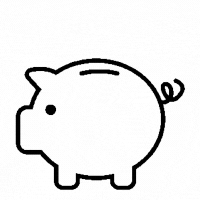 Subscribe to get money-saving content by email that can help you stretch your dollars further.
Twice each week you'll receive articles and tips that can help you free up and keep more of your hard-earned money, even on the tightest of budgets.
Subscribers receive a free copy of our eBook Little Luxuries: 130 Ways to Live Better for Less.
We respect your privacy. Unsubscribe at any time.
3. Layovers, additional stops, and late night arrivals aren't worth it.
Yes, it's enticing to save some money up front, but it is actually very counterproductive to your budget.
You may have saved a few bucks on your ticket, but stacking additional hours on your travel time will cost you when your stomach grumbles or you just need to eat something before restaurants close down for the wee hours of the night.
According to USA Today research, 16 out of 21 of the busiest U.S. airports exceeded street pricing for bottled water, a latte, and a fast food meal. Of these 21 airports, six had costs that exceeded 10% above street pricing.
4. Think carefully about hotel rooms and house rentals.
You can find a condo or house rental for the same price as, or even less than, a hotel room if you take the time to look around (weekly rates for rentals are usually the best deal).
If you opt for a hotel room, you probably won't have a kitchen or other practical amenities. If you were going to rent a kayak, car, or bicycle anyway, why not choose the house that includes these?
I have spent the same amount of money on a two-week vacation by doing this than I did on the one-week vacation in the same location.
5. Consider your mode of transportation.
Is your rental vehicle big enough to fit all the food and luggage and still have enough seatbelts?
If you rent a car, don't get a compact car simply for the gas mileage. You may make more trips to get groceries if you can't pack it all in the first time, depending on how far you are from a decent grocery store.
Be aware of road conditions and rental car needs. Please note that some roads may require high clearance or four-wheel drive to access sightseeing and even access your rental home or hotel.
Make sure you buy enough food and water for your stay the first time around. If you run out of something after a few days, the local store may not have everything you need and will most likely be more expensive.
6. Be creative in the planning process.
If you want to kayak but can't find a place that rents them or includes them, buy an inflatable one and bring it with you (see #2). Have fun and do what you traveled somewhere to do.
If you want to try diving, budget it in and book it. The last thing you want to do is go home not knowing what the shipwreck held just offshore of the beach you walked every morning. You don't want to ask yourself why you didn't take that zip line over the rain forest when you had the chance.
You can do anything you set your budget to.