7 Secrets to Beautiful Hair on a Budget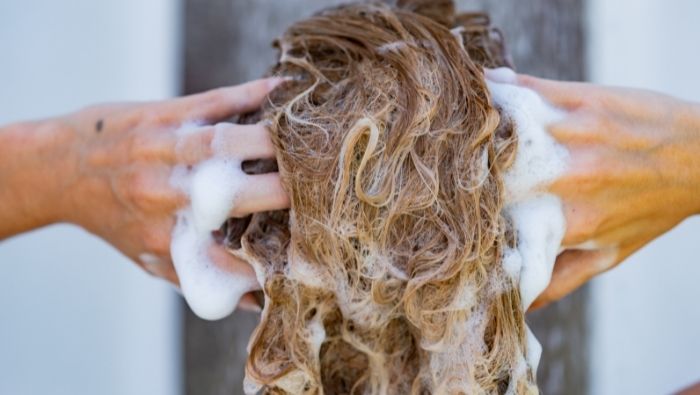 Stop washing hair care dollars down the drain. Try these tips that can save money and improve hair health.
Most people don't know that they're wasting money and diminishing the quality of their hair just by following the instructions on shampoo bottles!
Our hair has natural protective nutrients and emollients, and shampoo companies have made a huge business out of making products that scrub them all away and then replace them with inferior substitutes.
Did you know that over-washing your hair leads to more oil and dandruff? Did you know that tangled, fly-away hair is not fixed by oily conditioners, but rather by a mildly acidic rinse that evens out the pH balance of your hair.
So, to save money and have better-looking and healthier hair, do the following:
1. Lather only once.
When you wash your hair, lather once, not twice (like all shampoo instructions suggest!).
Wash your hair and scalp thoroughly, and then rinse. Your hair might not feel "squeaky clean," but it will be as clean as with two lathers.
2. Leave your hair without washing an extra day whenever possible.
Try not to wash your hair every day. Your hair will become less oily over time.
Start living better for less.
Subscribe to get money-saving content by email that can help you stretch your dollars further.
Twice each week you'll receive articles and tips that can help you free up and keep more of your hard-earned money, even on the tightest of budgets.
Subscribers receive a free copy of our eBook Little Luxuries: 130 Ways to Live Better for Less.
We respect your privacy. Unsubscribe at any time.
3. Brush your hair and scalp every day (your grandmother was right).
This will stimulate your scalp, distribute protective oils throughout your hair, and combat dandruff.
4. Don't condition your scalp if you don't color.
Unless you've had your hair colored or permed in the last month, do not condition the hair at your scalp.
This will discourage greasiness, and it will also save you money!
5. Rinse without shampoo.
If you want a fresh feeling but don't want to shampoo, just run hot water over your hair in the shower.
This will rinse away some of the dirt and even out your hair, so that it will look clean without having to shampoo.
6. Make your own shampoo and conditioner.
Not only is it cheaper, but you also have control over the ingredients. (Many of the ingredients in commercial shampoos are highly processed and of petroleum origin, which is known to be harmful).
Try recipes that have diluted acids as an ingredient (vinegar, lemon juice, acetic acid, etc.). It won't be harsh on your hair and you might find it as effective as the greasy conditioners you buy at the store.
7. Switch it up.
If you notice your hair becoming dull or very oily, don't wash more or throw away your products. Temporarily switch shampoos and conditioners.
Commercial products leave a residue on your hair over time, and changing products every now and then will remove it. After a few weeks or months, you can switch back.
Over-washing your hair is a vicious cycle.
Too much shampoo strips the natural oils, and our scalps work extra-hard to compensate, making more oil to wash away. Over-washing can lead to dandruff, which means special shampoos and treatments. We mistakenly believe that greasy conditioners are the remedy for tangled hair, but it just leaves more stuff to wash away next time. Shampoos and conditioners leave residue on our hair, which needs to be washed away.
Small changes can save you money and improve the health and texture of your hair!