Reduce the Cost of Being a Wedding Guest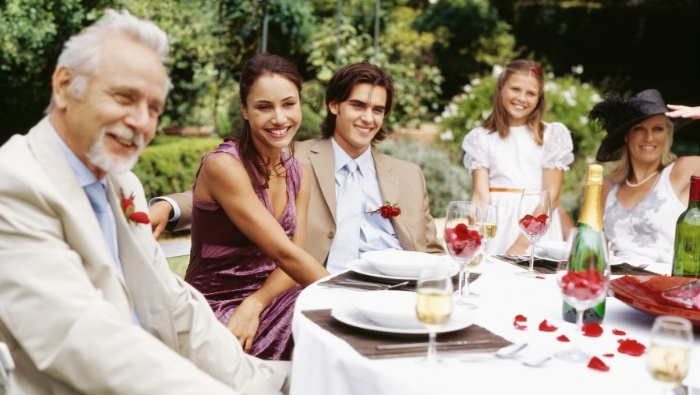 Don't let the happy couple's happy day ruin your finances. These tips can help you get through the wedding season with your budget intact.
Weddings are wonderful events. It's an opportunity to celebrate the love of two people who are planning on spending their lives together.
Unfortunately, the cost of attending a wedding isn't exactly cheap.
Some say that your presence is more important than the present itself, and while that's true, no one wants to go to a wedding feeling like they didn't give enough. The gift isn't the only expense, either. There's also what you wear to the wedding, getting to and from the occasion, overnight accommodations, and more. Guests could easily spend up to $1000 with each wedding once it's all said and done (per pre-COVID stats).
You're left with three options that include just spending the money, scrimping here and there to make it as cost-efficient as possible, or graciously declining. Our favorite option is the second one, so if you're going to be a wedding guest, let's talk about some tips to reduce the cost of being a wedding guest.
Plan Ahead for Wedding Expenses
According to a study by The Knot, an engagement period lasts about 14 to 15 months on average, which gives you plenty of time to plan. The length of time can vary, of course, but doing some planning early can help ensure you already have the money you need.
For example, budget how much you're planning on giving as a gift and put it aside in a savings account. When it comes to your outfit, if you're going to need to buy something new, ask for a gift card to a specific store for your birthday or the holidays, so you can put that towards its cost.
Start living better for less.
Subscribe to get money-saving content by email that can help you stretch your dollars further.
Twice each week you'll receive articles and tips that can help you free up and keep more of your hard-earned money, even on the tightest of budgets.
Subscribers receive a free copy of our eBook Little Luxuries: 130 Ways to Live Better for Less.
We respect your privacy. Unsubscribe at any time.
Your Wedding Wardrobe
Speaking of wedding outfits, there are many fabulous thrift store finds out there, waiting for you to snatch them up for a fraction of what they originally cost. According to dealnews.com, you could easily save 50% or more on average. And, don't forget online consignment stores.
It's not just the outfit that you might be able to buy cheap. There are also the accessories such as the shoes, purse, and jewelry that are available if you know where to look. Search for the best thrift stores in your area and see what you find.
Don't Automatically Go for the Wedding Hotel Room Block
Yes, room blocks often offer a discounted rate, but that doesn't mean it's the cheapest rate available in the area. Other hotels may be cheaper (even if public transportation is needed to get there), and there is also the option of getting a vacation rental for a night or two. Quite a few vacation rentals require a minimum stay of two nights, in which case you can either make a little getaway out of it or you could try to negotiate to stay for one night.
Make Your Talent a Gift
Weddings aren't cheap and the couple is likely on a budget as well, so consider gifting one of your talents which helps out everyone. Maybe you're a great baker and can make the wedding cake or you can create breathtaking centerpieces with ease. If you have a talent that could work well for the special day, offer that up as your present.
Plan Early for a Destination Wedding
Attending a destination wedding can be incredibly expensive when you consider everything involved from the transportation to the accommodations, which is why it's important to plan early.
There are a lot of cost-cutting measures to consider and questions to ask when making plans. Do you have rewards points to use for the hotel or flight? Is it cheaper to drive there? Is it around the same price or cheaper to travel a few days early? The sooner you plan, the easier it can be to get your finances in order.
Book a Sitter in Advance
Last-minute requests for a sitter will usually require shelling out more money than if you had booked far in advance, which will also allow you to make sure you have your plans in place.
Ask friends or family if they'd be willing to do you a favor and be a sitter for your kids or pets while you're at the wedding. If they're not going to accept any money, a small token of thanks would suffice, especially when you consider that for one four-legged furry family member alone, a kennel could cost you quite a bit per night.
Keep an Eye Out for Sales
If you're planning on buying from the gift registry, you don't necessarily have to buy the item at its current price. Keep an eye on the item and see if it goes on sale or if you can get a store coupon to drop the cost even more.
As you can see, there are many ways that you can decrease the amount you're going to spend so it's less of a strain on your wallet and you're able to focus on thoroughly enjoying being a wedding guest.
Wouldn't you like to be a Stretcher too?
Subscribe to get our money-saving content twice per week by email and start living better for less. We'll send you a free copy of our eBook Little Luxuries: 130 Ways to Live Better for Less to get you started.

We respect your privacy. Unsubscribe at any time.