13 Inexpensive Valentine's Ideas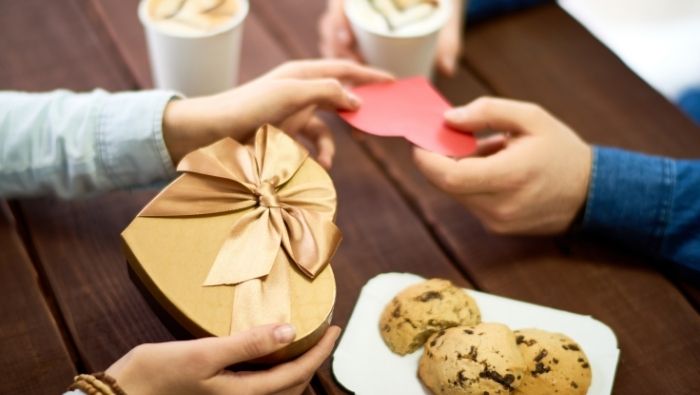 Need a frugal way to celebrate Valentine's Day? Consider one or more of these 13 inexpensive Valentine's ideas to celebrate your love for less.
Dear Dollar Stretcher,
Is there a frugal way to celebrate Valentine's Day? We're still paying for Christmas, so there's not a lot of money to spend. Can you help me do something special that doesn't cost a lot?
Darin
You're right. Valentine's Day can be a challenge when you're trying to live frugally. According to the National Retail Federation, we spent $20.8B for Valentine's gifts in 2021. Add that the popular culture wants you to judge your mate's devotion based on how much they spend and you have an unfrugal accident waiting to happen.
Let's see if we can't give you a number of different ideas that will move you beyond the typical card, dozen roses, and chocolates in a heart-shaped box.
1. Sometimes it's not what you do, but where you do it.
A picnic basket can be romantic, but if you take it to a moonlit hideaway, you'll have romance times two. And, if you can visit a spot from your dating days, the romance factor is multiplied!
2. Other times it's a matter of being creative.
Produce an evening of memories. If you've been paying attention, you know what your Valentine likes. Assemble a scrapbook with pictures of good times you've shared. Create a mix tape or video of times you've shared.
3. Plan a one-day vacation at home.
Has your Valentine ever mentioned visiting some exotic place? Then plan a dinner and evening around that locale. For instance, who wouldn't want to spend an evening on the Hawaiian islands? Try cooking some Hawaiian dishes. Recipes are easy to find. Background music can be found online. Rent a movie with an appropriate theme.
Start living better for less.
Subscribe to get money-saving content by email that can help you stretch your dollars further.
Twice each week you'll receive articles and tips that can help you free up and keep more of your hard-earned money, even on the tightest of budgets.
Subscribers receive a free copy of our eBook Little Luxuries: 130 Ways to Live Better for Less.
We respect your privacy. Unsubscribe at any time.
4. Sometimes you can just overwhelm your Valentine.
Use many small reminders throughout the day to let them know of your love. One way would be to cut out or draw hearts on sticky notes. If you're creative, add a reason why you love her on each one. Leave them in different places for her to find during the day. Or if you're a digital person, send a series of text messages with your reasons for loving him.
5. On the other hand, there are times when it's best to just keep it simple.
A candlelight dinner with romantic music in the background is always appropriate, and it doesn't cost much.
6. Or try putting yourself into it.
Anyone can buy candy and flowers, but only a real romantic can prepare a bath with oils and candles. Warm some lotion for a relaxing massage after her bath, and don't forget to warm her robe in the dryer before you put her in it.
7. You can start early!
A romantic breakfast in bed is easy and inexpensive to prepare. Make sure you buy the necessary ingredients in advance (don't forget the single rose for the bud vase) and set your alarm a few minutes earlier. Cut his toast or pancakes into heart shapes. Add a bowl of strawberries for that special sweet touch. Then climb back into bed and share breakfast together.
8. Or move the whole holiday.
Everyone expects their Valentine to do something romantic for them on the 14th. Sweep them off their feet by making the 13th your own personal Valentine's Day.
9. Remember, too, that not everyone's idea of romance is the same.
Your Valentine may find it in acts of service. She wouldn't be the first to think that taking a day off and surprising her by helping clean the house or completing items on your "honey do" list is romantic.
10. Pretend that you have money.
Dreams and fantasies can be very romantic. Window-shop with your Valentine. You can do it online. Tell him what man toy you'd buy if you had the money.
11. Go for quality, not quantity.
A dozen roses and a heart-shaped box of chocolates can easily run $50 or more. A single rose and a few premium hand-dipped chocolates can carry the same message at a fraction of the cost.
12. Make it a game.
Create a trail of love notes. In each one express something you love about your Valentine and a clue where the next note can be found. You can use as many as you want. Where he finds the last note is up to you and your imagination!
13. Declare your love online.
If your Valentine is a social media person, tell her you love her via her favorite social site. Make it a public message, and invite all your friends to retweet, repin, or share it.
Don't let the pressure of Valentine's Day force you to spend money you don't have. Rather, break the mold. And remember that a loving relationship isn't created on just one special day. It grows a little bit every day you share love with your Valentine.