How to Price Garage Sale Items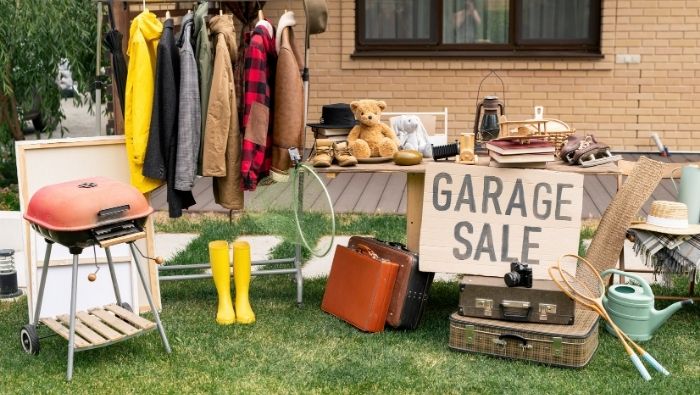 You want to make sure your stuff sells without feeling like you're giving it away. This garage sale pricing guide can help you get the most money for all your old stuff.
Dear Dollar Stretcher,
It's been awhile since I've had a garage sale, so I'm clueless about how to price garage sale items. I was wondering if some of your readers could help me?
We have a small sofa and loveseat and other furniture, microwave and other small appliances, pots, pans and dishes, some power tools. adult clothes, assorted knickknacks, DVDs, CDs and some jewelry (Some nicer and some just for fun).
Thank you so much! This would be very helpful!
Mimi
Garage Sale Pricing Tips
We reached out to our frugal readers for their tips on pricing garage sale items. Hopefully their advice can help make your next garage sale a success.
Online Guide to Garage Sale Pricing
For anyone needing pricing information for her garage sale items, there is a place on the Salvation Army website that has a pricing guide for the value of donated items. The website is satruck.org/donation-value-guide.
I would price items lower than their listing for a garage sale.
Monica
Start living better for less.
Subscribe to get money-saving content by email that can help you stretch your dollars further.
Twice each week you'll receive articles and tips that can help you free up and keep more of your hard-earned money, even on the tightest of budgets.
Subscribers receive a free copy of our eBook Little Luxuries: 130 Ways to Live Better for Less.
We respect your privacy. Unsubscribe at any time.
Consider Your Neighborhood when Pricing Garage Sale Items
The best rule of thumb in garage sale pricing is to price things at about half of what you paid for them, or less, depending on the condition. Or consider what you would be willing to pay for it.
The area you live in is another important factor. If you live in an upscale part of town, you can ask more and probably get it. However, if you are near a college campus, many apartment building complexes or senior living centers, you should price things a bit lower to ensure they sell.
To get a good feel for the right price, visit your local thrift stores. It will give you an excellent idea what the market will bear.
SP in Fargo, ND
Basic Guide to Garage Sale Pricing
A good rule of thumb is 10% of retail, except for high demand items like children's clothing and baby items, where you might get a little more if it's in good shape or is a premium brand name.
The more attractive your tables and set-up, the more likely you are to get a good price. This includes having a neat, clean yard and garage. Make sure your items are clean and that there are electrical outlets or extension cords available to easily check for working condition of appliances and tools. Clothing should be sorted by gender and type and either stacked neatly on tables or hung on hangers. The few things you can get away with displaying on a tarp or blanket are children's toys (all the better for the littlest shoppers to reach them) and shoes.
Furniture will usually sell for $5 to $50.
Small appliances are usually hard to sell, so price them between $5-$25.
Pots, pans, and dishes are even harder to sell, unless you've got something high-end like Le Creuset, Townecraft or some cast-iron pieces. I would suggest checking eBay for prices on those items.
Power tools usually sell pretty well, so you might get a little more. Price between $10 to $50.
To move adult clothes, you may have to stay within a 25 cent to three dollar range, and only go above for recent, like-new, brand name clothing.
Children's clothing can sell for up to $1-$5, and if you have sets of children's clothes stacked on a table, use a safety pin to keep the sets together or you'll be forever digging through for the pants to match the shirt someone is trying to buy.
Knickknacks are a little unpredictable, going anywhere from 10 cents up to $20. If something is marked with a brand name or a maker's mark, do some research online.
Where I live, DVDs will sell for $2-$4. CDs are usually $1-$2. Books 25 cents to 50 cents for paperbacks and $1 for hardbacks.
Jewelry is usually priced 25 cents to $3, but if you've got some fine jewelry, it would be worthwhile to check out a reputable jewelry store that purchases gold and silver.
On some items, I will lower the price as the day wears on, or even earlier if an item is getting a lot of interest but doesn't sell. I also usually have a free box with things that I think someone might find useful, but I wouldn't ask them to pay for, like clothing with tears or stains, damaged items, pieces missing, etc.
Rhonda
The Do's and Don'ts of Garage Sale Pricing
For pricing garage sale items, you might want to consider a few things:
Do you want to clear out the clutter or put you kid through college? While you may very well make quite a bit of money with your garage sale, you shouldn't look at it as an opportunity to "get rich," which can lead to higher pricing of items. Chances are good that those who arrive at your garage sale will quickly discover your prices being too high and won't buy anything!
Your prices should reflect that of your neighbors' garage sales. Those who come to your sales often select to go to garage sales in a specific location for a reason. The prices on your items should be comparable to that of what your neighbors have sold/are selling their items. If you are selling your daughter's designer jeans for $15 a pair, and your neighbor is selling her daughter's same designer jeans at $7 a pair, guess whose jeans the buyer will purchase? All things being equal (except for the price), whose jeans would you purchase?
Visit other local vendors, such as Craigslist, Goodwill, Salvation Army and other thrift shops. This is particularly helpful for "big ticket" items, such as furniture, appliances, etc. Spend a bit of time surfing the web on Craigslist to check out local prices. If your items do not sell at the garage sale, you may want to consider putting them online! (Or better yet, advertise your garage sale on Craigslist!)
Here are some helpful hints of what not to do when considering pricing of items:
Do not consider what you paid for it originally, how much you love it, or how often you used it. Buyers frequently do not care if you paid $1,500 for a sofa, it sat in your formal living room and no one ever sat on it.
Do not consider how long you've had it or who it belonged to. Just because it's been sitting in your attic for 20 years or owned by your great aunt Agnes does not mean it's a bargain if it's over-priced. It also doesn't mean that people will be willing to pay more for it because it's old or never used.
The exception to these is, of course, if an item is truly a collectable or very valuable. Then you may be better off having it professionally auctioned or having it sold through a private sale (via an appraiser).
Mary
Pricing Garage Sale Items Is a Snap
We have a huge garage sale every year and pricing is a snap. We keep the price to approximately 50% to 75% of what the item would cost new.
You can always check out eBay for questionable items, such as collectibles.
Denise
Set Prices for Your Garage Sale with Your Goal in Mind
Want to know how to price garage sale items? The first thing you need to decide is whether you are selling items to make money or if you are hoping to get others to pay you something to cart off stuff you don't want anymore.
If the former, you should visit local thrift shops and antique shops to see what they are asking for similar items. This will give you an idea of the value of your items, but be prepared to carry most of your stuff back into the garage at the end of the day. Note that most shops don't sell out in a day.
If the latter, which is the reason for my sales, I price items at what I would want to pay for them if I were considering purchasing them at a garage sale. Since I am an avid bargain-hunter, this means that I price my items considerably below their market value. However, at the end of the day, I have some space in my basement and some money in my pocket.
Patti