Using Holiday Habits To Save Money Year Round
How would you like to save more time during each day and keep more money in your bank account all year long? These frugal holiday habits can help you do just that.
Over the years, we have all developed ways to save time and money over the holidays. With a little tweaking, many of these time- and money-saving traditions can be adapted into methods that we can benefit from year round.
For example, we make a list and stick to it to avoid going over budget for our holiday shopping. We should use a list whenever we shop not just to avoid overspending but to also guard against impulse buys.
If you utilize the following suggestions that have grown from the modification of common holiday saving practices, you can add more time to your day and keep more funds in your bank account throughout the year.
Stock up on sale items
As the holiday season approaches, many people do extra baking in order to provide special treats for their guests. Knowing that ingredients needed for baking are expensive, many people pick up a few of these items during their weekly shopping trips long before they are needed, thus avoiding one very pricey grocery bill to buy them all at once.
When ingredients are on sale that you use for family meals like casseroles, stews and soups, pick up extra quantities so you can make a couple of extra dishes to freeze for use on those nights when you want to serve a home-cooked meal but do not have the time needed for preparation.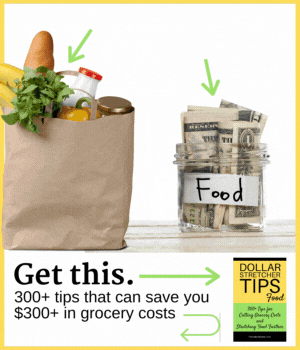 Save big on big-ticket items
Tree sellers drop their prices by as much as 75% on December 24th. Bargain hunters make Christmas Eve tree decorating a treasured family activity. If you recognize that tree sellers would rather forfeit bigger profits as opposed to having to haul their left over trees away, you will want to check the classifieds for moving sales when you are in the market for big ticket items like furniture and appliances.
People that are relocating, just like the tree sellers, are motivated to sell. Moving is expensive and the cost can be determined by weight. People would rather sell their washer, dryer, refrigerator, or leather sofa set than pay a moving company an exorbitant amount to ship them to their new residence. Also, the quality and age of the household offerings are better than what you would likely find at a yard sale or used furniture store.
Start living better for less.
Subscribe to get money-saving content by email that can help you stretch your dollars further.
Twice each week you'll receive articles and tips that can help you free up and keep more of your hard-earned money, even on the tightest of budgets.
Subscribers receive a free copy of our eBook Little Luxuries: 130 Ways to Live Better for Less.
We respect your privacy. Unsubscribe at any time.
Conserve energy and lower electricity costs
If you are engaging in the latest decorating trend toward LED (light emitting diodes) lights, you have found an efficient way to conserve energy and lower your electric bill. Incandescent bulbs are being phased out and LEDs are even better than the popular CFLs (compact fluorescent light).
Studies have shown the lifetime cost, which includes the price of the bulb plus electricity consumption, to be $120 for incandescent bulbs (for 1,200 to 2,500 hours of use), $28 for CFLs (for 10,000 hours of use) and $60 for LEDs (for 50,000 of use). (source: SFGate Home Guides)
Always make a list and check for savings
It's no surprise more and more holiday shopping is done online rather than in physical stores. But great savings are delivered all year to your inbox. Investing a few minutes to peruse the deals and special offers from online retailers can convert to substantial savings that are kind to your budget.
When you do shop in stores, always bring a list and stick to your budget the same as you do when shopping for Christmas presents. Retailers are geniuses when it comes to enticing you to spend more than you intended and design their floor space in a way that encourages impulse buys. Do not let them outsmart you and never shop when you are hungry.
Build a rainy day fund
Those that want to avoid frost bitten fingers and climbing a ladder with snow on the ground put up their outdoor lights and decorations early. Knowing that the weather is bound to get cold and nasty, they plan and get their exterior holiday chores done early.
Property owners know that there will be regular home maintenance costs every year with the possibility of more expensive repairs or upgrades. At an average cost of 1% of a home's value, if you put aside money from every paycheck, you will have the funds available when the inevitable maintenance and more costly expenses arise. Avoid interest charges on a loan or credit card by having the money tucked safely away in a savings account for when it will be needed.
As evidenced by the preceding ideas, with some ingenuity, you can always discover techniques that are able to be modified to save you additional time and money, which are commodities we all wish we had more of. When you find a formula that works in one area, you should always "zoom out" and determine how it could be modified to assist in providing savings elsewhere.
Wouldn't you like to be a Stretcher too?
Subscribe to get our money-saving content twice per week by email and start living better for less. We'll send you a free copy of our eBook Little Luxuries: 130 Ways to Live Better for Less to get you started.

We respect your privacy. Unsubscribe at any time.