Frugal Imaginative Gifts for Seniors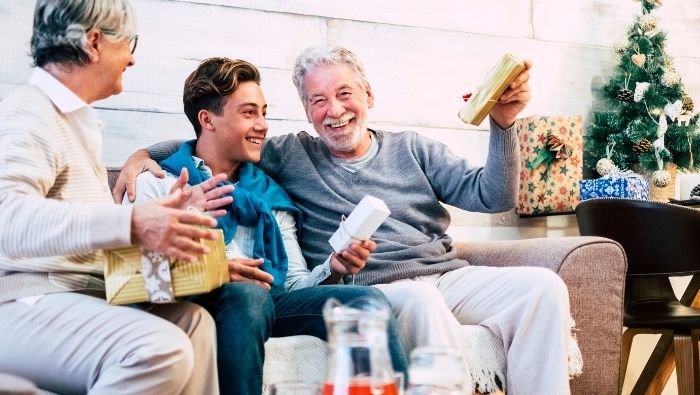 Chances are you have at least one elderly loved one on your holiday gift-giving list who isn't easy to buy for. Here are some frugal gift ideas your senior will love.
For almost everyone who gives gifts at Christmas, there's one or two people who are elderly.
Many of them seem not to need or want more "stuff" in their lives. If your friend or relative is confined to a senior residence or home, finding the right gift is even tougher. In this situation, space for things is often an issue.
So what's a gift giver to do? Here are 9 unusual and frugal ideas that will bring a smile to even the most over-stuffed senior.
Ergonomic kitchen tools
Years ago, a friend gave me a potato peeler with an ergonomic handle, and I haven't stopped using it since. It's one of the best Christmas gifts I ever got.
Jar openers, spatulas, corn peelers, etc., can be found in most discount department stores or viewed and ordered online. Your friend with arthritis in her thumbs like me, will love you for it! (See Managing Your Arthritis With Affordable Low Tech Devices.)
Recordable greeting card
These are so cool. Try a karaoke card and record your own voice singing old time favorites. Jokes? Even better.
Drug stores, card shops, and supermarkets carry them.
Stuffed calendars
Purchase a calendar with a motif your friend or family member will love and then go through and mark important dates, such as birthdays of friends and family, upcoming events, and anniversaries. Pre-marking them for your gift recipient will show your thoughtfulness and maybe help remind you, too!
Package a few stamped greeting cards along with the calendar if you want to make it extra special.
Start living better for less.
Subscribe to get money-saving content by email that can help you stretch your dollars further.
Twice each week you'll receive articles and tips that can help you free up and keep more of your hard-earned money, even on the tightest of budgets.
Subscribers receive a free copy of our eBook Little Luxuries: 130 Ways to Live Better for Less.
We respect your privacy. Unsubscribe at any time.
Trip back in time
Gather some old photos of your senior, perhaps from an event like a wedding or important birthday. Tape one to the cover of a pretty tin filled with old time candies, like Necco Wafers or Mary Janes. Place remaining photos in a Christmas card.
Crank it up a notch with a subscription to Good Old Days or Reminisce. I did this for my own Mom for years and she looked forward to every issue.
Deck of cards
Either poker or pinochle will do and get a new score pad and some sharpened pencils. Add a few coupons for card games with you!
Pocket games
A sliding tile puzzle, sometimes called the 15 puzzle, is old fashioned, but still tons of fun. eBay has a large assortment of handheld games like this including pin ball, ring games, pocket poker, and more. Many of these are vintage and often cost less than a dollar. Buy a good sampling for giving.
Free samples
Who doesn't love free? Start collecting them early using online free sample sites and collect items like shampoo and conditioner, t-shirts, and fruit snacks. Wrap each sample in pretty tissue and place the whole lot in a wicker basket.
If you know your senior has a love for one of them, include the full size as well as the sample.
Try Nikki's Freebie Jeebies for starters.
Grandparents dream
You've seen the books that allow Grandma to record a story for the grandchildren. Why not reverse it?
Have the grandchildren record a story, either a book or their own daily doings, and wrap it up along with current pictures of the kids. School portraits are good, but random shots of everyday life are better!
Yourself
Almost nothing beats a visit from you, especially if your senior is homebound. Make a commitment to them in your heart and do it. Your thoughtfulness will shine through and you'll benefit as much or more than they will.
Schedule your gift delivery day and call ahead to make sure it's convenient. Put a bow in your hair or wear a red tie. Let your senior know you love them and care about how they celebrate the holidays. Jingle Bells at the top of your voice would not be inappropriate!