Frugal Homemade Dishwasher Detergent Recipes
Want to save money while getting your dishes squeaky clean? Just use these money-saving dishwasher detergent recipes you can whip up in your kitchen.
Dear Dollar Stretcher,
Just wondering if I could use baking soda (or something else), in my dishwasher instead of expensive soap?
Anyone have any ideas or recipes for frugal homemade dishwasher detergent?
Chris
Frugal Homemade Dishwasher Detergent Recipes
We asked our frugal readers to share their favorite alternatives to pricey store-bought dishwasher detergents. Give a few of these recipes a try to keep your dishes clean for less
A Few Recipes for Dishwasher Soap
Dishwasher soap is easy to make, and cost effective. I mix up a batch in an empty canister, and pour it in the dishwasher as needed.
Mix and use per dishwasher load:
1 Tablespoon Borax
1 Tablespoon Baking soda
OR
Mix equal parts Borax and Baking Soda, and add 2 Tablespoons per load. Increase proportion of soda for hard water. Use vinegar in the rinse cycle.
Lorraine
Finding the Right Dishwasher Combo
I personally tried using just baking soda, just borax, and a mixture of the two but none of those worked.
What does work for me is mixing baking soda and borax with my dishwasher soap. I fill a container half full with the dishwasher soap then a quarter baking soda and quarter borax. I also use vinegar instead of Jet Dry in the rinse dispenser.
Janice
Start living better for less.
Subscribe to get money-saving content by email that can help you stretch your dollars further.
Twice each week you'll receive articles and tips that can help you free up and keep more of your hard-earned money, even on the tightest of budgets.
Subscribers receive a free copy of our eBook Little Luxuries: 130 Ways to Live Better for Less.
We respect your privacy. Unsubscribe at any time.
Extend Homemade Detergent
Oh yes! For several months, I used a simple combination of 1/2 Borax and 1/2 baking soda and found that my dishes came out sparkling and spot free. I liked this mix because I felt it was easier on our aerobic septic system than regular dish detergent alone.
However, I discovered some of the dishes were not getting totally clean (I like to just throw them in the washer with only minimal scrubbing). I began to pour a tiny amount of Cascade (bought with a coupon, of course) in the dispenser then covered it with the other mix. I am very pleased with this combination and it takes only seconds to do!
I add Borax to my powdered laundry detergent as well to make it last longer. With three children, Borax and baking soda have been major dollar stretchers to our budget.
KT
Correct Amount of Detergent Saves Money
We find that even the brand-name dishwasher detergent is very inexpensive when you use the "correct" amount! You only need one or two tablespoons of detergent in your dishwasher! That's right, and 1 tablespoon is almost always enough. Your dishes will come clean without any of that chalky residue. The big box of Cascade (155 oz.) that we purchase at Sam's Club lasts us for one year! And we run our dishwasher an average of once per day.
If you have hard water you may need to use the 2-tablespoon amount more often, but not always. Today's dishwashers are so efficient that they don't need  both chambers filled with detergent. Save money and have cleaner dishes by using less detergent!
Judi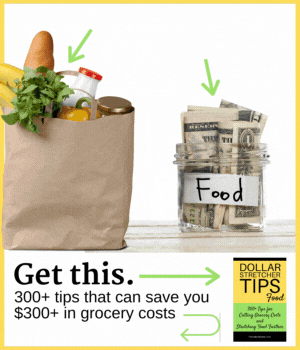 Vinegar Plus Detergent
I go to the "Dollar Store" in our area and buy their brand of dishwashing detergent. It's much cheaper than even WalMart. Then in addition to the dishwashing detergent, I add white vinegar. I buy it by the gallon and put it in the reservoir where you would put the "name brand" stuff. This does a wonderful job for me.
If you are low on dishwashing detergent, you can use just the vinegar. It does a wonderful job keeping your glassware clear and clean if you have hard water in your area as well.
HC
Homemade Dishwasher Soap Recipe
I make my own soap by using 1/2 cup Arm & Hammer Super Washing Soda and 1/2 cup Borax 20 Mule Team. I use about 2 tablespoons in the dishwasher compartment. I've also added Citric Acid (from either canning products or tang) if needed.
To tell if Citric Acid is needed, look at your silverware. If it seems to be a little gray then check your dishwasher book and it will tell you what to add and how much. My silverware has actually been shinier with this than the expensive dishwasher tabs.
HS
A Quick Dishwashing Solution
When I run out of dishwasher soap I use bicarbonate of soda and a pinch of salt. I think in America you call it baking soda. For the rinse bowl, you can put in a wee spot of lemon juice, not too much, for a fresh smell.
Fiona G. in Scotland
Vinegar And Prewash
I am the kind of gal who can't put the dishes in the dishwasher dirty. I have to wash them first. I guess I have had too many come out with spots on them. We have hard water and I have been fighting that nasty build up of gunk. I couldn't tell whether it was residue from my detergent or minerals. I would have to buy that dishwasher cleaner at least once every two months.
I had almost given up on the dishwasher, until the light dawned on me one day. Now, since I already clean my dishes, I just put white vinegar in the drawer. Our dishes and the dishwasher have never looked so good. Also I have found less spots on my dishes. My Jet Dry rinse has vinegar in it also. Just make sure vinegar mixes ok with your rinse aid.
SD
Using Washing Soda
We have used a mixture of washing soda (not baking soda) and borax. It worked for awhile and then the glasses got dingy. Then I read about adding white vinegar to the rinse cycle. Check it out. Can be found in the laundry aisle.
MO
Baking Soda Sparkle
I buy the large box of Dollar General brand dishwasher powder at the local Dollar General. I then mix equal amounts of baking soda and the dishwasher powder. The baking soda is a great extender! By mixing the two my dishes are extra clean. The dishwashing powder and the baking soda not only makes my dishes sparkle but makes my dishwasher smell and look clean. A lot of value for just a couple of bucks!
Penny
Semi-Homemade Dishwashing Detergent
I buy the large box of Dollar General brand dishwasher powder at the local Dollar General. It is $2 and I then mix equal amounts of baking soda and the dishwasher powder. The baking soda is a great extender! By mixing the two, my dishes are extra clean. The dishwashing powder and the baking soda not only makes my dishes sparkle, but also they make my dishwasher smell and look clean. A lot of value for just a couple of bucks!
Penny
Store Brands May Be the Answer
I found that WalMart store brand (Sam's) dishwasher soap or Costco store brand (Kirkland) works just as well as the expensive name brand. Costco's is the cheapest. At first I was afraid to switch because I was worried that store brands wouldn't get my dishes as clean, but I decided to give it a try. I knew if the store brand didn't work I could take it back for a refund. Both WalMart and Costco have a satisfaction guarantee so if you aren't happy you can get your money back.
Hillary