10 Ways To Avoid the Online Takeout Meal Trap
Having takeout delivered is very convenient and very pricey. Try these tips to prevent a hectic schedule from allowing takeout to become a regular habit.
If it wasn't hard enough to stay out of the fast food drive-thru on busy nights in order to get dinner on the table, now hot meal delivery services from any number of local restaurants are everywhere. Apps such as Grubhub have expanded our food delivery choices well beyond pizza with just a few simple taps to our phone.
But as most of us are well aware, this convenience does come at a price both to our food budgets and our calorie budgets.
All of this fine and not-so-fine dining can increase waistlines, sabotage health, and drain wallets. Regardless of the food ordered, we typically consume more saturated fats, sugar, and salt than we would in our own home cooking.
While breaking the cycle of takeout can be challenging, it is possible to become more selective and mindful when making food decisions.
Consider the following suggestions:
1. Stop thinking of cooking as a labor-intensive and time-consuming task.
Many whole-food meals can be prepared in the amount of time it takes to order and pick up food or heat and serve convenience foods.
2. Learn or brush up on food preparation and kitchen techniques.
Knowing basic knife skills, best heating temperatures for pots and pans, and how to use the food processor and other kitchen tools can simplify your time in the kitchen.
3. Organize your kitchen space by getting rid of old appliances and ingredients.
Stock the pantry with healthy ingredients such as olive oil, canned tomatoes, frozen fruits and vegetables, eggs, garlic and onions, whole grains, canned beans, and hard cheeses. When you have a variety of healthy staples on hand, both planned and impromptu meals are easier to prepare.
After each shopping expedition, take the time to put away all the items and wash and slice your produce. This will cut down on cooking time.
Start living better for less.
Subscribe to get money-saving content by email that can help you stretch your dollars further.
Twice each week you'll receive articles and tips that can help you free up and keep more of your hard-earned money, even on the tightest of budgets.
Subscribers receive a free copy of our eBook Little Luxuries: 130 Ways to Live Better for Less.
We respect your privacy. Unsubscribe at any time.
4. Make your own takeout.
If your family has a favorite like burgers, wings, or pizza, experiment with different recipes until you approximate the food.
5. Select a cookbook that contains basics and appeals to you.
Before making a financial investment, borrow the cookbook from your local library. Some suggestions include How to Cook Everything
by Mark Bittman, Rachael Ray 365: No Repeats
, Joy of Cooking
by Irma S. Rombauer and How to Boil Water
by Food Network Kitchens.
6. Search the internet for recipes and advice.
Visit Epicurious or The Reluctant Gourmet. If you are a visual learner, visit YouTube for short cooking videos.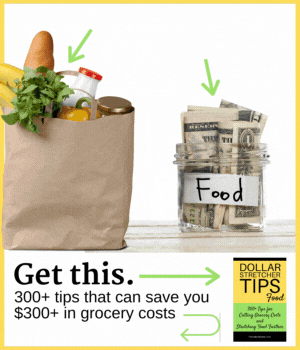 7. Read the recipes carefully and take note of the preparation and cooking times.
At first, you may need to add extra time, but as you become more proficient, you can stick to the allotted times and use the cooking or baking time to relax or complete another task.
8. Whenever possible, cook in large batches.
You can eat leftovers for lunch or freeze extra servings for time-strapped evenings. If you cook large amounts of a main ingredient like quinoa, you can create several meals.
For example, you can combine quinoa with almond or coconut milk and blueberries for breakfast or have it with roasted vegetables for supper.
9. Partner up with a friend or relative who loves to cook
 Alternatively, you could take cooking classes offered in your community.
10. Make cooking a social affair.
Get the children involved and invite visiting friends and relatives to help in the preparation. Organize weekly potlucks or an informal supper club with three or four other families.
About the Author
For 31 years, Joanne Guidoccio taught mathematics, computer science, business and career education courses in secondary schools throughout Ontario. Her articles, book reviews, and short stories have been published in Canadian newspapers and online. She has bachelor's degrees in mathematics and education and a Career Development Practitioner diploma.