Money-Saving Ways To Use Up Quick Oats
by Andrea Norris-McKnight
Do you pass up those BOGO sales on quick oats because you don't think you'll use them all up before they go bad? No need to skip those savings if you use these recipes and tips.
Quick oats are a common BOGO item (at least at my local grocer) and are typically a terrific deal when coupled with a coupon. But the deal is often for the large 42 oz size. That's a lot of oats!
If you're unfamiliar with quick oats, also called instant oats or 1-minute oats, they are simply oats that have been pre-cooked and then dried and rolled thin, so they cook more quickly than other types of oats (and have a slightly mushier texture).
You might not eat a lot of oatmeal, but that doesn't mean you shouldn't keep some quick oats on hand. There are several other ways to use up quick oats that can help you save money or eat a bit healthier.
Uses for Quick Oats
Consider these eight ways to save money in the kitchen with quick oats. If nothing more, these tips can help you use up those BOGO oats before they go bad.
1. Make Granola
Do you prefer granola over oatmeal? Use quick oats along with seeds, dried fruit, nuts and a sweetener such as agave nectar or maple syrup to make homemade granola. You can find plenty of recipes online.
Or consider this tip from one of our frugal readers for making really cheap granola:
I always dump crumbs from the bottom of cereal boxes into a zipper bag and freeze them. Once I have a good amount, I use them to make granola. I use whatever standard granola recipe I like, using equal parts cereal crumbs to oats when substituting. I usually end up with about a 60/40 oats to cereal crumb ratio. It's a great way to use something I'd typically toss!
This idea is especially good with frosted wheat-type cereals.
Start living better for less.
Subscribe to get money-saving content by email that can help you stretch your dollars further.
Twice each week you'll receive articles and tips that can help you free up and keep more of your hard-earned money, even on the tightest of budgets.
Subscribers receive a free copy of our eBook Little Luxuries: 130 Ways to Live Better for Less.
We respect your privacy. Unsubscribe at any time.
2. Substitute for Breadcrumbs
You can use quick oats in place of breadcrumbs for many recipes. Grind them first if you prefer. Quick oats have a similar texture to breadcrumbs when baked. You can coat meats with them or use them as a binder in meatloaf and meatballs.
Oats will help you stretch ground beef recipes further and may add more fiber to your meats than breadcrumbs.
3. Substitute for Flour
Here is another tip from a frugal reader:
We have a small coffee bean grinder that grinds oats quite nicely. Quick oats are cheap, and we grind them into flour to make cookies. We can't tell the difference!
4. Add to Smoothies
Toss quick oats into your morning smoothie to up the fiber and keep you fuller longer. Oats also add a nice texture to smoothies.
5. Make Baked Oats
Try this recipe from Real Simple for Baked Oats, described as "the fluffy, cake-like cousin of your favorite oat-based muffin recipe." It is a very easy recipe to whip up in a blender and quite tasty.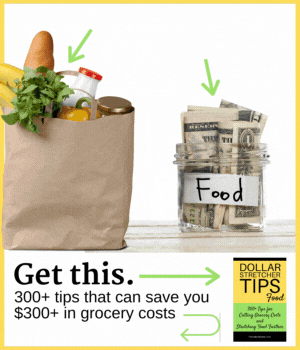 6. Add to Baked Goods
You can add oats to many baked goods, from cookies to muffins. Or go with a favorite and make oatmeal cookies. You can also whip up a batch of "energy balls" by combining quick oats, nut butter, honey, and any mix-ins you like — from chocolate chips to dried fruit — then roll into balls and pop in the fridge.
7. Bake Puppy Biscuits
One Dollar Stretcher reader uses quick oats in this dog biscuit recipe:
2 cups whole wheat flour
1/2 cup quick oats
2/3 cup broth (or 1 bouillon cube with 2/3 C water)
6 Tbsp oil.

Combine all ingredients and then roll out and cut into strips about 1/2 inch wide. Then cut the other way to make biscuits approximately 1/2 inch by 1/2 inch. Bake on parchment paper at 350 degrees for 10-15 min. until firm.
8. Make Your Own Instant Oatmeal Packets
If you are a fan of oatmeal for breakfast, you can save a lot of money by making your own instant oatmeal packets rather than buying boxes of individual packets. Combine quick oats with whatever spices or sweeteners you like in small resealable bags. Or toss in some dried fruit.
Don't Let Your Oats Go To Waste
If you do find yourself with an abundance of oats, you can extend the shelf life with proper storage. Use these storage tips from Michigan State University Extension:
Store unopened dry oatmeal "in a cool, clean and dry place." Store opened oatmeal in a tightly covered plastic or glass container or a resealable bag. Dry oatmeal can also be stored in a freezer bag in the freezer.
You should use opened oatmeal within one year.
The MSU Extension site states that the "best if used by" date is a quality suggestion and that "oatmeal after this date would still be safe if it was stored properly." Do not use if it has developed an "off smell or flavor."
How Many Ways Will You Use Quick Oats?
If you typically pass up those quick oats BOGOs because you think you won't use them all before they go bad, try some of these tips and recipes. According to the Food Network, quick oats are just as good for you as rolled oats.