Stack Your Way To Free Groceries
You can score big savings by combining, or stacking, common money-savings tools at the grocery store. Use these tips to stack your way to free groceries.
The first time I brought home bags full of free groceries, I knew I would never shop the same way again.
Want to know how you, too, can score free groceries each month despite rising food costs? Start using the following tips. These tips aren't new or unique, but they are proven to work. A lot of people just don't take advantage of them.
Each tip on its own can save a little. But by combining them, you'll see significant savings.
Know Your Price Point
Before you can save, you need to know the average cost of the items you purchase most frequently. Knowing the price point will allow you to recognize when an item is on sale.
For easy comparison, keep an 'average price' list (price book) of the items you buy most frequently.
Start living better for less.
Subscribe to get money-saving content by email that can help you stretch your dollars further.
Twice each week you'll receive articles and tips that can help you free up and keep more of your hard-earned money, even on the tightest of budgets.
Subscribers receive a free copy of our eBook Little Luxuries: 130 Ways to Live Better for Less.
We respect your privacy. Unsubscribe at any time.
Clip Those Coupons
Yes, coupons. Coupons come in many forms (printable, newspaper inserts, store coupons, digitals) and do take some time to find. However, digital coupons make saving easier than the days of clipping and printing coupons.
You can easily access many manufacturer and store coupons through your grocery store's app. Stores like Target, Walgreens, and CVS allow you to "stack" store and manufacturer coupons together for even more significant savings.
Reap Those Rewards Programs
Almost all major grocery chains have their own app, including a rewards or loyalty program. Download the app to see store sale circulars and store and manufacturer coupons. Even non-grocers like Staples and OfficeMax offer rewards programs.
Rewards programs often offer store rewards for buying specific products. You pay for the product up front but receive store rewards (store credit) that can be used toward a future purchase. Sometimes the rewards are only a percentage of the purchase price, but sometimes the reward is for the total purchase price. It is like getting the product for free.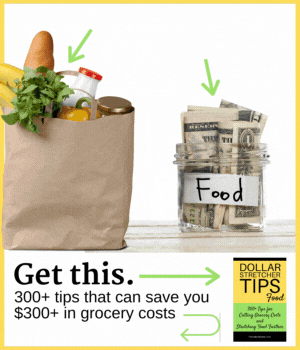 Get Cash Back with Apps
This is my favorite way to score free groceries! Nowadays, there are many cashback app options such as Ibotta and Checkout51, and most are easy to use.
Each app works a bit differently, but you typically link a loyalty card from a qualifying store or take a photo of your receipt for upload to the app after shopping in order to get the cashback offer.
How To Stack These Tools for Free Groceries
Consider this triple stack savings trick: You use a coupon to purchase a sale item that also has a cashback rebate. This method can allow you to score items for free or even make money.
For example, let's say I buy an item on sale for $2.00. I purchase the $2 item with a store coupon for $1 off, a manufacturer coupon for $1 off, and a cashback rebate of $1 back; I just made money!
The cheapest time to buy is when the item is on sale, you have at least one coupon, and a cashback offer is available. Stacking all three of these leads to huge savings! Just make sure you know and follow applicable coupon rules.
Follow the Pros
Pairing sale prices with coupons and cashback offers can be time consuming. However, you don't need to put in all that work if you are short on time. Instead, follow a pro who will show you the best deals.
I share this information on my YouTube channel weekly for stores like Walmart, CVS, and Walgreens. I even supply a list of what's on sale, what coupons you need to clip, and which cashback apps to submit to. All you have to do is pop into the store and grab those freebies!
About the Author
If your food budget could benefit from stacking, visit Christina at Saving With Christina.