7 Recipes for Inexpensive Homemade Seasoning Mixes
Why pay someone to mix up a few spices? Forgo the pre-mixed store-bought stuff and make your own instead with these recipes from our frugal readers.
Pre-made mixes might be saving you time, but they aren't saving you money.
Start mixing up the savings with these seasoning recipes.
Taco Seasoning
1-1/2 tsp. chili powder
1/2 tsp. oregano
1/2 tsp. paprika
1/4 tsp. cumin
1/4 tsp. pepper
2 tsp. Worcestershire sauce
1 small can (8 oz) tomato sauce (I use "no salt added")
Add these ingredients to a pound of lean ground beef (which has been browned for about 10 minutes with a medium chopped onion and two cloves of minced or pressed garlic and then drained); stir and simmer for about 5 minutes until thickened.
Onion Soup Mix for Dip
2 tablespoons of toasted dried onion
2 envelopes HerbOx bouillon (I use the "no salt" variety)
Stir into a half pint of sour cream or plain yogurt. (I put the onion on foil in the toaster oven and watch it carefully as it browns quickly.)
Start living better for less.
Subscribe to get money-saving content by email that can help you stretch your dollars further.
Twice each week you'll receive articles and tips that can help you free up and keep more of your hard-earned money, even on the tightest of budgets.
Subscribers receive a free copy of our eBook Little Luxuries: 130 Ways to Live Better for Less.
We respect your privacy. Unsubscribe at any time.
Enchilada Sauce
3 T flour
4 T chili powder
1 T cumin
1 T garlic powder
2 T oil
2 cans tomato sauce (8 oz each)
2 cans water
Combine dry ingredients, mix, add oil and stir well. Add sauce and water, mix, heat to boil; reduce heat and simmer 20 minutes. Makes about 4 cups.
Italian Salad Dressing Mix
2 T lemon juice
1 clove garlic (pressed if you are not using a blender)
1 tsp. sugar
1/2 tsp. dry mustard
1/2 tsp. dried oregano
1/4 tsp. dried basil
freshly ground pepper to taste
Put this in a blender with 1/2 cup balsamic vinegar and 1 cup olive oil and blend until smooth. Makes about 1-1/2 cups. (This is tart, so some people prefer 1/3 cup vinegar.)
Unfortunately, I can't give credit where it's due because I've been using these long enough to have forgotten where I got them.
Gail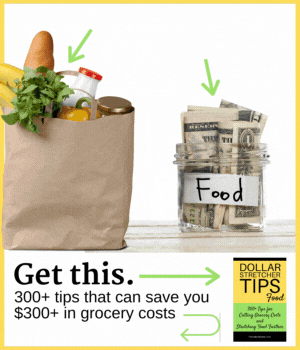 Homemade Hamburger Helper® Alternative
1 lb ground beef, browned and drained
16 oz pasta (we use whole wheat), cooked according to package directions
Drain pasta and combine with ground beef, then add:
2 (10 3/4 oz) cans of condensed tomato soup
1 1/2 cups shredded cheddar cheese
1 tsp. prepared mustard
Cook on low heat until heated through. As an option, add six to eight strips of cooked, crumbled bacon.
Kathy
Instant Stuffing Mix
3-1/2 cups unseasoned bread cubes
3 tablespoons dried celery flakes
1 tablespoon dried parsley flakes
2 teaspoons dried minced onion
2 teaspoons chicken bouillon granules
1/4 teaspoon poultry seasoning
1/4 teaspoon sage
1 cup water
2 tablespoons butter
To prepare stuffing, in a sauce pan over medium heat, bring water, butter and seasonings to a boil. Reduce heat and cover and simmer for 10 minutes. Remove from heat. Add bread cubes and mix gently. Cover and let stand for 5 minutes. Toss with a fork before serving. This equals one box.
Gayla