5 Iowa Farm Kitchen Hacks To Save You Money
Learn from people who knew how to save money. These money-saving ideas have been passed down from generation to generation and can still help you save today.
We need food to live, but buying, preparing, storing, and cleaning up after it always seems to break the bank. My personal experience with food finance has led me to uncover five surprising hacks that many people have never heard of to help the wallet.
I learned these from my mother, who grew up in a big family on an Iowa farm with parents who learned frugality during the Great Depression. These people knew how to save money, and the knowledge has trickled down the generations.
1. Take Up Canning
It's worth the investment to buy the jars and pressure cooker, especially if you're gardening or are part of a food co-op. Each year, you'll only need to buy new lids and obviously find something to put in the jar. After that, you can reuse the glass jars over and over. This is a great way to save room in the freezer and make sure that nothing goes to waste.
Average cost of canned vegetables at the supermarket: $1.39
Average cost of home-canned vegetables: $.75
2. Grow, Use, and Dry Your Own Herbs
An herb garden is a great way to have fresh herbs on hand that cost you much less than fresh herbs at the supermarket. You can grow your own from seed in the springtime and plant them outside when the weather's right. Or, you can get cuttings or extra plants from neighbors.
Pay attention to your local school's FFA schedule. Sometimes the club will hold plant sales and ask you to pay what you think is a fair donation.
My mom dries her herbs on paper plates in the microwave (1-2 minutes) and stores them in small glass jars she collected from other places.
Average savings per year: over $100
Start living better for less.
Subscribe to get money-saving content by email that can help you stretch your dollars further.
Twice each week you'll receive articles and tips that can help you free up and keep more of your hard-earned money, even on the tightest of budgets.
Subscribers receive a free copy of our eBook Little Luxuries: 130 Ways to Live Better for Less.
We respect your privacy. Unsubscribe at any time.
3. Reuse Containers
Save and reuse glass jars. Save pimento jars, baby food jars, and mustard jars. Basically anything that has a good cap on it is worth saving. You can put your harvested herbs in one! You don't have to worry about any leeching chemicals, and some jars can even double as canning jars if the mouth is the same size.
Saving plastic containers like yogurt containers, etc. is a great idea, too. Last, but not least, wash out and reuse your zipper baggies as long as they're still airtight. Wash gently inside out with warm, soapy water and set them on a rack or the sink faucet to dry.
Average monthly savings: $5
4. Use Rags, Not Paper Towels or Wipes
Who has money to spend on paper towels or disinfecting wipes to clean up the kitchen? Use rags. I guarantee you have a pile of old t-shirts you were planning to take to Goodwill or some nasty old towels that need to be replaced.
Cut them up into rags. They're washable and reusable. Plus, every now and again, you'll get to see that Metallica shirt you used to love and let the memories come flooding back.
Average monthly savings: $18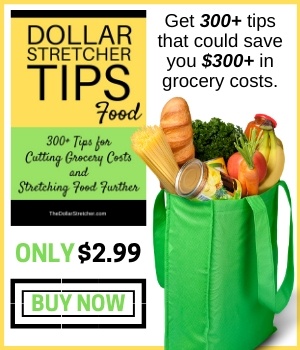 5. Create Your Own Broth
Broth purchased at the store that comes pre-made in cans or cartons is stupid expensive. It takes extra time and effort to use bouillon cubes, and they never want to dissolve correctly. The solution is to make and store your own broth.
When you next serve a spiral ham or chicken, do not throw the bone away! I put chicken and turkey carcasses directly into a huge pot and fill it about two-thirds of the way with water. Then I add in some peppercorns, salt, a bay leaf, some celery (use those nasty thin ones from the middle), and a carrot. Boil the whole mess for about an hour and then strain through a strainer into a freezer-safe container.
Average monthly savings: $10
You now have five money-saving hacks to save money around the kitchen. From the Iowa farm to your home, I hope these ideas will boost your budget!