10 Things You Don't Want to Get Caught Doing In Your Closet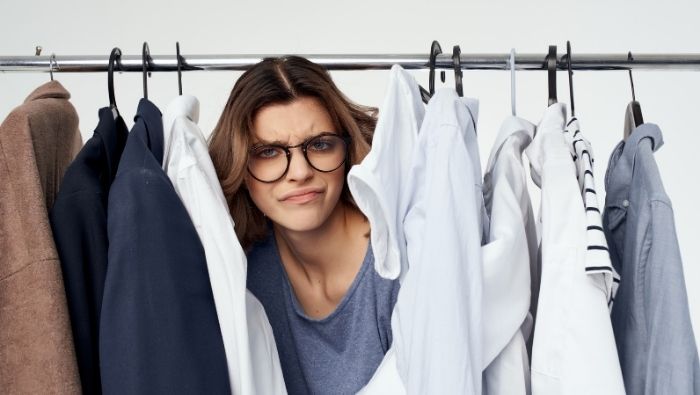 Are you guilty of doing any of these things in your closet? If so, you could be wasting money. Take a look to see if you need to correct any of these costly closet faux pas.
Whoa! I'm not talking about that!
Whatever you choose to do in the privacy of your own closet is up to you. I'm talking about those things that hurt your bottom line.
Here are ten things you shouldn't get caught doing in your closet because they could be costing you money.
1. Wear your favorite outfits over and over.
Fashion experts tell us we wear 20% of our clothes 80% of the time. A neat trick is to start out with all your hangers facing backwards. As you wear an item, turn your hanger around. By the end of the year, you'll be able to tell at a glance what you haven't worn.
2. Stuff everything in.
As long as the doors close, you're good to go. Actually, if you organize your clothing by type and color, you can get ready much faster and know what you have.
3. A fabulous black skirt on clearance? Snap it up!
No! Don't buy another black skirt if you already own ten. We tend to buy the same things over and over. Think about what you have before paying for something almost identical.
Start living better for less.
Subscribe to get money-saving content by email that can help you stretch your dollars further.
Twice each week you'll receive articles and tips that can help you free up and keep more of your hard-earned money, even on the tightest of budgets.
Subscribers receive a free copy of our eBook Little Luxuries: 130 Ways to Live Better for Less.
We respect your privacy. Unsubscribe at any time.
4. Want a little retail therapy? Go shoe shopping!
There is such a thing as too many shoes.
If you need a spare closet just to house your shoe collection, take a moment to decide if you really need that stiletto heel shoe in fuchsia and orange.
Meet a friend for coffee instead of going into debt for another pair of gorgeous, but totally useless shoes.
5. You've been invited to the party of the year. You rush out looking for the perfect party outfit. Who cares how much it costs?
Stop and take a moment to figure out the cost ratio to how many times you can wear it.
If it is a one-of-a-kind dress, maybe you don't want to plunk down a month's salary on it. If you can wear it more than once, then the cost goes down.
6. Don't get rid of anything; it's bound to come back in style.
You should go through your closets every few years and pare down the items you know you'll never wear again. Even if you could fit into that slinky prom dress from 1989, would you really want to?
7. Throw out anything you decide you are never going to wear.
Hold on a minute! Anything in good condition has a few possibilities. Get some cash from your closet by selling your cast-offs online or at a garage sale. You can even consign clothing and get a portion back when it sells. Donate everything else to a second hand store or a charity like DressforSuccess.org.
8. Stuff all your important documents in old shoe boxes.
Investing in a good safe will protect your documents in case of fire or flood and also keep everything together so you can grab it on a moment's notice. However, closets are one of the first place thieves will look for valuables, so think about putting the safe somewhere else but still accessible.
9. When clothes shopping, only buy the best or most expensive.
It is silly to pay full price for clothing, as you can get the same item on clearance in just a few months, or find fabulous designer duds at consignment and second-hand stores.
The mark-up on new clothing is unbelievable. It's usually around 300%! That's why the stores can offer such deep discounts and still make a profit. Shop off-season for the best deals.
10. Whenever you find an item on sale, snap it up.
Wait! First think about what you already have hanging in your closet. Do you have anything you can wear it with? Or will you need a whole new outfit to make it work?
Pass up a deal if it will only cost you more in the long run.
Closets are a convenient place to store our clothes and valuables. Avoid these clothing snafus and don't get caught doing these 10 things in your closet!