It might be time to pick up the scissors and take matters into your own hands! Here's what you need to know before attempting a DIY home haircut.
Of all the people in the world, one of the ones you missed the most last year was your hairdresser or barber. You used to see them on a regular basis. Then you couldn't. Going out for a haircut was out of the question. You got a little shaggier each day. So what's a person to do?
Finally you pulled the scissors out of the desk drawer and gave yourself a haircut. It didn't turn out so well. There's even photographic proof of your escapade. Fortunately it didn't end up on Facebook. It took months for it to grow back and your brother still teases you about it! Don't worry. You'll be much better equipped and informed than the last time you gave yourself a haircut. The results will show it.
And, if you don't live alone or if you feel comfortable having a guest over, you don't need to cut it yourself. You can have someone do it for you.
Get the necessary tools.
There are some steps that you'll want to take before you attempt your first cut. Beginning with the tools of the trade. At a minimum, you'll need a pair of professional haircutting scissors and a tapered comb. Both are available online for  under $10 each.
An electric trimmer is a bonus for cutting hair at the nape of the neck. With the right attachments, you can also taper the hair above the ears or perform a no-fail buzz cut. These tools are also available online beginning around $20 and up.
Start living better for less.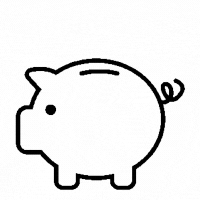 Subscribe to get money-saving content by email that can help you stretch your dollars further.
Twice each week you'll receive articles and tips that can help you free up and keep more of your hard-earned money, even on the tightest of budgets.
Subscribers receive a free copy of our eBook Little Luxuries: 130 Ways to Live Better for Less.
We respect your privacy. Unsubscribe at any time.
Research instructions.
Next you'll need some basic instruction in haircutting. There's a wealth of information on YouTube. Everything from how-to videos to others that tell you what NOT to do!
Do a quick internet search. It will reveal articles from a variety of sources, including Cosmopolitan.com and GoodHousekeeping.com. You'll find step-by-step instructions. How to cut bangs and split ends. Pretty much everything you can think of. Even advice on how to decide whether you should cut your hair when it's wet or dry. Spend an hour or two learning what to do. It's not really that difficult to do an acceptable cut.
Manage expectations.
Be realistic in your expectations. If you're expecting to look like you're ready for a magazine photo shoot, you probably should put the scissors away. But for most of us, the reality is that we're not dodging paparazzi. No need to be self-conscious.
If you're having a good friend or family member cut your hair, agree beforehand that you won't hold them accountable if things don't turn out right. Both people must be committed to the process. If either of you is afraid to try, say so before you pick up the scissors or shears. But before you give up, remember that even the worst haircut will grow out in time.
Expect your first haircut to take a little longer than your typical hair salon visit. Your professional barber or hairdresser knows exactly what they're doing. They're trained to be efficient. To them, time is money. By comparison, you're a beginner and may even need to revisit a video or online article if you have a question mid-cut. That takes time. Fortunately for you there's no need to hurry!
You may be pleasantly surprised by the results. Even if it's not perfect, chances are you will look better than before you got a do-it-yourself haircut.
What's the upside to home haircuts? Obviously you'll save the cost of the haircut. But perhaps more important, you'll feel a little bit better about yourself the next time you look in a mirror or have to join a video call!