Decorating a Backyard Gazebo on the Cheap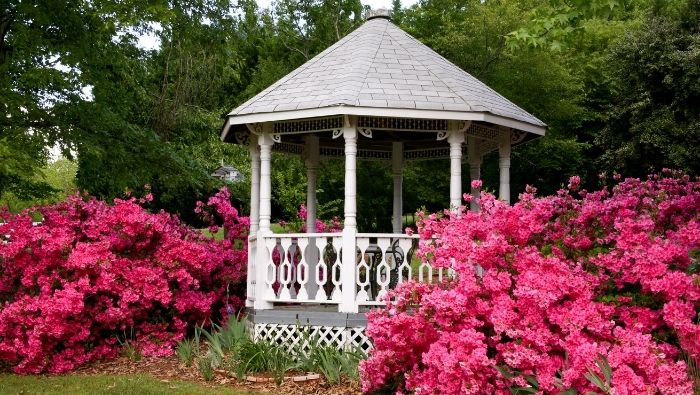 Create a backyard oasis with your gazebo without spending a lot with these frugal gazebo decorating tips from our readers.
Dear Dollar Stretcher,
Last summer, we built a gazebo in our backyard. We finished it just in time for winter, so we didn't have time to furnish or decorate it.
Now that it's spring, we want to get it ready for summer use. What kind of decorations do people put in gazebos? I know that they need to be weatherproof, but I've never done anything like this before and I'd like to decorate it as cheaply as possible while still turning into an enjoyable place we can escape to.
Zoe
Decorating a Gazebo on the Cheap
We turned to our frugal readers for gazebo decorating advice. Here are some of the most helpful tips we received for decorating a backyard gazebo on the cheap.
Add Climbing Plants for Decoration and Privacy
Climbing plants like roses, clematis, and wisteria are great natural decorations, as well as adding privacy if needed. They can even be planted in raised planter boxes so that benches can be integrated and then add cushions.
Outdoor fabrics are available in a nice variety to make curtains to tie at the corners of the gazebo. Look for coupons for your local fabric or hobby shops. There are beautiful types of light strings to hang from the "ceiling" for mood and/festive lighting. Once again, use coupons at places like Michaels or Hobby Lobby.
Autumn
Start living better for less.
Subscribe to get money-saving content by email that can help you stretch your dollars further.
Twice each week you'll receive articles and tips that can help you free up and keep more of your hard-earned money, even on the tightest of budgets.
Subscribers receive a free copy of our eBook Little Luxuries: 130 Ways to Live Better for Less.
We respect your privacy. Unsubscribe at any time.
Decorate According to Style
How to decorate your gazebo depends on its style and that of your home and garden. Since I live on a rural property, I planted cottage flowers that don't go above the railings and Clematis to grow over the top and shade the roof. I elected not to have any hanging swing inside and instead have two benches that were former buggy seats, as well as a small table to rest drinks on. You could also use Adirondack chairs and tables. Some people put a cute tin sign or two on the outside railings with the property name or a phrase they like. Look for cute tin items at thrift stores or Goodwill.
If you have a more Victorian-style home, then the appropriate décor would be either white or wheat-colored wicker that has been treated with non-glossy polyurethane. You will also want a pot or two of lush elephant ears near the entry and a few ferns inside in pots or hanging from the rafters. You can also put an outdoor sisal rug down if you choose, although then you have to wash it down regularly.
Since birds and insects can and will get into whatever you put in your gazebo, you might as well have a bird feeder, so you can enjoy watching them while sitting there. And in light of that fact, do not add a lot of cutesy silk flowers, untreated fabrics, or other things you'll have a hard time keeping clean.
Kamia
Look for Expert Help
Check out Lowes website or contact their store. You could decorate with lawn furniture, plants, and an area to use for grilling. Add throw pillows, blankets, lawn chairs, small tables, stools, etc. Plan a theme and add lights, candles, camping lanterns, and spot lights. Then host a gathering to show off the new gazebo.
Tracy
Make It Yours
Is the Gazebo totally open or enclosed? Partially enclosed? Use your imagination! A Hawaiian luau theme? Lights? Dollar Stores have some inexpensive waterproof decorations. How about a picnic theme or red, white and blue for the Fourth of July, Memorial Day, or Labor Day?
You make it yours! It would be a fun project!
Lilly P.
First Think About Lighting
If I had one, I would start off with Christmas lights (color or white). They can be turned on for Christmas with a potted fern for added decoration. And they will also add a romantic light setting for rest of the year.
Then I would get some mosquito repelling plants like lemon thyme, lavender, basil, lemongrass, rosemary, garlic, and marigolds.
Next, I'd add some built-in benches, a lounger, or a rocker?
MCD