Creative Winter Layering for Lowering Heating Costs
Make creative winter layering the theme for your wardrobe, décor, and cooking habits this winter and you could see lower heating bills.
Many people have adopted the concept of layering clothing before going outdoors on a cold day. Layering clothing is an effective way to retain body heat and protect yourself against the harsh outdoor temperatures.
If you apply that wardrobe technique to your daily winter attire when you're at home, you can turn the thermostat down in order to save some money, yet still feel comfortable.
Layering is a simple concept that can be applied to areas other than your wardrobe. Layering can reduce your utilities bills, make your home more attractive, and make mealtime a delectable experience.
Layering Window Treatments
Layering your window treatments in winter will give you an extra level of protection against the cold air outside.
From a decorative perspective, layering window treatments can enhance the overall beauty of a room. You can begin with an attractive window shade and add decorative drapes and a cornice or valence to create an impressive window dressing.
A more simplistic way to layer window treatments for the purpose of keeping heat in and cold air out is to add a thermal liner to the curtains you already have in place. The liners are relatively inexpensive and can make quite a difference on the comfort level of a room.
A quick glance around some of the many decorating websites will provide you with an abundance of decorative ideas for layering window treatments. You'll also find plenty of resources for purchasing insulated curtains and thermal liners.
Start living better for less.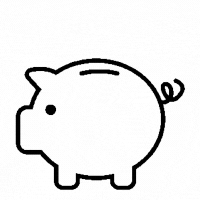 Subscribe to get money-saving content by email that can help you stretch your dollars further.
Twice each week you'll receive articles and tips that can help you free up and keep more of your hard-earned money, even on the tightest of budgets.
Subscribers receive a free copy of our eBook Little Luxuries: 130 Ways to Live Better for Less.
We respect your privacy. Unsubscribe at any time.
Layering for Flooring
Regardless of what type of floor covering you have in your home, rugs can be added to enhance the aesthetics of the room. Rugs can easily be considered an artistic aspect in a room design.
While it used to be that one area rug was the norm, the new decorating trends involve layering rugs. You can get some great layered rugs ideas at HGTV.com and many other home decorating websites. Have some fun with the layered rug concept in the family room and kid's room. Take your bedroom or dining room décor to a more elegant and sophisticated level by adding a unique collection of rugs to the room.
Layering rugs fits perfectly into a frugal living lifestyle. Frugal shoppers consider it a bonus when a decorative idea can help lower the monthly utility bill.
Layering in the Bedroom
Take the layering concept to the bedroom.
Begin your layer with comfortable sheets. Flannel sheets are ideal for the winter months. Add a blanket or duvet. Place an additional folded blanket or quilt at the foot of the bed and add some pillows to enhance the decorative appearance of your bed.
Layering in the Kitchen
Lastly, in the colder months of the year, you can take the concept of layering to the kitchen and put a unique spin on it.
Almost any list of frugal tips for the winter will suggest that you leave the oven door cracked after baking so that the heat can escape and help warm the room. With that frugal living tip in mind, you have a good excuse to bake up some delicious layered casseroles and layered desserts for your family this winter.
You probably have your traditional "go-to" recipes that involve layering, such as lasagna or the basic layered vegetable casserole. You can expand your casserole recipe collection to include dishes such as a Mexican layered casserole or a layered eggplant and hamburger casserole. The combination of meats and vegetables is almost limitless when you construct a layered casserole. There are some fantastic layered dessert recipes by searching layered recipes, casseroles, or desserts.
Winter weather and comfort foods like casseroles and baked desserts are an ideal match.
Enjoy the extra warmth, beauty, and deliciousness that will result from making the concept of layering the main theme for your wardrobe, décor, and cooking habits. If you aren't a fan of cold weather, these ideas might give you a new perspective on the winter season.